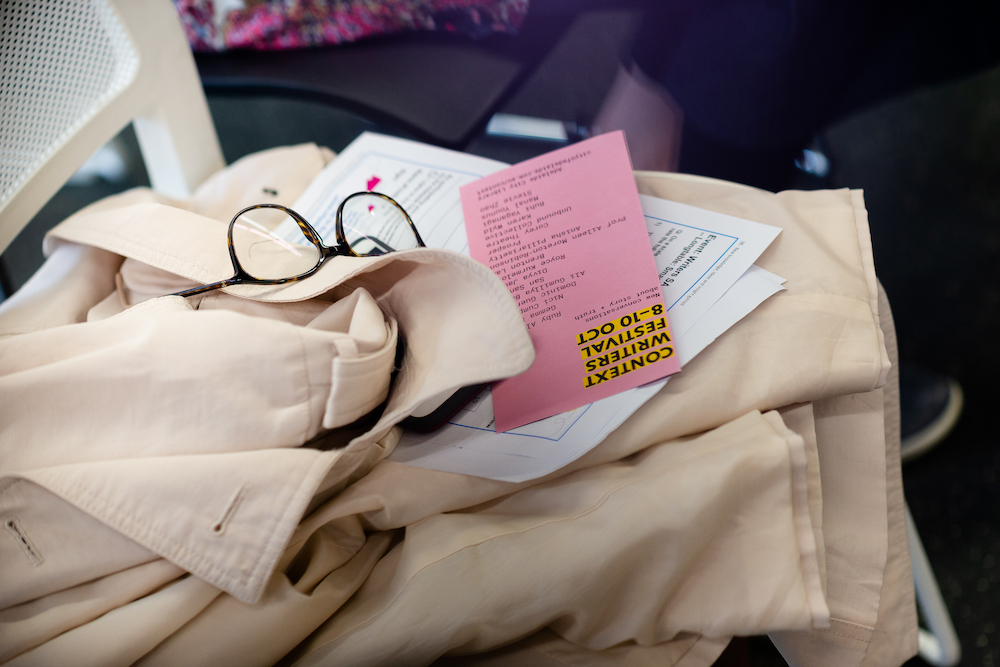 As 2021 comes to a close, I'm taking a moment to reflect on another big and inspiring year at Writers SA.
Adelaide Writers Week
We opened the year at Adelaide Writers Week, where we presented – alongside a suite of author masterclasses – two incredible performances. First Words was an all-star poetry reading featuring leading First Nations poets from South Australia including Mandy Brown, Ali Cobby Eckerman, Natalie Harkin, Dominic Guerrera, Steven Pappin, Celestine Rowe, and MC Edoardo Crismani. We also presented See Me Through My Hands, a performance event featuring emerging writers from the Deaf community telling stories and poems in Auslan, with the fabulous Stuart Anderson, Joanna Agius OAM, Debra Swann, Paul Bartlett, Samantha Wilson, Sophia Borick and Kate Frost. We are grateful to our supporters Arts South Australia for First Words, and Aesop Foundation and City of Adelaide for See Me Through My Hands. These incredible events celebrated language and storytelling in all its richness, and presented some of the best new talent for the first time.
SA First Nations Writers Group
The SA First Nations Writers Group remains one of Writers SA's closest community partnerships, and it has been a privilege to work with the group to develop new projects such as First Words, and securing support to present the group's monthly meetings with an impressive annual program of guest speakers and workshops. Throughout the year the group hosted renowned authors including Kim Scott, Alexis Wright, Larissa Behrendt, Ambelin Kwaymullina, Alison Whittaker, Tony Birch, Jared Thomas, Anita Heiss, Magabala Books publisher Rachel Bin Salleh, and many more. I give my deep thanks and great respect to coordinator of the writers group, Edoardo Crismani.
No Limits: Young Regional Writers
In 2021 we reached a significant milestone when we grew the Writers SA team to become truly statewide with the employment of three regional literary coordinators. Alysha Herrmann, Eliza Wuttke and Kathy Parker quickly got to work to present local writing events, connecting regional young people with the national literature and publishing industry as our No Limits team, thanks to the Restart Investment to Sustain and Expand (RISE) Fund – an Australian Government initiative, and Arts South Australia. We are delighted to now have a full suite of regional events lined up for 2022, kicking off in January in the Riverland, Eyre Peninsula and the Limestone Coast.
Regional Writers & Readers in Residence
As one of the most important elements for writers to write is time and space, we had a new group of writers hitting the road to undertake regional residencies in 2021. Kami McInnes, Rachael Mead, Tracy Crisp and Danielle Clode were our Regional Writers in Residence covering the state from Kangaroo Island to Coober Pedy to Millicent, thanks to Australia Council for the Arts. Meanwhile, our partnership with Varuna, the National Writers House, supported three SA fellowships this year, with Bronwyn Lovell and Lara Saunders as the SA Emerging Writers Fellows, and Karen Wyld as our inaugural SA First Nations Writers Fellow.
A Year in Review
Throughout 2021 we completed A Year in Review, the year-long national literary criticism program designed to provide important coverage to Australian authors affected by the pandemic, and a platform for emerging local critics. Overall we published 24 book reviews including titles by many South Australians, including Hysteria by Katerina Bryant, Rise and Shine by Patrick Allington, Show Me Where It Hurts by Kylie Maslen, The Things She Owned by Katherine Tamiko Arguile, A History of What I'll Become by Jill Jones, Where The Fruit Falls by Karen Wyld, Dark Wave by Lana Guineay, The Dictionary of Lost Words by Pip Williams, Just Money by Royce Kurmelovs, and The Application of Pressure by Rachael Mead. Our 19 emerging and established critics, included locals Kylie Maslen, Rhoda Okoidigun, Bronwyn Lovell, Walter Marsh, Ryan Morrison, Nelya Valamanesh, Anisha Pillarisetty, Sumudu Narayana, Marina Deller, Lisandra Linde, Haneen Martin and Travis Akbar. We thank all the great authors and critics in the project, and our publication partner InDaily and its arts liftout, InReview.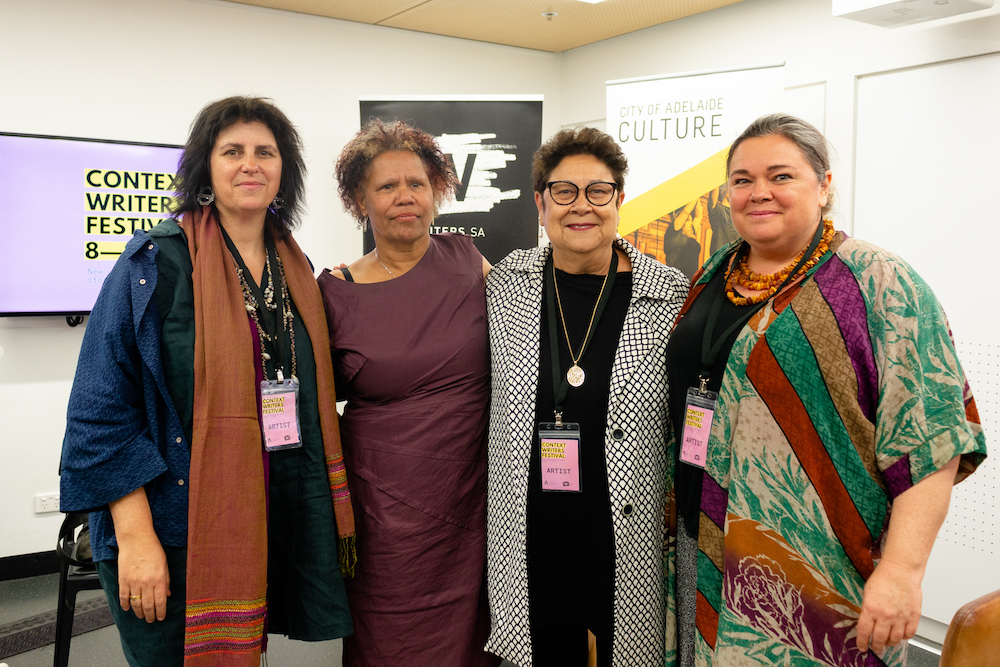 Context Writers Festival
Context Writers Festival returned from its debut in 2019, and this time it was bolder than ever, with a stellar lineup of local and national poets including our special guest and opening keynote speaker, Professor Aileen Moreton-Robinson, programmed by guest curator Dominic Guerrera. The festival featured interactive longtable events with journalists Anisha Pillarisetty and Royce Kurmelovs, curators Ali Baker and Nici Cumpston, poets Natalie Harkin, Stevie Zhao, Manal Younus and Prosper, zine-maker Ruby Allegra, novelist Karen Wyld, and many more. Context is a partnership between Writers SA and the City of Adelaide and Adelaide City Libraries and we are so thankful for this special relationship.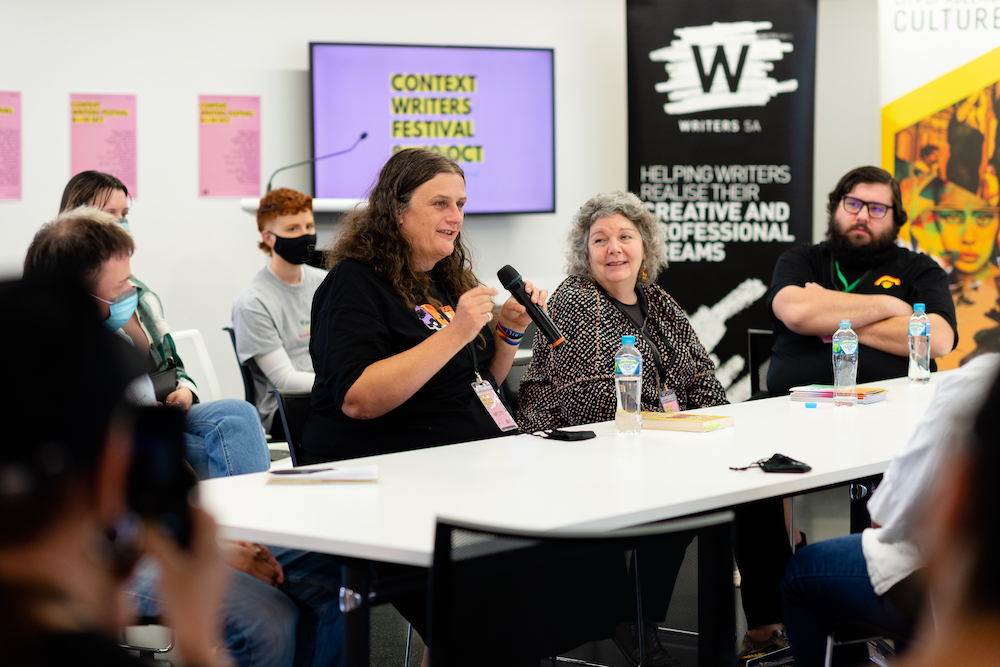 Partnerships
In more fruitful partnerships, we worked with our friends at Red Room Poetry to mark the inaugural Poetry Month. Writers SA presented a South Australian Poetry Showcase, featuring some of the best and brightest established and new poets, from Peter Goldsworthy to Em König to Prosper. We hosted the best new queer writers at our Feast Festival Short Story Competition celebration event, hosted by superstar MC and theatre-maker Jamila Main.

Thrillingly, we launched a new partnership with our friends at Liminal to bring on two editorial mentees and commission new works by Asian-Australian writers living in SA, in a beautiful new digital publication to be launched next year at OzAsia Festival. Thanks to the Liminal crew – Leah Jing, Liz Flux and Cher Tan – for their dedication and care in guiding this exciting initiative, and thanks to Arts South Australia for supporting the project.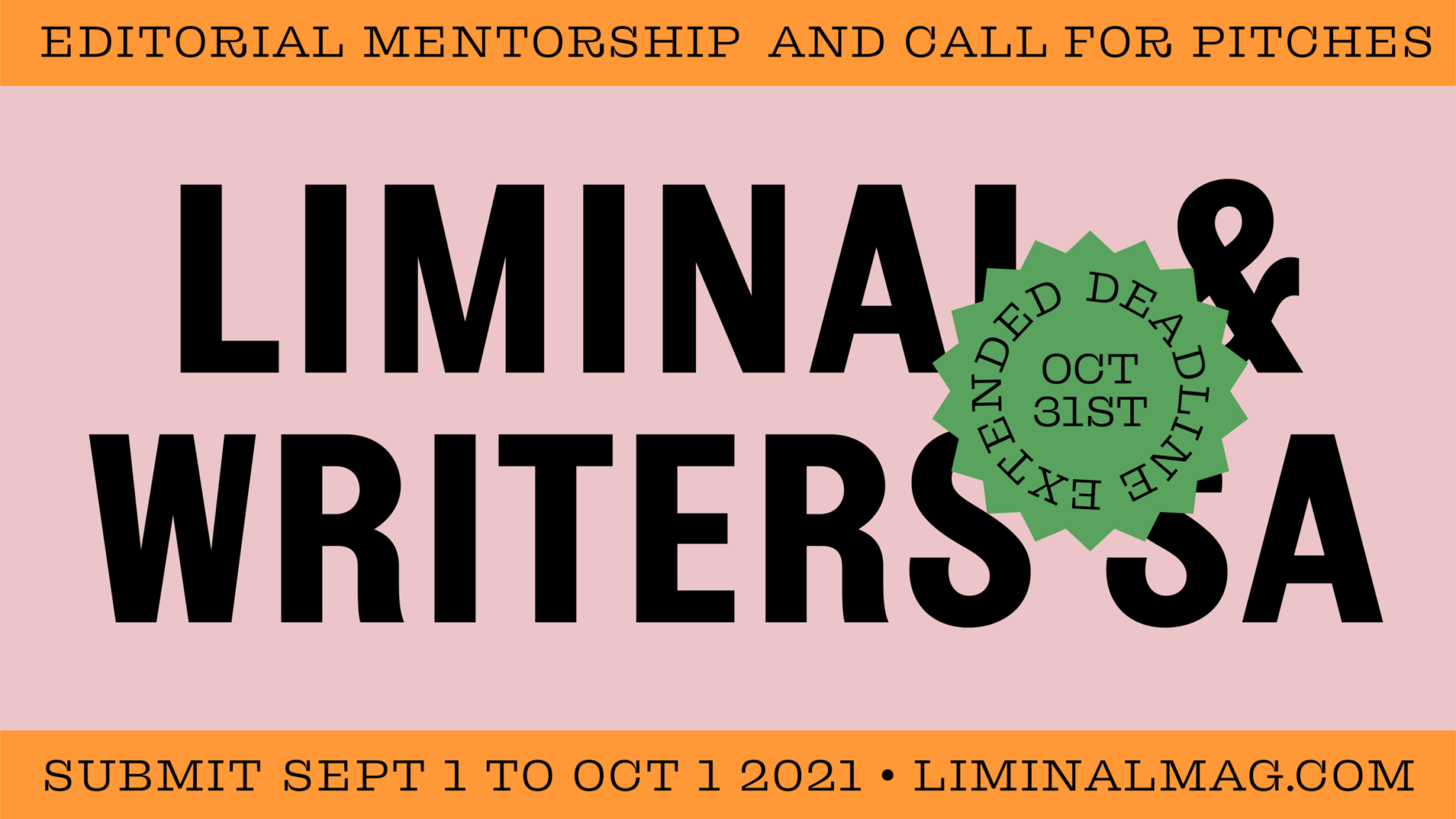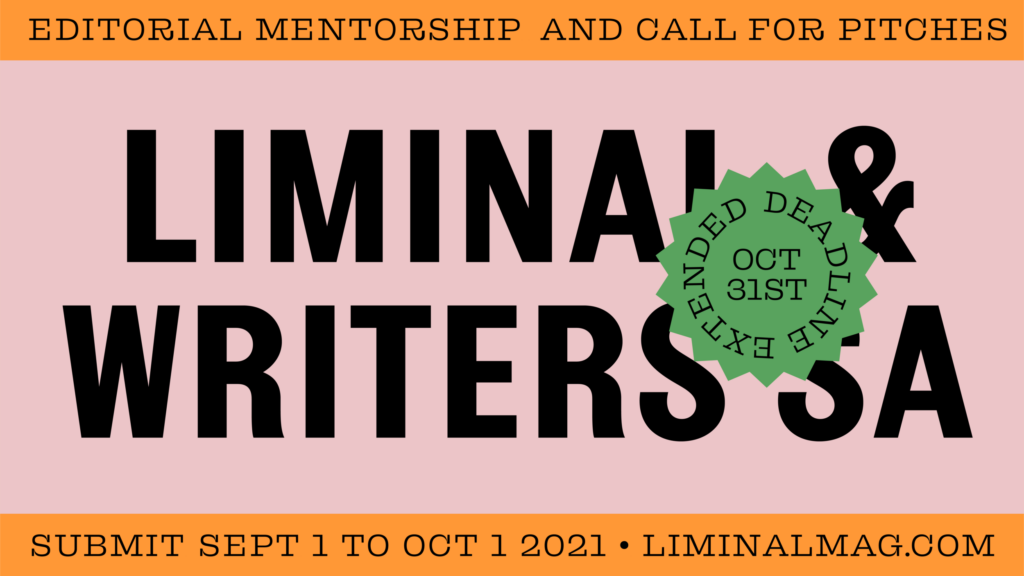 This year we deepen our local government relationships to fully immerse communities in writing, working with great council partners including City of Campbelltown, City of Port Adelaide Enfield, City of Charles Sturt and City of Salisbury to present excellent free writing events at libraries across Adelaide.

The Writers SA team
And through all of this huge year we also presented a full year of writing workshops and courses – with multiple events every week of the year – led by our indefatigable Program Coordinator Bronwyn Tilley, and supported by our crew of event assistants and volunteers. We welcomed new and returning members and helped writers with manuscripts and professional mentorships, tailored by our Membership & Administration Coordinator Melanie Pryor. We reached greater audiences of writers and readers through our supremely talented Marketing Coordinator Lana Guineay, and we made sure all our writers were paid (!) thanks to Finance Officer Vern Schulz.

All up, Writers SA presented over 150 events in 2021 – in Adelaide and across the state, online and in-person – from writing workshops, to poetry readings, longtables and festival events, author talks and literary drinks. We advocated for writers and a robust national literary culture, representing writers and publishing to government at local, state and federal levels, and to media and the public. Crucially, we employed hundreds of writers to deliver events and literary services to build the capacity of emerging writers. This impact is felt in our thriving literary culture, the books, stories and poems published, our growing community of members, and the work that we are able to provide to SA writers so that they can continue their vital literary careers.

Thanks to everyone – especially our members – who we collaborated with, gathered with and wrote with. Go safely into the new year, and keep writing.