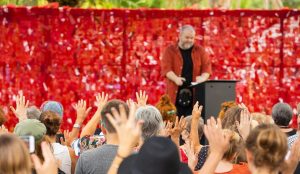 In 2020 and 2021, Writers SA presented 'Deaf Storytellers Live' and 'See Me Through My Hands' at Adelaide Writers Week – performances featuring emerging writers from the Deaf community telling stories in Auslan.
Thank you to the writers – Stuart Anderson, Joanna Agius OAM, Debra Swann, Paul Bartlett, Samantha Wilson, Sophia Borick and Kate Frost, mentors Manal Younus, Hannah Kent, Jared Thomas and Sean Williams, facilitator Indigo Eli and our team of interpreters Jade-Thelda Cleasby, Benji Hoopmann, Heather Loades, Chelsea Turner, Amber Venner, Mike Webb.
Supported by Aesop Foundation and City of Adelaide.