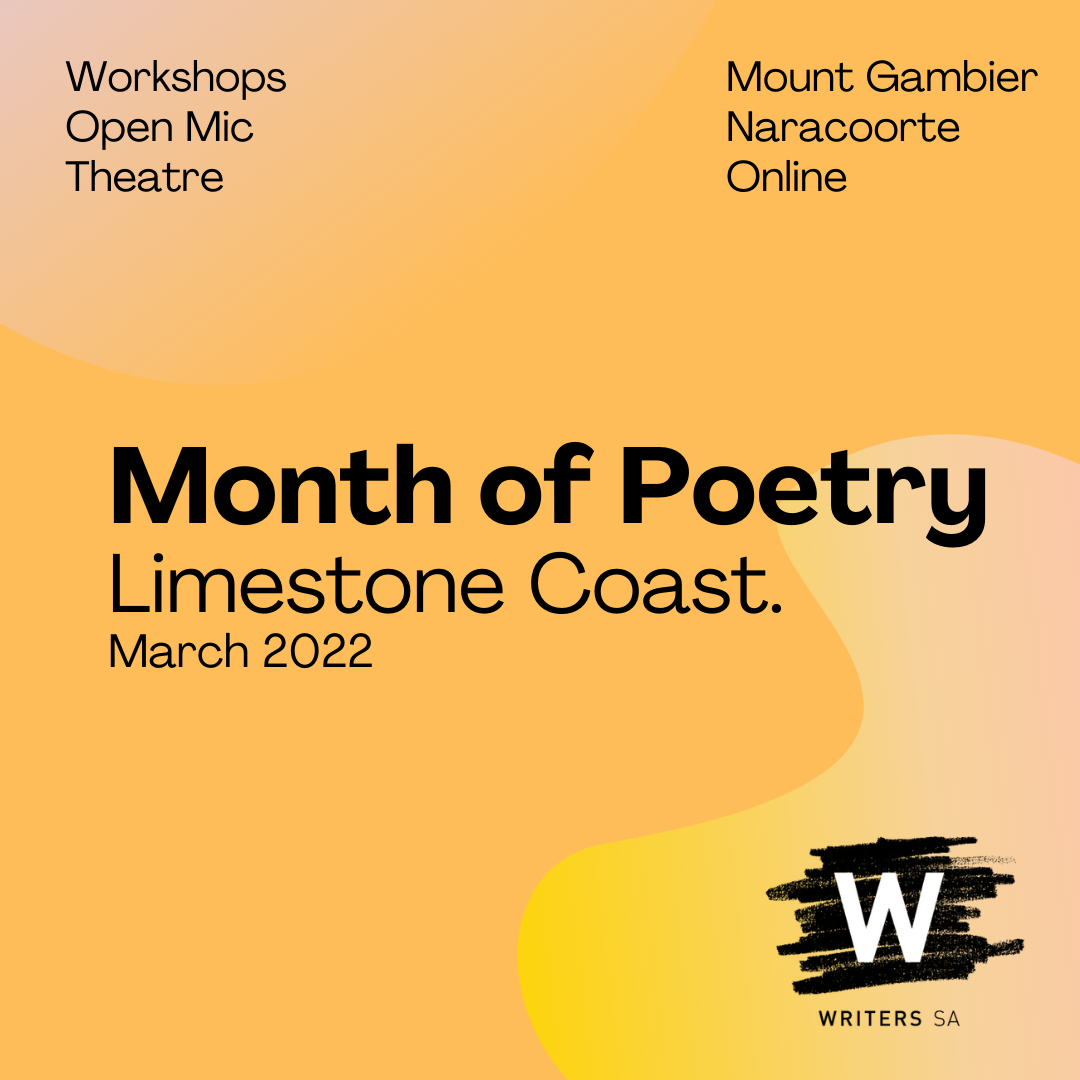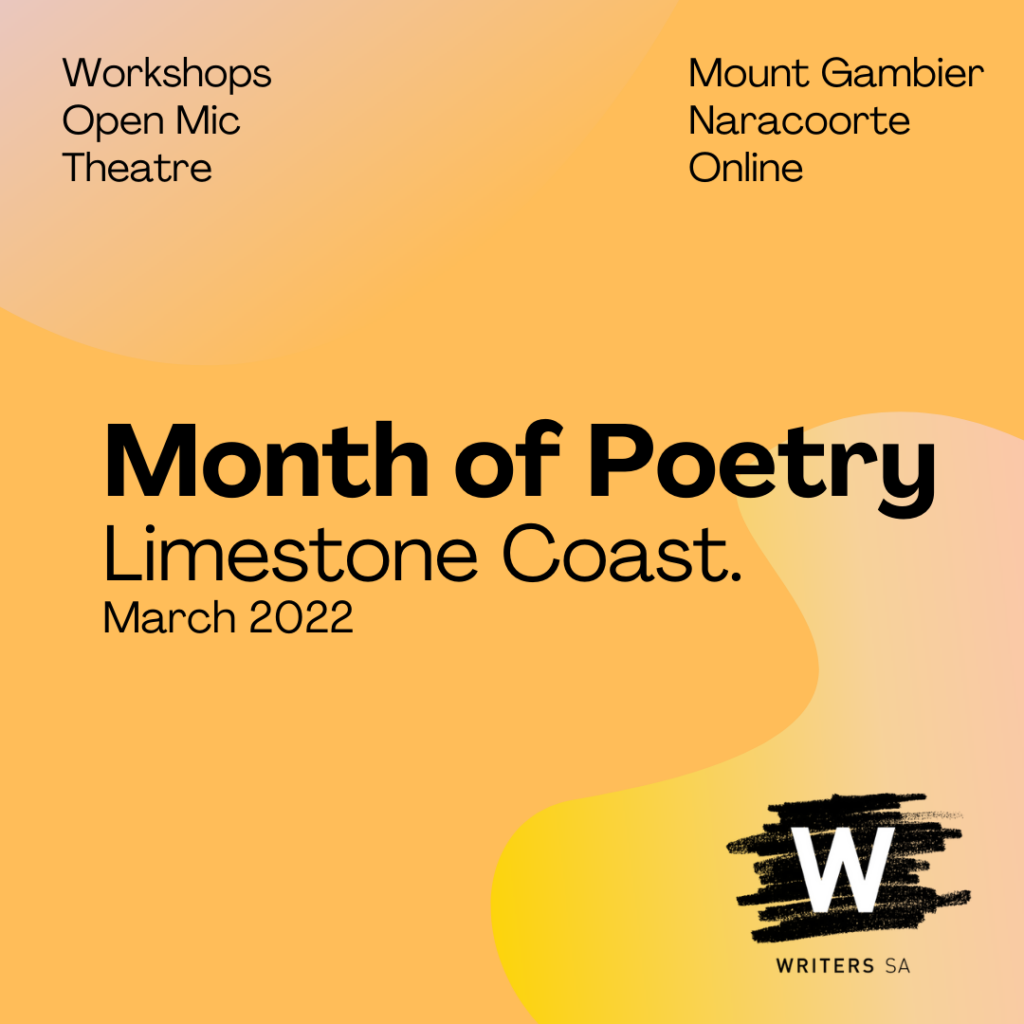 Writers SA is presenting a whole month of poetry in the Limestone Coast this March, with in-person and online workshops, and regional Fringe performances, through the No Limits program.
The Limestone Coast program in March features performances of Caroline Reid's SIARAD for Fringe Mount Gambier, an open mic event for Naracoorte Fringe with guest poet Emelia Haskey, three in-person workshops—kicking off with Gloria Demillo—and a special online workshop with Rory Green for World Poetry Day on 21st March.
"We are so excited to be bringing a whole month of poetry to the Limestone Coast," said Writers SA Statewide Regional Programming Manager, Alysha Herrmann.

"Poetry is one of the oldest literary traditions, with oral storytelling and written poetry found in cultures across the globe. New and emerging poets continue to reimagine the form to delight, provoke and entertain, and our workshops and events in the Limestone Coast this March have something for anyone curious about what poetry looks like in the 21st century."
Workshops
Engaging the Senses – Saturday March 5
with Gloria Demillo | 1pm-4pm | Mount Gambier
Who Do You Think You Are? Performance Poetry – Saturday March 12
with Emelia Haskey | 10.30am-12pm | Naracoorte
Thousands of Words: Visual Poetry – Monday March 21
with Rory Green | 7pm-8.30pm | Online
Poetry Belongs to All of Us – Sunday March 27
with Caroline Reid | 10am-1pm | Mount Gambier
Workshop places are heavily subsidised for young people under 30, but all writers aged 15+ are welcome to attend.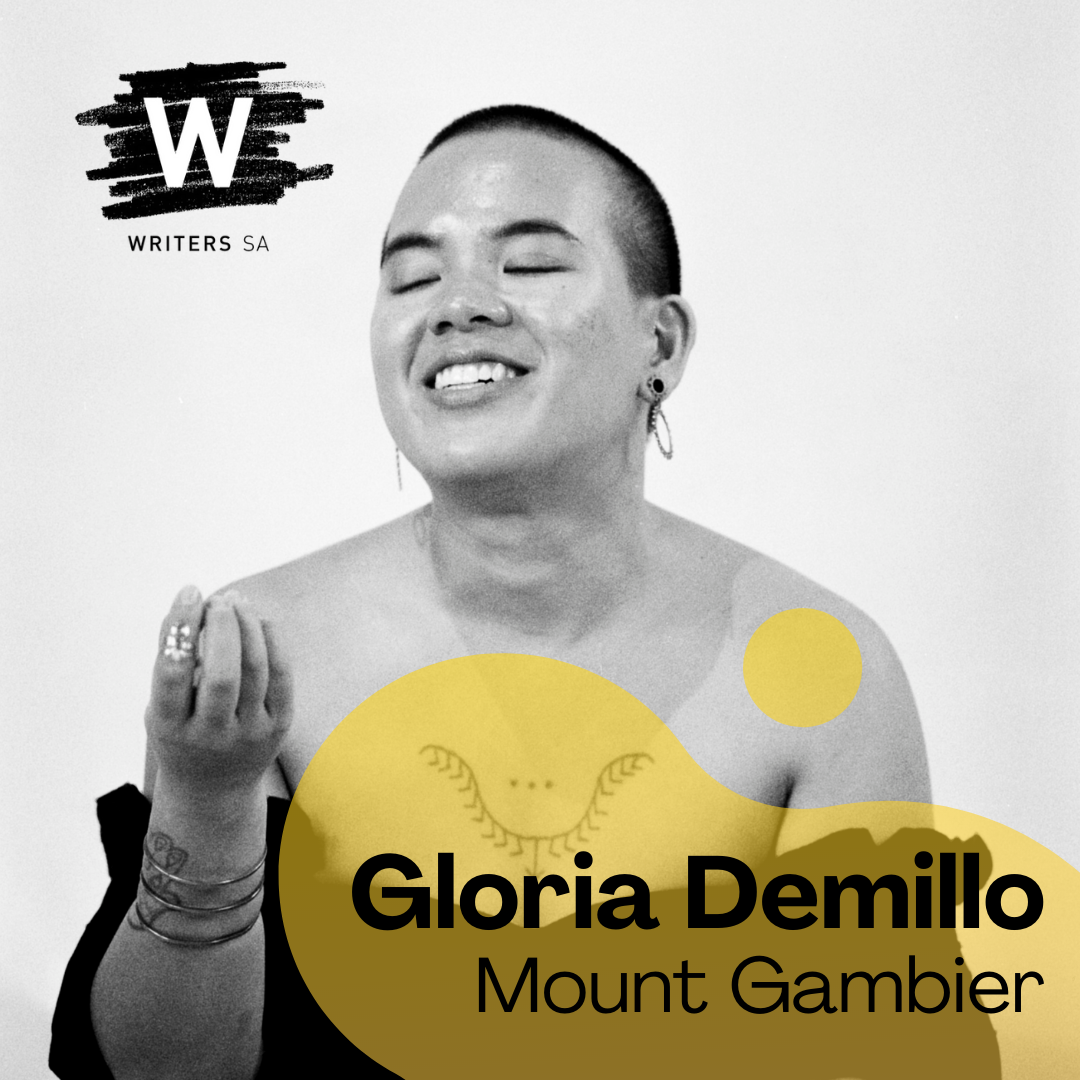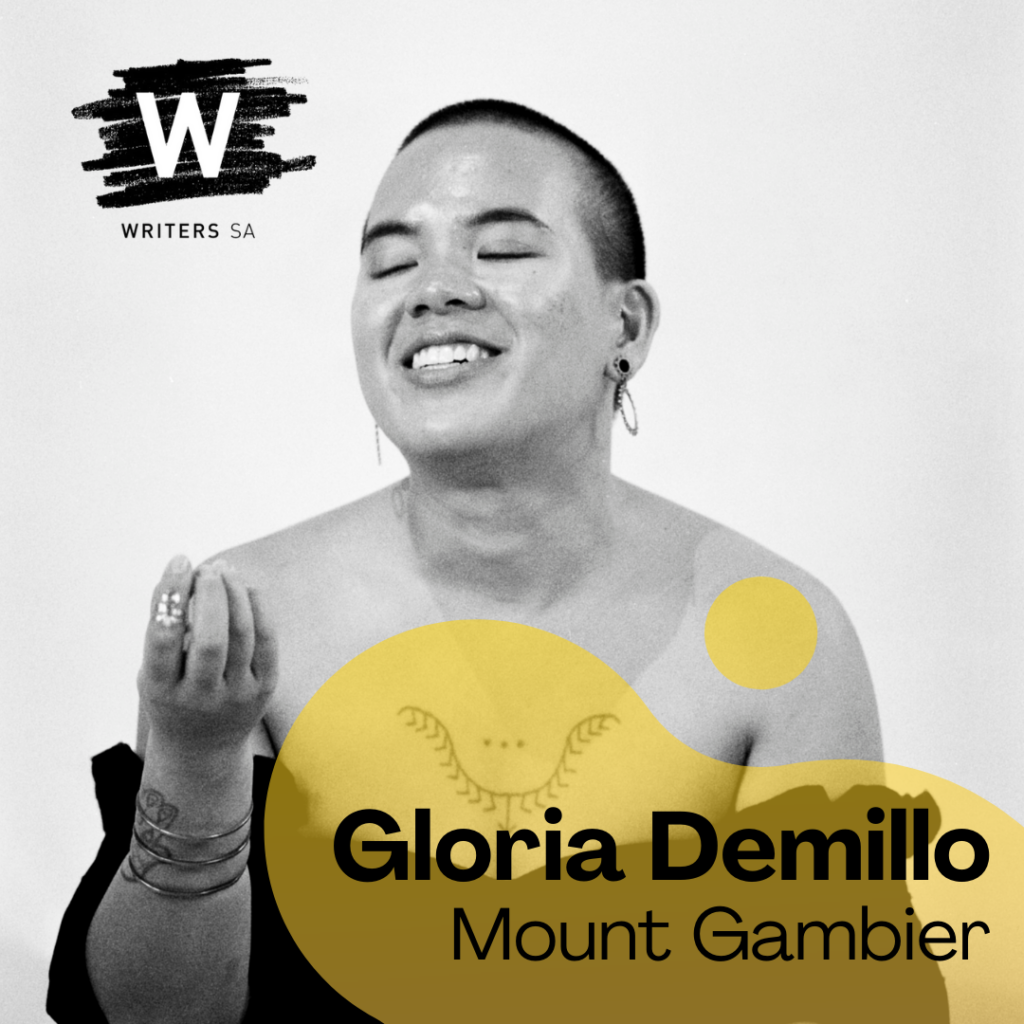 Events
For the Love of Words and Wine – Saturday March 12 (2pm)
ft. Emelia Haskey and local MC Halli Backler | Naracoorte | Free Event
Settle in for a relaxed afternoon of spoken word poetry paired with your favourite Wild Game wine for this special event featuring spoken word extraordinaire Emelia Haskey. For those who feel inspired to share their talents, register for the open mic section — open to anyone, of all ages.
SIARAD – Sunday March 27 (5pm) and Monday March 28 (7pm)
by Caroline Reid | Limestone Coast Pantry
SIARAD (a welsh word meaning "to speak") is the perfect blend of poetry, theatre and storytelling adapted from Australian Poetry Slam finalist and author Caroline Reid's 2020 published collection of poetry and prose. SIARAD explores themes of love, relationship, loss, ageing, grief and joy with Reid's self-deprecating honesty, humour and unassuming conversational style drawing her audience into this spoken word theatre performance with a consistent element of surprise.
"a great introduction to poetry for the uninitiated" GLAM ADELAIDE
"incredibly funny, personable and unpretentious" INDAILY
"something like a punch in the stomach that you asked for" ARTS HUB
Download Limestone Coast Month of Poetry Flyer:
---
Writers SA's No Limits Program supports literary activities in regional South Australia and creates industry pathways for young regional writers, from skills to publication. No Limits is supported by Restart Investment to Sustain and Expand (RISE) Fund – an Australian Government initiative, and Arts South Australia.
The presentation of SIARAD by Caroline Reid has received additional support from the Adelaide Fringe Artist Fund and Arts South Australia Recovery Fund.