Margot Lloyd is an editor at Wakefield Press, who will be leading our upcoming Inside Publishing: Query, Synopsis, Submission workshop. Using her years of insider knowledge (and time spent reading submissions), Margot is set to help you craft a submission, from query letter to synopsis, that truly sings. 
We caught up with Margot to find out about life as a book editor, what she looks for in submissions, and what local authors are on her bookshelf.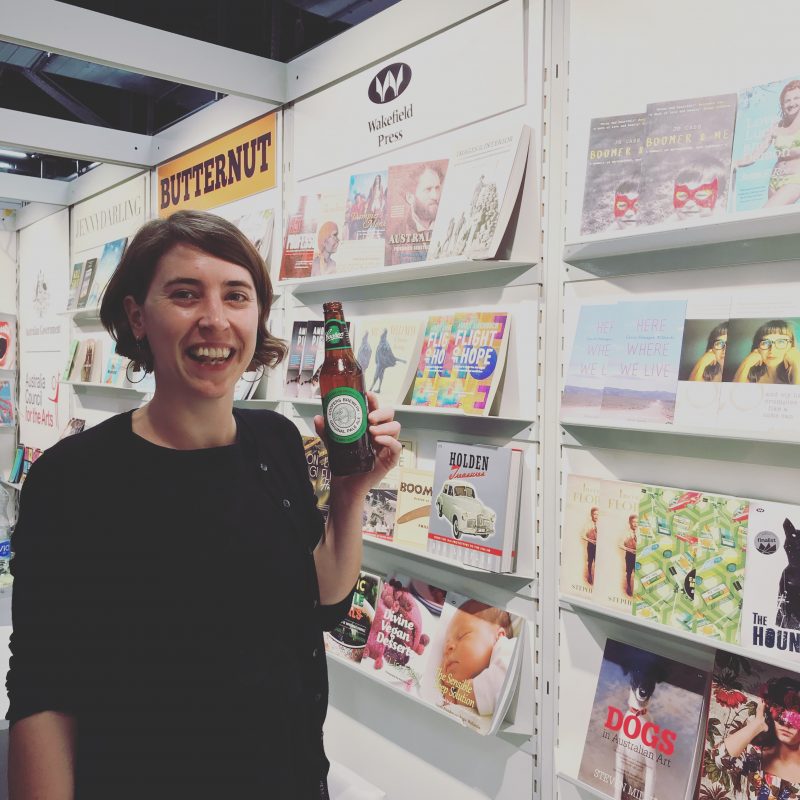 Writers SA: What's your current role at Wakefield Press, and how did you get started?
Margot Lloyd: I got my start studying publishing and editing in a now defunct course at Monash, in Melbourne. I worked for a couple of publishers there before moving back to Adelaide and starting at Wakefield in 2013.
These days I feel like I define my role based on what I'm doing that day. I generally call myself an editor, to keep things simple, but I'm also the publisher of our young adult list. Because we're a small team, I also look after international rights sales. I have spent a lot of time washing glasses for launches, so could claim to be an official Wakefield Press glassie, too.
What genres are you most interested in as an editor?
The young adult list is my baby at Wakefield, though it came about by accident. I hadn't really read YA since I was a kid, but we got a couple of great submissions that did well, and I saw the potential for a dedicated list. Now I spend a lot of time reading about high school angst and it turns out I love it!
Aside from YA, I also love editing general fiction. An enduring favourite from the last few years is Big Rough Stones by Margaret Merrilees, a book that has had a big hand in the way I see myself as a feminist and as an activist. Mag's one of the most talented authors writing in Australia today, so it's always a pleasure editing her work.
…and a reader?
I read pretty widely, but Australian fiction has my heart. I like good crime – Jane Harper's a no-brainer, but if you haven't read Emma Viskic's Caleb Zelic series you should really get on it. The Yield by Tara June Winch is a standout from the last year, as well as The Van Apfel Girls Are Gone by Felicity McLean.
What does a typical day in the life as an editor look like for you?
It starts with tea and ends with tea, with a whole lot of email and tracked changes in between. If I'm lucky, there's some cake in there somewhere, too.
What do you enjoy most about the author/editor relationship?
Definitely those moments when I identify a problem and the author comes up with a solution that's ten times better than mine. I get a lot of satisfaction from seeing everything fall into place like that.
Most memorable/ surreal professional moment so far?
This job has given me some truly weird and wonderful moments. I met Yassmin Abdel-Magied at a party in a palace for Jaipur Literary Festival, which is pretty damn surreal now I think about it.
Ahead of your Inside Publishing workshop, what are some of the things you look out for in a submission/ make a submission really sing?
I'm really looking for the hook – the thing that piques the reader's interest and makes them want to find out more. It's also critical to have an author bio and explain who the intended audience is. A narrative non-fiction look at a topic is completely different to an academic treatise, just as a dark and gritty crime book is worlds away from a Phryne Fisher-style detective romp. It can be difficult for an author to imagine how a complete stranger would see their work, so it can be helpful to get a friend to give some feedback.
How rigorous is the editing process? How clean does a manuscript need to be, how much do writers rely on the editor?
It'd be pretty awesome if I had endless amounts of time and money for each book, but of course the reality is a little different. If I have to clean up a whole bunch of minor issues, I've got less time to work on the bigger stuff, to really make the narrative sing. So I always think it's best for the author to read and reread, check and recheck, until they really think there's nothing more they can do to improve it. THEN they should give it to an editor, and we'll come in with fresh eyes to help make it the best book it can be.
Does the editor have a say in things like titles, chapter headings and so on?
If I have an issue with any of those things I'll have a chat with the author about it and we'll come up with a solution together.
Will the editor fact check?
We will check some things, especially if a fact strikes us as not quite right, but the author should definitely be checking everything carefully first. This includes spellings of names, place names, dates. All that nitty gritty.
And lastly…if you could choose a few books to be stranded on a desert island with, what would they be?
Is this the right moment for the weighty tomes I've always meant to read? The Bible and Herodotus, maybe? Or is it better to take something familiar, like Pride and Prejudice and Russell Hoban's Kleinzeit (don't ask me why I love it so much; I just do). What exactly does 'a few' mean? Am I allowed to take the whole back catalogue of Shirley Hazzard? I generally like to be near a Shirley Hazzard book at all times. Or can I invite Margaret Atwood and Michael Ondaatje onto the island with me? Does the island have enough room for a printing press? Can I request a computer with the latest version of Word on it? I'll also need a copy of the Macquarie and the latest version of the AGPS Style Manual, ta.
Any chance of some cake, too?
Any social media people can follow you/ Wakefield Press on?
I strongly recommend signing up for the Wakefield Press newsletter, as Fearless Leader Michael Bollen writes a very entertaining overview each month. You can also follow us on Instagram and Facebook to get a glimpse of life behind the scenes at WP.