When we imagine a photojournalist most of us visualise a rugged, tanned middle aged man carrying a number of DSLR cameras as he captures the emotion and drama of the daily news events that dominate our print and online media. While there are sure to be many who fit that description, the majority of photojournalists look and work very differently to this and actually wouldn't even call themselves a photojournalist anymore.
They are multimedia journalists.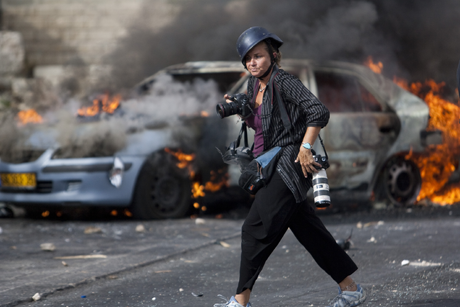 At its most basic, "multimedia" signifies some combination of images, sound, graphics, and text to produce a story. In photojournalism, "multimedia" has often been first understood as "photography, plus…", principally the combination of still imagery with other content.
We now see it in multiple forms ranging from online photo galleries where pictures are combined with text captions, to audio slideshows, linear video (both short from and long form), animated infographics, non linear interactives and full scale web documentaries and broadcast films.
The digital revolution has been a defining development in the emergence of "multimedia" blurring the boundary between still and moving images.
Photojournalism has always been influenced by technological changes. For example, the arrival of DSLR cameras with video capability – the Nikon D90 in August 2008 followed shortly thereafter by the Canon 5D Mark II – strongly focused the relationship between still and moving images when they provided practitioners with dual image capability in a single camera body.
Attempts to define photojournalism have been complicated for a while and with almost weekly launches of new digital and social media tools and platforms, attempts to define "multimedia" often exclude more than they include.
Clearly we don't need a restrictive definition of one genre, but instead an expanded understanding of "the photographic," especially the long standing and complex relationship between still and moving images.
The challenge of letting go of traditional views about photojournalism is possibly what famous British photojournalist Tim Hetherington meant when he spoke of a "post photographic" world when he was interviewed in 2010 – the year before he was killed covering the Libyan conflict.
'If you are interested in mass communication, then you have to stop thinking of yourself as a photographer,' Hetherington said.
'We live in a post photographic world. If you are interested in photography, then you are interested in something — in terms of mass communication — that is past. I am interested in reaching as many people as possible.'
This does not mean that the multimedia journalism world is a world where one visual form has died, instead it is a world in which multiple visual forms are alive and stronger than ever. What we are seeing is a space in which photojournalists can bring their aesthetic abilities and commitment to reporting, and learn from those operating outside of photography.
This is not the "convergence" of everything into one, nor a place where a single new form replaces all others. Instead, we have arrived at a place where image making is important to storytelling, and storytelling encompasses many forms across many platforms.
Spending twenty four years taking and managing editorial photographs for News Limited, Brenton Edwards has experienced massive changes in photojournalism.
'The new visual journalist has to move fluidly between still photography and video recording,' Brenton says.' One of the biggest challenges is deciding when to shoot stills and when to shoot video, because differences exist between the forms of technology and approaches to shooting in these media.
'Whether you shoot video or just images depends on many factors – most importantly the amount of time you have to put the story together and the talent and action available. Video is as much about sound as it is about vision but with images you only have the vision to tell the story.'
Brenton now spends his days and nights filming and shooting multimedia stories for Stories Well Told and will be sharing his knowledge on Saturday May 30 at the Digital Boot Camp.
There is nothing more important for a multimedia journalist than to be able to write well, record great vision and audio, and shoot the image that is going to make us stop and want to read a story. Sounds like a lot to learn – sure is! But it is heaps of fun and the opportunities for multimedia journalists are endless.