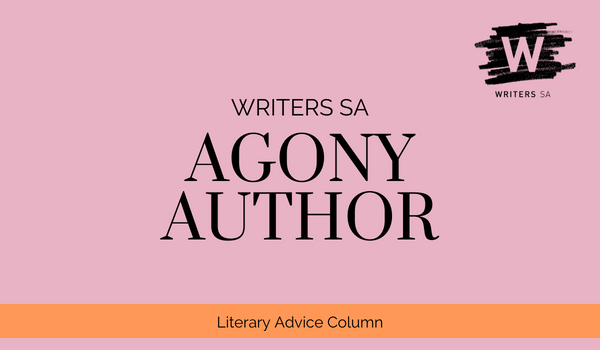 Welcome to Writers SA's member-only literary advice column, where our experts respond to your questions about writing, publishing, the literary life and beyond. Got a question? Ask us here.
For this installment of Agony Author, Josie Hoffmann asks:

"What is the best way to allocate daily writing sessions, and actually stick to the plan!?"
---
Dear Josie,
The short answer is select a time you know you'll be able to sit down and work, shut everything else off and set a timer. Finish in the middle of a sentence so the next day, you're dropping straight into it. And if you want to structure your time like this, don't reread what you wrote the day before. No editing as you go! Be selfish with your hour and just get words on the page!
The longer, more complicated answer is: as an author I honestly believe the most damaging advice given to newer writers is 'write every day'. Not because you shouldn't, it's a great system! I don't like it because it makes people who can't do it feel even worse about themselves and the potential they could be reaching. We're all different kinds of writers and we're all living different lives so how could one piece of advice fit us all?
If you do want to write every day, pick a time that won't have you making excuses to miss it. Is it in your lunch break? After your coffee but before the rest of the house wakes up? On the train on the way home? After everyone's gone to bed? You could try dictating while driving or jotting down notes between appointments, even thinking about your book in the shower is writing. Don't think of it as the best time for your brain because you can edit mediocre writing, you cannot edit a blank page. Can you imagine 80 days of 1000 words a day? You'd have a rough draft in two and a half months!
You can only do what works for you but when you find it, give yourself a reward at the end of the month. You can use a calendar to track your wordcounts to see when you were the most prolific. Some people like god stars others opt for a pastry based system of rewards. The ultimate reward is when you finish the book!
My own writing schedule looks a bit like this:
Monday – don't even
Tuesday – two hours in the car waiting for the kids while they train for sports
Wednesday – 30 minutes in the afternoon, a sprint where anything goes
Thursday – two hours while one kid does an off-school class across town
Friday – don't even (and three out of four terms I'm at sports on Friday nights)
Saturday – try for an hour (or late in the evening if the kid is working and needs a late pickup)
Sunday – aim for three hours.
Can you see the pattern? I have teenagers who don't drive yet so I make sure to take my laptop with me when I know I'm looking at carpark waits. On a Thursday I work from a McDonalds where they have an accessible power point and iced coffees. Do I always stick to this? Absolutely not, sometimes I spend an hour playing games on my phone or reading or scrolling Twitter. You have to be kind to yourself and your process. Right now I'm aiming for 5,000 words a week. If I was a plotter and didn't work full-time I might aim for 10,000.
Some famous writers who write every day:
In his memoir On Writing Stephen King says it's best to write a minimum of 2000 words a day to avoid "the smooch of death." "Read and write four to six hours a day. If you cannot find the time for that, you can't expect to become a good writer." (this is terrible advice!)
Nora Roberts writes for 6-8 hours a day, and John Grisham writes 1000-2000 words every day.
Agatha Christie is one of the highest selling authors ever, outsold only by Shakespeare and the bible, and never had a daily routine of writing. She would "nip off to write when the opportunity presented itself". She also dictated for a time after she broke her wrist.
Here is a great article on the daily writing routines of 12 bestselling authors: https://jamesclear.com/daily-routines-writers
Got a question? Ask us here.