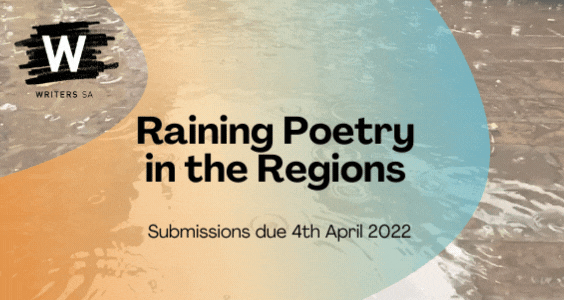 In 2022 Raining Poetry in Adelaide is extending into regional South Australia through a special collaboration with the Writers SA's No Limits Program. Writers SA are calling for poetry submissions from writers living anywhere in regional South Australia, with poems set to magically appear in selected locations when it rains.
Submission Guidelines:
We want engaging, well-crafted poems on a wide range of topics.
Poems may be in any language, but poems written in languages other than English must include an English translation with your submission.
Individual poets/writers may submit up to five poems. All five poems should be submitted in one word document on separate pages (using page breaks to delineate).
Each poem may have a maximum four lines of poetry, with no more than 45 characters per line (including spaces). This is to ensure poems fit on the stencils.
Raining Poetry in the Regions is only open to poets/writers who currently live in regional South Australia.
Up to 15 poems will be selected through a blind judging process. An additional six to nine poems will be selected by Writers SA regional staff. The final selection of poems will be printed on stencils and anonymously tagged with invisible paint in selected regional South Australian communities.
Submissions close midnight Monday 4th April 2022. Selected poems/poets will be notified via email by Friday 15th April 2022.
If you have any questions or need help completing this form, please contact Statewide Regional Manager Alysha Herrmann via [email protected]
---
FREQUENTLY ASKED QUESTIONS (FAQ)
Do I need to be an experienced or published poet/writer?
Absolutely not. We are looking for a mix of ages, locations, backgrounds and experience and would love to hear from experienced and new writers from anywhere is regional South Australia.
Why is this opportunity only open to regional South Australian writers?
This opportunity has been made possible through our No Limits Program, which is dedicated to regional South Australian writers. We know that regional writers face many barriers to developing and presenting their work, so projects like this are about providing a dedicated space to support and celebrate regional writers. City-based writers and writers from outside of South Australia are encouraged to submit poems to the Raining Poetry in Adelaide callout.
What is a blind judging process?
A blind judging process means that the judges look at all of the submissions without any identifying information. This means they choose the selected poems based on the writing alone, and not because they know the writer, or for any other reason. Raining Poetry in the Regions will select up to 15 poems through the blind judging process and an additional six to nine poems will be selected by the Writers SA regional team, with considerations to equity and geographic spread.
What will happen to my poem if it's selected?
If your poem is selected it will be turned into a stencil and appear on the pavement as a temporary public artwork. The stencil will be used to tag your poem onto the pavement using biodegradable water­ repellent paint/spray that makes the words disappear when it dries. The poems will then reappear as soon as the area gets wet, surprising unsuspecting people walking past. Poems will be tagged in selected regional locations in June and July 2022.
I still have questions or I'm feeling a bit unsure about how to submit, who can I talk to?
You can contact any of the Writers SA Regional Team to ask more questions. More about the Regional Team and their contact details can be found here.