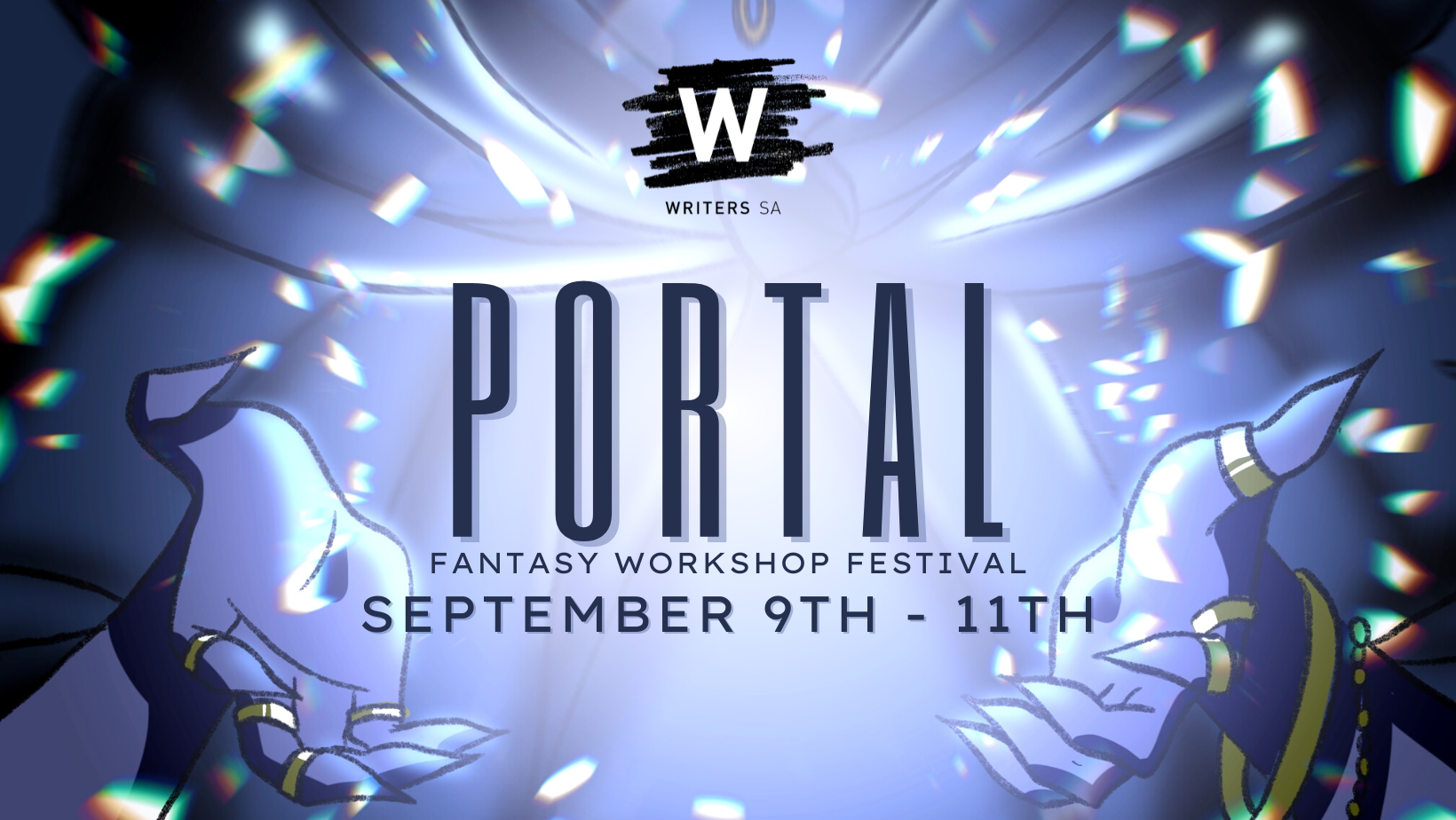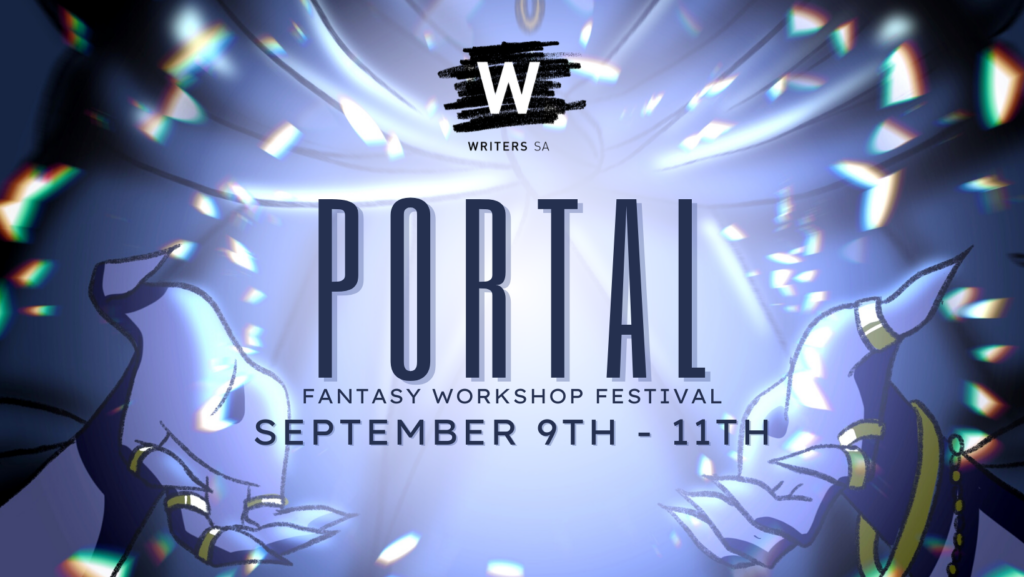 We are so excited to announce the successful applicants of Quick, A Portal Opened! expression of interest commission!
As part of Portal: Fantasy Workshop Festival, the No Limits team opened portals across regional South Australia. They found nine brave storytellers to tell us about their adventures and of the creatures they encountered.
These storytellers will be writing live over September 10th and 11th in Google Docs. Check in on them by clicking their names and make sure the creatures haven't dragged them back through to the other side!
The pieces being written during these times are first drafts — the very first stages of discovery and beautifully unpolished. Join our storytellers and watch the process of their stories unfolding.
Saturday
Maddy Nyp is an aspiring author from Highland Valley, SA. She is a novelist, scriptwriter and lyricist, with experience in acting and music. Through her schooling, Maddy has worked on several plays as both a scriptwriter and director. Recently, Maddy has partnered with Writers SA for their commission This Breath, and participated in Miscellany: A Storytelling Event. Maddy is currently studying a Bachelor of Creative Arts (Creative Writing) at Flinders University and enjoys writing about politics, fantasy and musical theatre.
Bri Boyington | 1:00pm – 3:00pm
Bri Boyington is a homeschooling teen based in Naracoorte, who likes spending time reading
fictional, fantastical and other-wordly stories, playing guitar and listening to music, crawling
through caves, sketching strange people and mythical creatures, and hanging out with friends. She
is also a singer-songwriter and a pilot-in-training, and loves anything to do with space. In fact, she
went to a space camp in the ACT not too long ago, so now when she gets lost in her imagination,
her parents must conceed she IS an official 'space cadet'.

She loves writing as well, fictional short stories, of all different genres: fantasy, sci-fi, horror and
romance, with elements of the supernatural and unknown; as well as songs, poems, and more flash
fiction than she cares to admit.

Someday she hopes to travel the world with her friends and meet her idolised authors and
musicians, because who wouldn't want that?!
She also wishes she had wings – like an angel. She doesn't think an ostrich's would suit her.
Johanna Sanders | 3:00pm – 5:00pm
Johanna Sanders is 12 years old and lives on the Copper Coast, Yorke Peninsula. She loves reading, drawing and being more sarcastic than is probably healthy. She is a Pokemon fan and likes dancing with her cat. Johanna enjoys doing research and writing about different animals and also learning about the world and people around her. Mostly by staring at them. 
Kat Bell is a First Nation Gudjula and Girramay woman, mother, and autistic person. With a background in corporate communications, business and systems analysis Kat turned to art later in life to reconnect with her voice, Aboriginal identity, culture and place. She has curated solo exhibitions almost every year for the last decade and contributed frequently to group exhibitions and community arts projects. Over the last few years her attentions have turned to the digital arts where she has worked on designs for businesses, organisations, schools, murals, public art installations, animations, large scale projection projects, and small films for cinema. Her most recent solo exhibition Threads has been Kat's most prolific body of work, addressing her long journey with trauma and PTSD. She uses her art to create narratives about her experiences as a neuro- diverse Aboriginal woman navigating a neurotypical world.
Kat is also a writer, known for writing poetry that accompanies her physical artworks, as extensions to the pieces of art and the stories she is sharing in the artworks. She is currently writing a fantasy novel for young people, a series of children's books, and a short story for adults. She is also working on a series of poetry books, largely a compilation of the poems she has written for each artwork over the last few years.
Britnie Hocking | 7:00pm – 9:00pm
This is Britnie and she is not a poet. She is a mum to three beautiful hurricanes, praying for her sanity daily. Britnie lives in activewear and she gets through each day with a little luck, some sarcasm and a whole lot of coffee. She is a passionate feminist, extremely chatty and loves TV and films! Britnie is performing tonight because she is trying to teach her little loves to get out of their comfort zone and try new things.
Sunday
Olivia Aston | 11:00am – 1:00pm
Olivia Aston is an emerging young writer based in the mid north in regional South Australia, with a keen interest in social justice and fantasy fiction. She is currently in her final year of high school and intends to study law in the very near future. She is particularly interested in using fiction to not only create safe spaces but also using it as a platform for addressing societal issues. She does this through her own work, regularly writing protest and spoken word poetry as well as writing a dark fantasy novel about vampire, fae and finding your place in the world.
Dylan Cowley | 1:00pm – 3:00pm
Kimjurin Vutha | 3:00pm – 5:00pm
Kimjurin is a 15 year old student from Mount Gambier High School, studying Year 9. I am also a Cambodian who came overseas to live in Australia. As of now I am nearly finishing Year 9 and soon starting Year 10. I love to write fantasy stories, sometimes I would spend time reading books and I have an interest in the world of game development. A fact about myself: I like to daydream about all sorts of things when I am bored, which is where I get all my ideas to make a story.  
Shania Richards | 5:00pm – 7:00pm
The City of Port Lincoln's Young Citizen of the Year 2022 Award Winner, the 27th Youth Governor of South Australia, Her Excellency, Lady Shania Richards, is interested in terraforming trauma into infinate possibility which is reflected throughout her work an djourney. Shania graduated from the Western Australian Academy of Performing Arts. Her creation style includes performance (theatre, singing, dance, industry level acting), music (singer/songwriter/rapper/clarinettist), painting, writing/poetry modelling, wood burning, drawing, cooking, and candle/bath bomb making. These works explore intergenerational trauma, unconditional love and surviving earth.
---
Quick, A Portal Open! is presented as part of our Portal: Fantasy Workshop Festival in the Riverland (Sept 9-11). See all events, workshops and updates here!
This event is presented by the Writers SA No Limits: Young Regional Writers program and is aimed at regional writers under 30, however writers from all ages and locations are very welcome to attend.
If you have any questions for this project, please contact Riverland Coordinator, Kirste Vandergiessen ([email protected]).