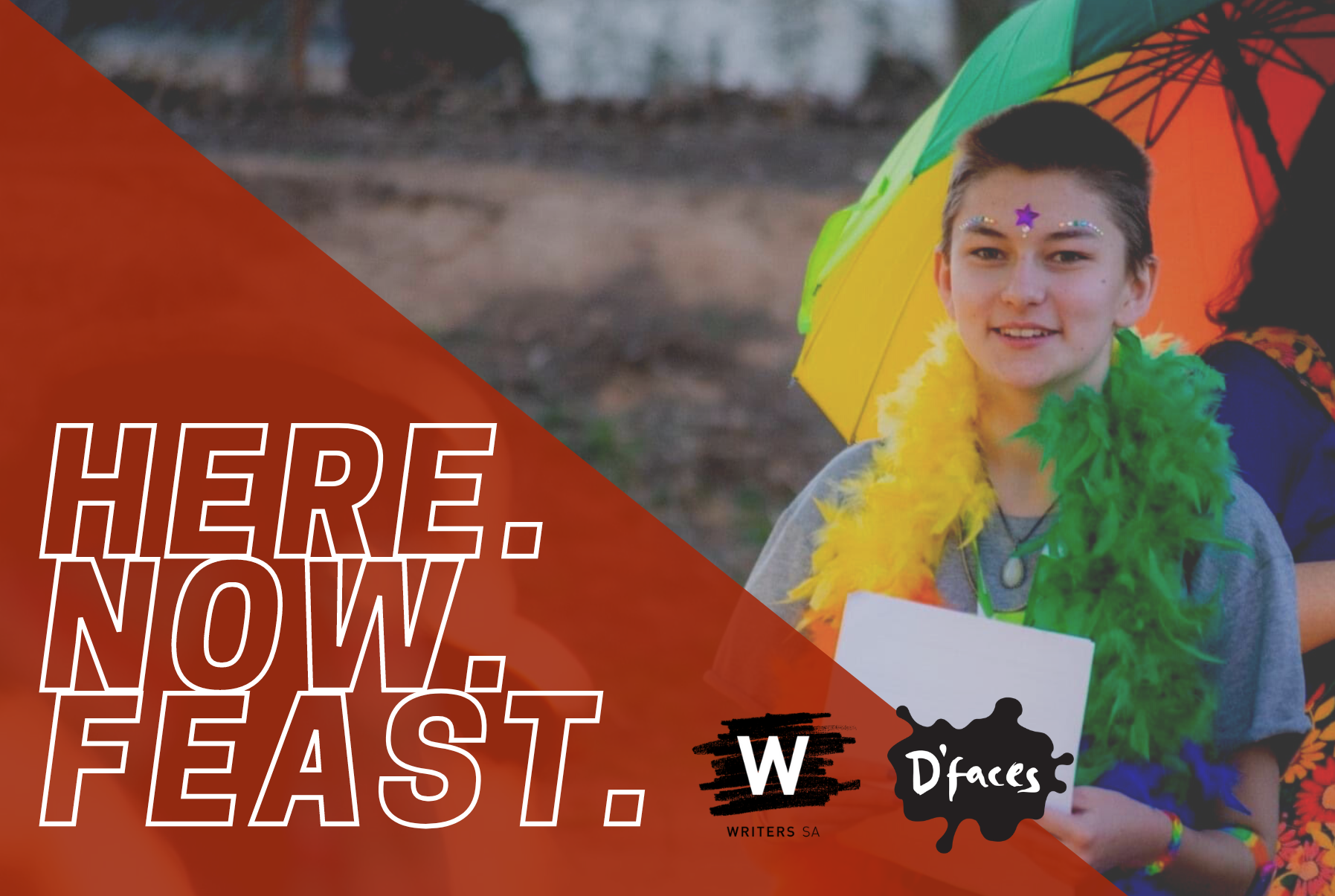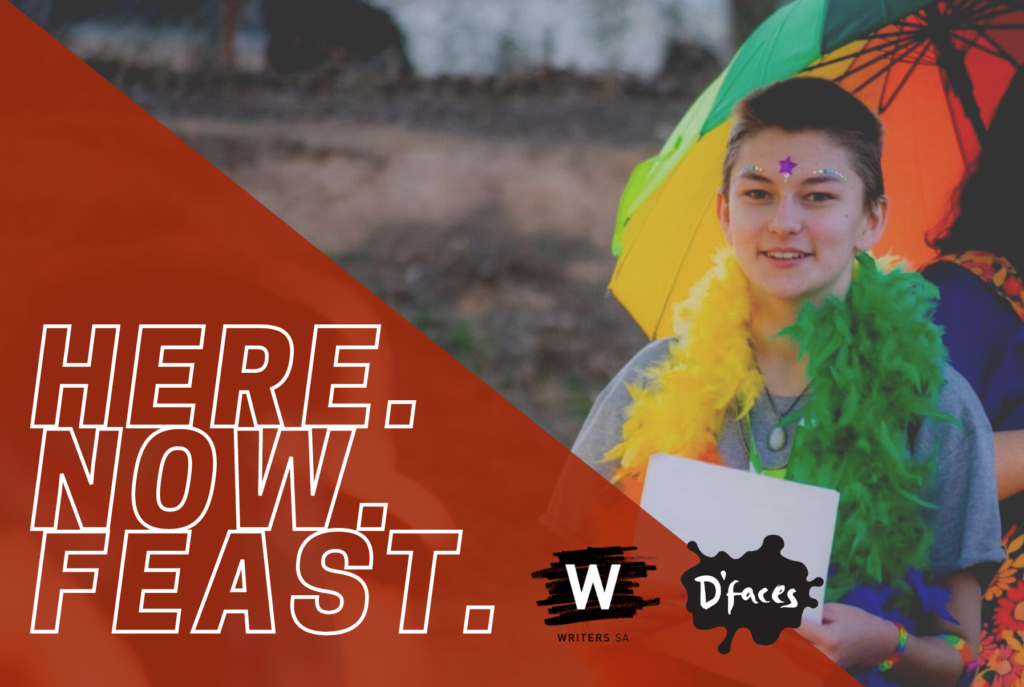 Three special opportunities for regional LGBTQIA+ young writers, one special regional event for the 2022 Feast Festival.
Here. Now. Feast. is a literary showcase celebrating the voices of queer regional young people from across South Australia. Featuring readings of new poetry, stories, letters, speeches, and scripts commissioned and presented by Writers SA and D'faces for Feast Festival 2022.
Through the Writers SA No Limits program, we have teamed up with D'faces to create Here. Now. Feast. and we are now inviting young regional LGBTQIA+ writers to get involved.
There are two open call-outs across regional South Australia and one direct commission (by invitation) for a Whyalla writer.
Here. Now. Feast. Statewide Commission
In this moment, this place, this time, what are the stories that need to be told? Luscious, brave, binary-breaking and standing your ground. This commission will select nine (9) LGBTQIA+ writers aged 15 – 29 from across regional South Australia to create new short pieces to be spoken aloud. Each selected writer will create, edit and polish a piece of 2-3 minutes duration to be presented in a special showcase event for Feast Festival this November.
Your creative piece could be a story, poem, song, speech, monologue, experiment or anything else that falls within the realm of "creative writing". Selected writers will have the option of reading/performing their own piece, or having a performer read on their behalf in the final showcase.
Selected writers will be paid $300 for their final piece.
Expressions of interest close 22nd August 2022. 
Expressions of interest must include your name, a little about yourself and an example of previous written work (up to 2 pages). Selected writers will have September – October to write and prepare their final piece.
Dear You
Writers SA and D'faces are teaming up to celebrate the voices of young regional LGBTQIA+ people as part of this year's Feast Festival. We are inviting all LGBTQIA+ young people aged 15 – 29 in regional South Australia to write and submit a letter to your past or future self. Your letter can be experimental, creative or matter of fact. Whatever you want and need to say.
A selection of letters will be published (anonymously) in a limited print run softcover zine and online through the Writers SA website. Five letters will also be selected to be read aloud (by you or a performer on your behalf) at a special in-person showcase in Whyalla this November.
Letters can be submitted from now and up until midnight 17th October 2022.
Letters selected for publication or reading will be paid a small fee of $50 per letter.
Here. Now. Feast. Showcase
Put 19th November 2022, 7pm in your diaries for the final showcase event. Join us in Whyalla in-person or online to hear and celebrate this special project together.
If you have any questions or need help submitting to Dear You or the Here. Now. Feast statewide commission, please contact Statewide Regional Manager Alysha Herrmann via [email protected]
---
FREQUENTLY ASKED QUESTIONS (FAQ)
What is a writing commission?
Commission
(noun)
an instruction, command, or role given to a person or group.
(verb)
order or authorize the production of (something).
Commissioning a writer means paying the writer an agreed fee (payment) to complete an agreed piece of writing, often to a theme or set of criteria.
Does my writing have to be based on real life?
We are asking selected writers to creatively respond to the brief, but that doesn't mean your writing has to be non-fiction or your own real life. Fictional responses are fine!
Do I need to be an experienced or published writer?
Absolutely not. We are looking for a mix of ages, locations, backgrounds and experience and would love to hear from experienced and new writers within the age range. Each selected writer of the Here. Now. Feast. statewide commission will be matched with a mentor to receive feedback during your drafting process in September, and the Writers SA Regional Team will also read your draft and provide feedback to help you develop your skills and write the very best version of your idea.
Dear You submissions will be accepted "as is" and will not receive feedback. We will select letters for publication/reading from final submissions. We encourage you to attend any of the in-person and online No Limits regional workshops to write and develop Dear You submissions. You can find the full list of regional events here.
I still have questions or I'm feeling a bit unsure about my ideas, who can I talk to?
You can contact any of the Writers SA Regional Team to ask more questions or get some feedback on your ideas before you submit an expression of interest or letter. More about the Regional Team and their contact details can be found here.