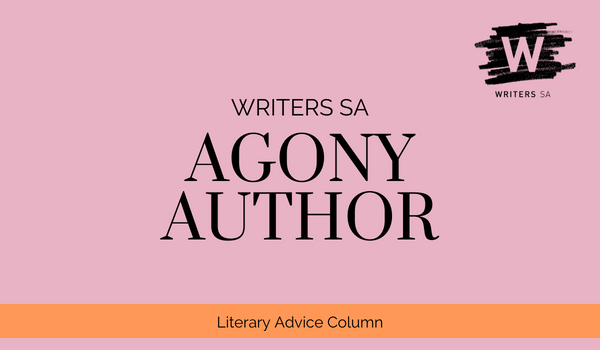 Welcome to Writers SA's member-only literary advice column, where our experts respond to your questions about writing, publishing, the literary life and beyond. Got a question? Ask us here.
For our very first installment of Agony Author, Rachel asks:

"I am trying to get into freelance writing. How do I get myself published? I have both submitted my own writing and put my name forward to be given writing assignments. No luck. Do you have any advice? I also often see calls for writers that ask you to submit a writer's profile or proof of other published works. How do you start as a writer if you don't have any previous credits or experience. How do you get that first opportunity?"
---
Dear Rachel,
It can be hard to get started as a freelancer, because editors do like to be able to see your work and see if you would be a good fit for them. If you're under 25, I recommend pitching to Voiceworks – they give feedback on all submissions, and they are a great place to start for young writers. If you're over 25, try looking around at other literary journals, perhaps like Kill Your Darlings and Island. They often open up for submissions on completed pieces, or pieces written "on spec", so you don't have to have a track-record and it rests on the strength of that piece. If you're trying to get published in a place like The Guardian or The Age and you don't have a portfolio, you can try sending them a completed piece and see if they are interested.
Street press like Beat Magazine, Scenestr and the Big Issue often feature new writers, or online look towards publications like Junkee or InReview in Adelaide. Make sure where ever you are pitching you're reading, so you know what they are looking for! Lots of publications have a "how to pitch" us page: they're worth reading even for publications you're not thinking of pitching to, just to get an idea of how different editors work.
If you have the capacity to travel, the annual National Young Writers Festival in Newcastle (for writers up to 35) and the Emerging Writers Festival in Melbourne (for emerging writers of any age) are a great place to meet other writers who know what it is like starting out. They'll be able to give you hints and tips on where to start, and they'll be a great source of support as you go on in your careers together.
And finally, if you have some writing that you're proud of, even if no one else has published it, try placing it on Medium or your own website (but note lots of places won't publish something which has previously been published, even if it was just on your blog). This will give you a place to point to for your work; and when I was a young writer with a blog, I found just the act of putting myself out there taught me a lot about what I wanted to say and how I wanted to say it.
Got a question? Ask us here.