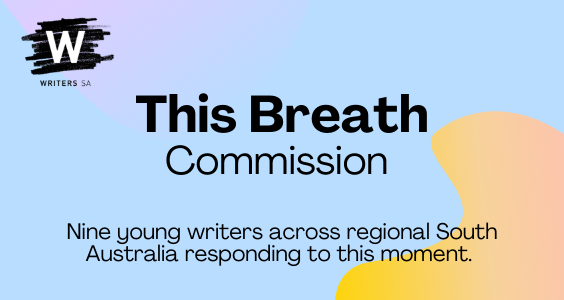 We are delighted to announce the selected writers for our No Limits commission This Breath.
This Breath is a creative response to a moment in time – this moment in time – by young people living in regional South Australia.
An opportunity to reflect and to capture what has been for many a difficult time to breathe – whether it was mass bushfires at the beginning of 2020, #blacklivesmatter, COVID or the ongoing climate crisis, the past two years will continue to shape the future of young people for decades to come.
Our selected writers will respond to this moment in time through poetry, short stories, memoir, essays, comics and other written forms and present the outcomes back at regional showcases and other events in 2022.
The selected writers are:
Anika Parenta is a 17-year-old writer based in Port Lincoln. Ever since she was little, Anika has had a passion for reading and writing. She enjoys writing short stories, music, poetry and anything that allows her to explore different scenarios using language. Anika also finds darker topics intriguing. She enjoys challenging herself and reader's perspectives through the incorporation of sometimes uncomfortable content. Anika is looking forward to being mentored and to meeting other young writers through This Breath, an opportunity that doesn't come often living in a rural town.
Britnie Hocking is a feminist, wife, mother and workaholic. She's worked in hospitality, car sales, administration and even as a brothel receptionist. Britnie is a millennial, so naturally having no money and working really hard to get nowhere is something she complains about often. Britnie has always had itchy feet but currently lives in the Riverland region of South Australia. She has always loved to read and writing naturally evolved from that. Britnie is returning to writing after a break over a few – lots of – years. Her writing is rough and raw and real.
Isaac Goosay is young bloke from Streaky Bay on the west coast of the Eyre Peninsula. Isaac grew up on a farm, and after stints in the big smoke at school and university, Isaac realised he missed having dusty nostrils and being greeted by name. Now, when he's not working on the farm, Isaac spends his time surfing, fishing and camping. Isaac has always been a keen reader and writer. His favourite books are fiction. He loves dragons and not a day goes by without Isaac wishing that they were real. Isaac doesn't think that's too fanciful; they are basically just big lizards with wings. Something Isaac hates is soggy pies that lack structure.
Jess Weidenhofer is a 27-year-old, non binary artist, writer, musician, emerging creative producer, and dreamer. Living, working and playing in the Riverland, Jess is passionate about mental health, and the narrative of self-preservation and healing in regional South Australia. Their work often reflects the ups and downs of navigating early adulthood with C-PTSD, what it means to be openly queer in a small community, and the incredible depth of consciousness and spirituality. Writing has always been a valuable therapeutic tool for Jess. They are excited to continue refining their skills and build their professional portfolio.
Josh King is a writer, singer-songwriter, and beginning filmmaker from Mount Gambier in the Limestone Coast region of South Australia. Josh is a great fan of experimental art and enjoys expressing the motion of everyday life in new and exciting ways to reveal how strange our lives really are, whether that be in poetry, prose, or song. Josh has a passion for work that emphasizes the essential, not additional, need for empathy and compassion in our lives, both for ourselves and those whose lives we share a place in.
Maddison Nyp is an aspiring author from Highland Valley, SA. She is a novelist, scriptwriter and lyricist, with experience in acting and music. Through her schooling at Cornerstone College, Maddison has worked on several plays as both a scriptwriter and director, including developing the script for the school's Easter celebration. Maddison is passionate about political writing, fantasy and musical theatre, with plans for tertiary studies in these areas in 2022.
Poppy Moyle-Read is a 17-year-old school student at Naracoorte High School. Her interest in literature inspired Poppy to undertake work experience with The Naracoorte News; developing her knowledge under experienced Journalist Eliza Berlage. Poppy has completed 13 years of reading with the South Australian Premiers Reading Challenge; highlighting her love for books and storytelling. Poppy has recently been selected as a Captain of Naracoorte High School in 2022. Hence, providing an opportunity to voice her concerns and thoughts. Poppy's ability to place injustices into poetry inspired her to begin songwriting several years ago. Poppy uses storytelling to help herself and others understand complicated yet collective feelings.
Sarah Herrmann is a 19-year-old writer from Saddleworth, South Australia. Sarah studies a Bachelor of Journalism and Professional Writing & Bachelor of Arts (Creative Writing and Literature) at the University of South Australia, and has been published by their platforms Verse Mag and On The Record. Sarah is inspired to write by her favourite library. She visited frequently as a child and continues to do so, now as a member of staff. Sarah's reading has taught her about people, places and times she could've never accessed otherwise, and encouraged her to inject spirit into her own storytelling. Sarah's interests include film and television, art, food, theatre, music, comedy, politics, Indigenous issues, feminism, psychology and body image.
Tayla Clarke is a 17-year-old woman, who has recently completed Year 12. She is a writer, singer, animal lover and book addict from the town of Port Augusta in South Australia. Tayla is also a blue belt in Zen Do Kai, and a founding member of the local Youth Theatre group Shock 'n' Awe. Tayla has worked previously with groups, such as Carclew and Country Arts SA theatre projects. One such project was the learning and performing one of the monologues from the 'This Was Urgent Yesterday' scripts. She was also involved in the following workshops and 'Mono Club'.
*
Join the Writers SA enews here for updates on This Breath and other Writers SA programs.
---