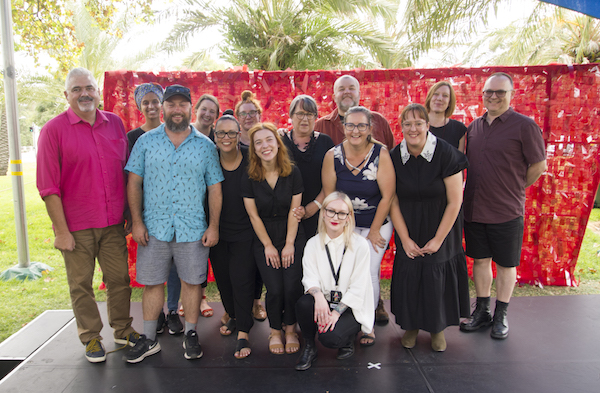 Dear members and friends,
We wanted to take a moment to say a big thank you to everyone in our community—members, subscribers, workshop attendees, partners, colleagues, writers, facilitators, mentors, and alumni. We're here because of you; supporting your literary success, our state's literary enrichment, and a bright future for writers drives what we do every day.
The generosity of our community helps to fund the future of our not-for-profit organisation, ensuring we can continue to provide a resource for writers of all ages and experience levels in SA and beyond. As the end of the financial year approaches, would you consider making a donation to support Writers SA?
Big or small, we're grateful for every gift. All donations over $2 are tax deductible, and help us to continue to support writers and writing in South Australia.
We'd also like to remind you that Writers SA membership may be tax deductible for practicing writers.
Why support us?
After a bumpy 2020 for all of us, Writers SA maintained our commitment to our community and rose to the occasion to support South Australian writers in one of the biggest years in history. Our hardworking team swiftly transitioned Writers SA's programs and services to full online delivery; one way we continued to provide employment to our state's writers, who delivered a unique range of workshops, programs and presentations online.
We were reminded more than ever of the importance of connection, access, and storytelling. In 2020 we welcomed new partnerships and launched new projects, and continued to employ writers to deliver programs. For the first time, we also commissioned book reviews in a new initiative of literary criticism with InDaily. We continued to support the SA First Nations Writers Group, the Deaf Storytellers, and the poetry community Soul Lounge. We awarded fellowships for young writers and awarded literary prizes for students, queer writers and people writing about mental health. We sustained and grew our diverse writing community, celebrating storytelling in all its forms.
If you want to help us contribute to the future of literature in the state, consider donating.
Your contribution would go towards:
Skill and creative development for writers, attracting the best talent across SA and Australia to deliver a range of workshops, author talks, and events for writers at all stages and across different genres
Employment opportunities for professional writers, helping writers live and work in South Australia
Youth and student writing programs to nurture the next generation of storytellers
Diverse literary sector initiatives to help us make our state an accessible and equitable place of culture
Social and networking gatherings for our members to gather together as writers.
Your donation helps us to achieve this and more, supporting SA writers and writing today and into the future.
Warmest wishes,
—The Writers SA Team