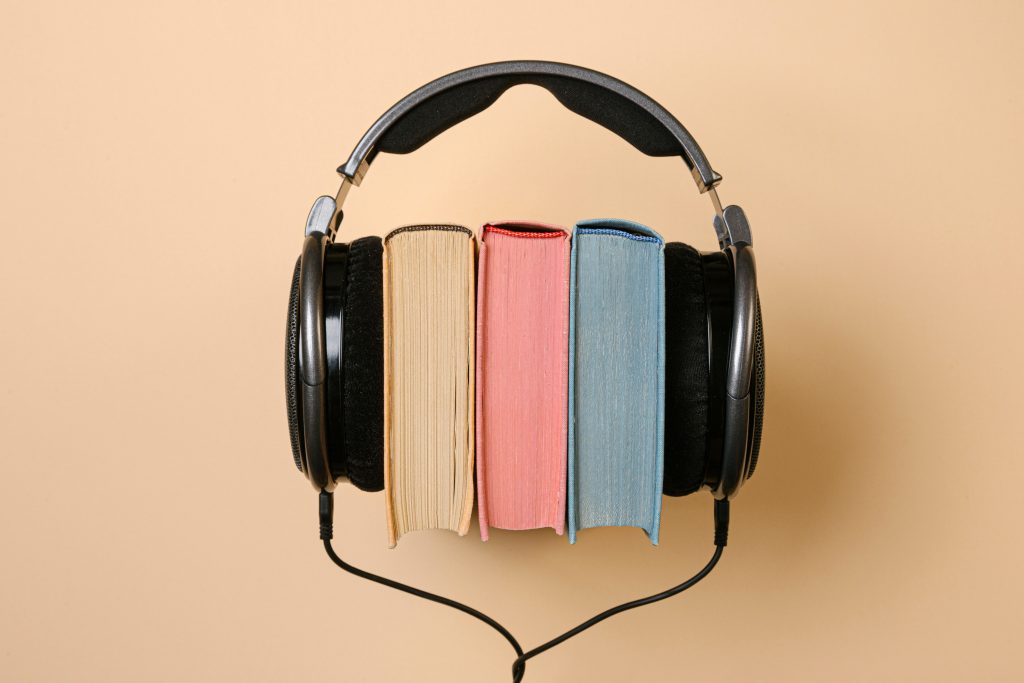 We've rounded up a selection of inspiring Australian podcasts for writers, whether you're looking for inspiration, to hone your craft, find a new read, or keep yourself entertained as you cook/clean/commute/relax. Happy literary listening!
If you want to explore the creative possibilities of podcasting for your own stories, our introductory session, Page to Podcast will cover everything you need to get started.
PODCASTS FOR WRITERS
The ABR Podcast: Released every Wednesday, the ABR podcast features our finest reviews, poetry, fiction, interviews, and commentary.
ABR's Poem of the Week: No longer active, the archive contains a treasure trove of poems, read and discussed by Australian poets.
Adelaide Writers Week: missed a session at AWW? Or just want to re-live an insightful panel or talk in more detail? The Adelaide Festival team have you covered.
Australian True Crime: whether you're writing non-fiction or fiction, explore the darker side of human nature with this true crime pod.
The Bookshelf: ABC Radio National's book review program.
Conversations with Writers: intimate long-form conversations with writers sharing what drives them to tell their stories.
Conversations: this podcast draws you deeper into the life story of someone you may, or may not, have heard about — someone who has seen and done amazing things.
Deviant Women: Every fortnight the podcast discusses a different 'deviant' woman from history, fiction, mythology and the contemporary world.
Vignettes: an audio reading series from the Emerging Writers' Festival, showcasing emerging writers from all around the continent, working across genres and forms.
Final Draft Great Conversations: conversations with authors from Australia and around the world.

The First Time: part reality show, one part writers' master class. Each episode speaks to an Australian writer or industry insider about all the feelings and logistics of publishing a debut.
First Word Pod: a creative writing podcast and online publication from lutruwita/Tasmania, talking to established writers about their craft and their careers, to help listeners with the process of developing a creative writing practice.
Fremantle Press Podcast: for lovers of Aussie literature, aspiring authors or illustrators, and people who want to work in publishing.
The Garret: interviews with the best Australian writers writing today and discuss how they start, draft, edit, publish and market their work.

Hello Poet: a new podcast featuring conversations with poets about their work and other interests hosted by Terri Ann Quan Sing.
Kill Your Darlings Podcasts: including First Book Club with debut authors, as well as general discussion on books and documentaries.
Meanjin Podcast and Meanjin Narratives: no longer regularly updated, these two podcasts from the literary journal cover authors, readings, conversations, and poets.
Middle Grade Mavens: reviews of middle-grade books, plus interviews with stakeholders in the Australian children's book industry – authors, illustrators, and publishers.
One More Page: a podcast for lovers of kids' books, featuring book reviews, industry gossip and interviews with authors, illustrators, book bloggers, book sellers and publishing professionals.
The Readings podcast: a celebration of books, reading and pop culture, with author interviews, event recordings, booksellers chatting about their favourite reads, as well as industry insights.
The Real: hosted by Wiradjuri woman Mayrah Sonter, the podcast presents a collection of First Peoples voices, including journalists, creatives and writers.
SBS NITV Radio: a national focus on news, events and issues that affect Aboriginal and Torres Strait Islander communities, with interviews, features and community stories.
Sisteria: a podcast about women and non-binary creatives' experiences as creators and consumers of arts and culture.
So You Want to be a Writer: from the Australian Writers Centre, a podcast for aspiring writers covering writing techniques, behind-the-scenes interviews and insights.
The Stella Prize podcast: hosts conversations about gender and literature, and celebrates Australian women's writing.
The SRB podcast: is about what writers do to make books, essays and poems – and what they do to make a living.
Sydney Writers' Festival: many of the writers from the 2021 Festival program will contribute their stories, perspectives and ideas, you can also listen to recordings of events from previous festivals.
The Wheeler Centre: offering a range of podcasts on books, writing, and ideas.
Word Docs: Alex, Amy and Sean (aka Dr Alex Vickery-Howe, Dr Amy T Matthews and Dr Sean Williams) are professional writers who also lecture full-time at Flinders University. They've joined forces to cover topics of interest to new writers.
What are your go-to writerly podcasts? Let us know in the comments!