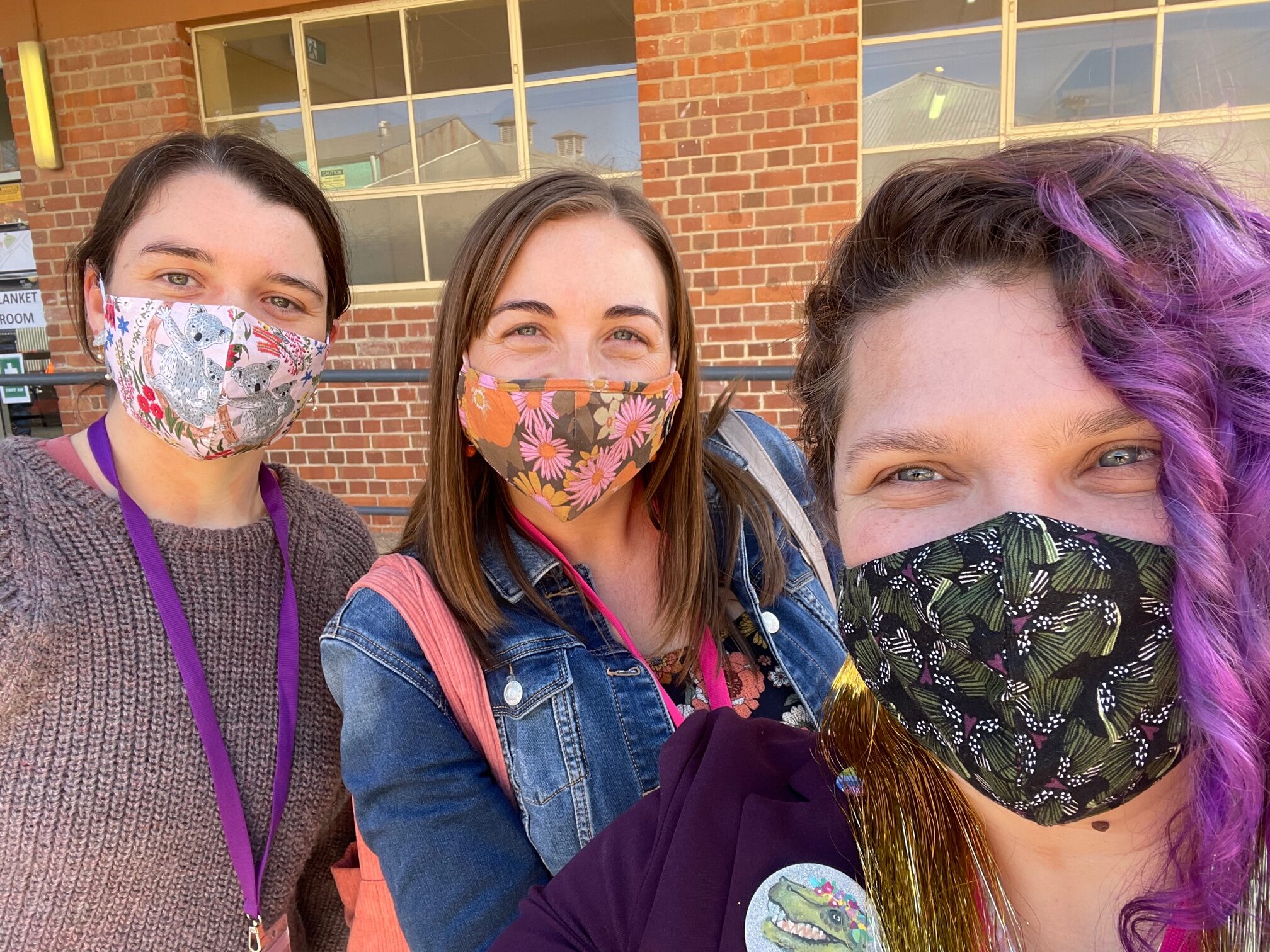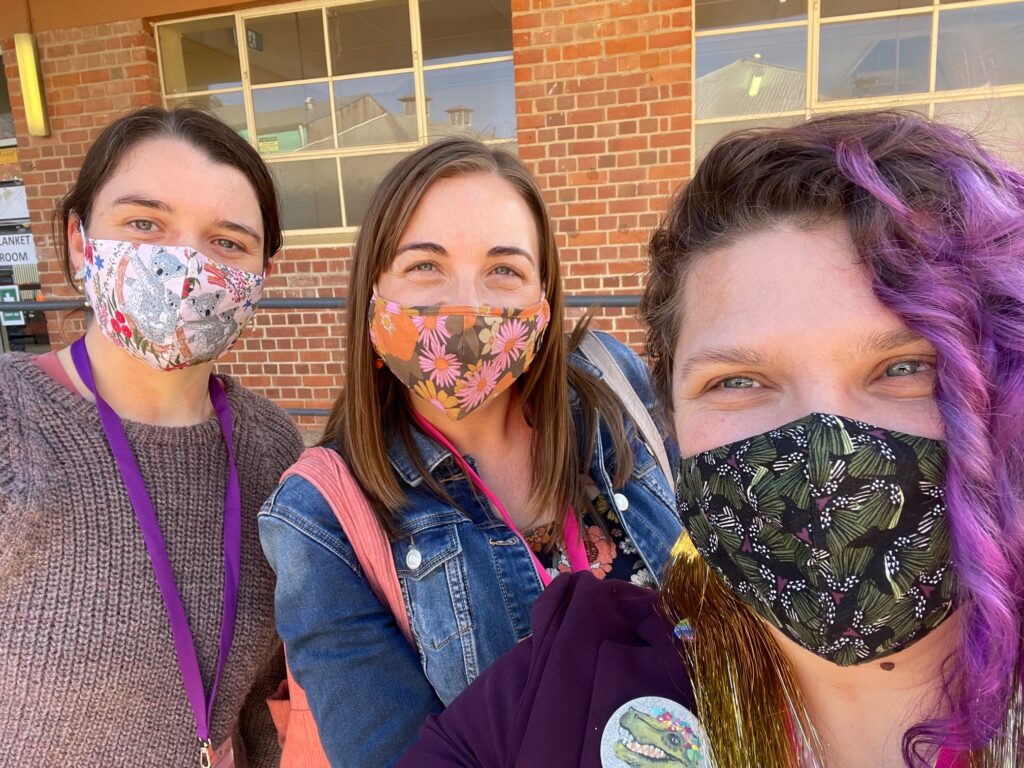 Our new regional team members recently had the opportunity to attend Artlands, the National Regional Arts Conference, at the South Australian hub at Fabrik in Lobethal.
We asked each of the team to share a little reflection on their experience of the conference.
Kathy Parker
Artlands 2021 brought together a community of creative artists and facilitators into a sacred space of warmth, laughter and rejuvenation. Through the foresight of Regional Arts Australia we bore witness to a hybrid model of digital and in-person events at the SA Regional Hub of Fabrik, which allowed us to feel connected to the national conference on a broader scale while also giving the opportunity to build networks with our creative communities closer to home. While the live-streamed panels were thought-provoking and interesting (especially the panel, "Am I Too Old To Be Here?" with our very own Alysha streaming in with other panelists from the National Conference), I personally found the in-person session and workshops to be more beneficial in creating an opening for organic conversation and connection between participants, which I feel is where the gold is found at such festivals. The workshops especially (I participated in Ali Cobby Eckermann's workshop on Monostitch Poetry and the Sound Bath Meditation with Heather Frahn) were a truly beautiful time of like-minded hearts and souls coming together to share and hold space for one another.
I did come away feeling there was a discrepancy in the term "regional arts" and how each community defines themselves under that banner. I feel the challenges we face in our consecutive roles in the Limestone Coast, Riverland and Eyre Peninsula are completely different to the challenges faced by communities that we would consider to be only a stone's throw from the city and all its accessibility, which raises the question of do we define ourselves as regional or remote, and how does that then look? All in all however, a wonderful festival which I am richer for having participated in.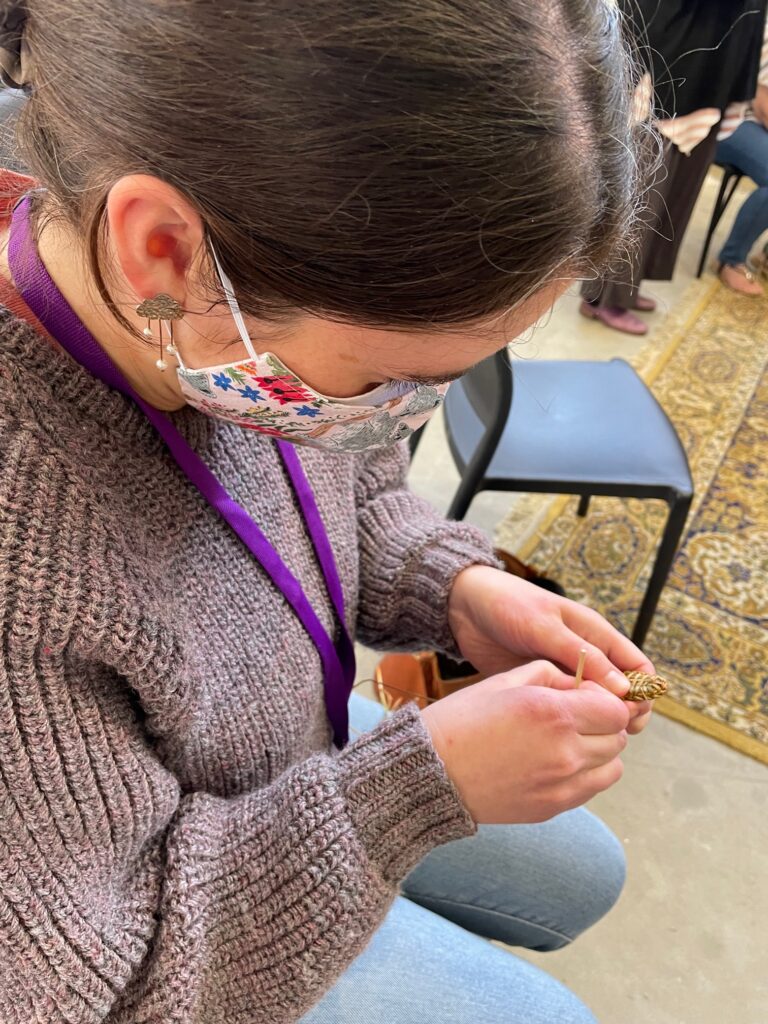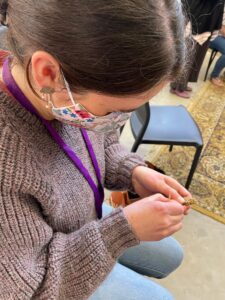 Eliza Wuttke
As with many things in our changed reality, Artlands this year looked a little different. What is usually a national gathering of artists and artworks from across the sector became a loosely woven web of state-based hubs, where this was safe, and individuals behind their home screens where this was not. Resilience came up a lot. And with good reason. Here we were, a group of creatives and regional arts allies, in the middle of a global pandemic pushing on with the work that needed to be done. Connecting, collectively dreaming, learning, listening, and creating. What this year's hybrid festival lacked in national conversation it made up for in deeper local connection, sombre respect and gratitude and an inspiring level of innovation and ingenuity. Reflecting now, I see hope. Kate Larson in her closing keynote referred to the increased access offered to regional people as digital uptake has been quickly adopted. At the same time and as a direct response, many regional areas are seeing an increased interest in their towns and cities as places to live, work and create. Panellist Caitlin Comerford of Stompin Youth Dance Company (Ltruwita) captured the power of this shift beautifully when she said, 'The grass may look greener in the big city but in regional, we have the artistic freedom to choose the colour of the grass'. Whichever colour we choose it will be uniquely ours, and in that there is endless possibility.
Alysha Herrmann
​​Conferences like Artlands for me always feel a little like fun family reunions. Working as a regional creative, and especially a writer, is often a very solitary and isolated experience but the National Regional Arts Conference (which usually happens every two years) always reminds me that I am part of something bigger. A rich, diverse, resilient and skilled sector of regional writers, artists, curators, producers, facilitators, performers, arts workers and allies. The conversations and connections remind me that I am not alone, that the work I do has value and that there are peers and friends across the country to share challenges and successes with. This feels especially important in 2021 as all of us grapple with the ongoing and growing climate crisis alongside a global pandemic that keeps shifting the goal posts in so many ways. I felt very lucky to be able to gather in person, and to connect online at Artlands with regional arts peers from across the country. It was also super fun to spend a couple of days with Eliza and Kathy to bond and unpack our programming ideas for No Limits. The three of us all live and work within very different regional communities which creates different kinds of challenges and opportunities for nurturing literary activity. We have so many ideas and it's tough to know we can only bring a small fraction of them to life!
Most of all Artlands reminded me how much our stories really do matter, and how critical it is that regional young people have every opportunity to tell their stories here and now. That's why the No Limits program exists, and we want to hear what you need from us (as the three regional coordinators). If you're a writer, reader or otherwise interested in writerly things under 30 and living in regional South Australia please fill out the little consultation survey we currently have open or get in touch with any of us via email. We hope to see you at a Writers SA event in person or online soon!
*
Kathy, Eliza and Alysha were all supported to attend Artlands by Country Arts SA through individual Artlands Participation Grants. The theme of the 2021 Artlands was The Space Between: Conversations about practice through the intersection of people and place.
You can discover more about Artlands here.
Selection of photos from Artlands taken by Alysha.
No Limits
Our project No Limits: Young Regional Writers supports literary activities in the regions, and creates industry pathways for young regional writers, from skills to publication. The project supports coordinators in three regional SA locations (Riverland, Eyre Peninsula and Limestone Coast), employs diverse authors to present skills-based writing workshops, commissions new literary work by young regional writers, connects young writers with publishers and industry representatives, and presents performance events and literary showcases in regional venues for communities of readers and writers. With events delivered in-person and online, young regional writers are connected with professional peers and audiences from around Australia. This project is supported by Restart Investment to Sustain and Expand (RISE) Fund – an Australian Government initiative, and Arts South Australia.