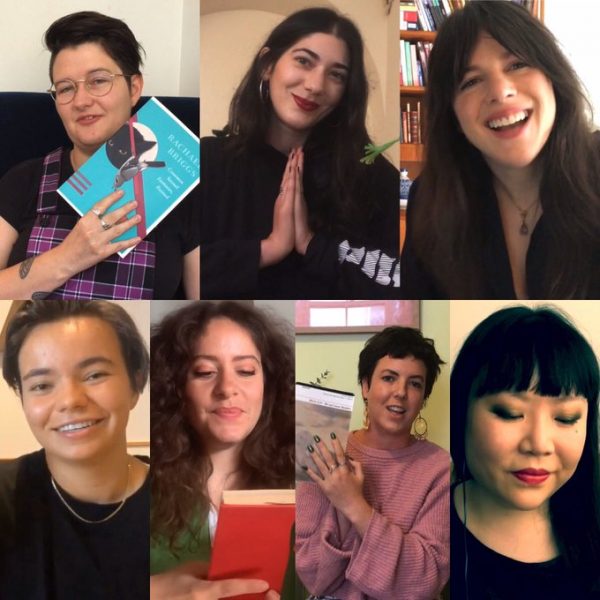 When you're living in your own bubble of social isolation, it becomes more important than ever to stay connected – to family, friends, colleagues and your professional and creative peers. In the last few weeks we've seen a gathering together around the digital fireplace, with all kinds of online communities, entertainment, and live streaming events emerging, and new ways of putting the social in social isolation.
To help keep you connected, we've rounded up a list of online hang outs, events, and communities for South Australian writers. Got something to add? Let us know!
Facebook
Our shiny new Writers SA Members group and Writers SA Workshop Alumni group on Facebook give you an online space to meet, chat, and share with other local SA writers – come join us.
Writers Go Forth was created for Australian writers with books out in 2020 (and the readers who love them).  A place to promote your book, video your launches, post reviews and media, share insights into all things publishing, support bookstores, festival and publishers, and more.
SA Aboriginal and Torres Strait Islander Writers page is a place to meet, share ideas, support and encouragement for all aspects of writing.
Draw Your Swords is doing an online event *this Thursday*, with an open mic via Zoom.
Australian Arts amidst COVID-19 is a "place for Australian Arts to ask questions and share ideas about how to work with Covid-19", sharing information and ways that artists and organisations are innovating and surviving.
Not for writers specifically, Caremongering is a mutual support network for Adelaideans, with news, information, trading, connecting people who need help with those willing to give it.
Writers in South Australia is a space for writers, publishers, booksellers and other literary types in SA.
The First Nations Australia Writers Network (FNAWN) is the peak body for Aboriginal people or Torres Strait Islanders writers, poets, storytellers, editors and publishers.
Penguin Australia have just launched The Huddle, a Facebook book club connecting readers with authors. On Fridays from 3-4pm a Facebook post will go up featuring the book of the week, readers can discuss the book and the author will be ready and waiting to answer comments. The first book is THE TRIP OF A LIFETIME with Monica McInerney on Friday 17 April, and the second book club will be KHAKI TOWN with Judy Nunn on Friday April 24.
Podcasts
The brand new (and wonderfully named) Word Docs, by SA writers and academics Drs Sean Williams, Amy T Matthews and Alex Vickery-Howe has just been launched. Great conversation about the creative writing process.
Adelaide Writers' Week has released over 80 recorded sessions so you can recreate the literary festival in your living room.
SA writers Alicia Carter and Lauren Butterworth host Deviant Women, discussing different 'deviant' women from history, fiction, mythology and the contemporary world.
Other sites
Wheeler Centre Discussions is an Aussie online discussion forum where you can talk, explore and share, with tips for staying at home and information on literary events.
Spread Stories not the Virus is an initiative that collects and shares stories written by people from all around the world, about life and their experiences in a locked down city.
Access 2 Arts have put together a wonderful list for deaf and disabled artists and arts-audiences on how to keep the arts in your life in a time of social distancing.
The Penguin Long Weekend Literary Festival is an online literary event with a line-up of authors talking about their books from Tom Keneally to Minnie Darke, and these will all be available to stream via YouTube.
Twitter and Instagram
Soul Lounge Adelaide are doing live poetry readings and open mics on their Instagram page. In response to Covid19 and practicing social distancing, they say "we knew that of lot you guys were keen to join in, listen, sink into the rhythm of coloured voices as well as approach the open mic, we're going to do an online live feed event."
Poetry lovers Line Break are running 'quarantine poetry' on their Twitter and YouTube channels, with poetry readings and book giveaways. They say: "each day, a different artist will read you their favourite poem. Social media feeds are stressful places at the moment, so we thought we'd sprinkle a little poetry in there as a salve."
If you're keen on the whole 'reading to one another' on social media trend, Sir Patrick Stewart is reading Shakespeare's sonnets over Twitter, and Jennifer Ehle (AKA Lizzie Bennett) uploaded a video of her reading Pride & Prejudice on her Instagram.
Stay safe
With many of us Zoom-ing for the first time, and a plethora of events being streamed on the live video platform, it's more important than ever to stay safe – find some good tips here.
SA Health has launched a new mental health support line to help support the health and wellbeing of South Australians during the COVID-19 pandemic.
Connect with us on Twitter
Head over to our Facebook page
Subscribe to our email newsletter for the latest updates
The Writers SA team are working from home, but you can still reach us via email [email protected] and by phone on 08 8223 7662.