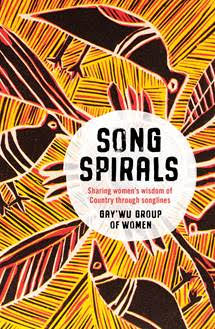 *Please note this competition is now closed*
A rare opportunity to connect with the living tradition of women's songlines, as recounted by Yolngu women from far north Australia. Gay'wu Group of Women is the 'dilly bag women's group', a deep collaboration between five Yolngu women and three non-Aboriginal women over a decade. They are all co-authors of Weaving Lives Together at Bawaka, North East Arnhem Land and a book for young adults, Welcome to My Country.
Aboriginal Australian cultures are the oldest living cultures on earth and at the heart of Aboriginal cultures is song. These ancient narratives of landscape have often been described as a means of navigating across vast distances without a map, but they are much, much more than this. Songspirals are sung by Aboriginal people to awaken Country, to make and remake the life-giving connections between people and place. Songspirals are radically different ways of understanding the relationship people can have with the landscape.
We have two copies of Song Spirals to give away thanks to our friends at Allen & Unwin. For a chance to win a copy, please enter your name and email using the form below, and comment in 25 words or less:
Why would you like a copy of Song Spirals?
Entries close midday, 27 August 2019, Adelaide time.  
Good luck!