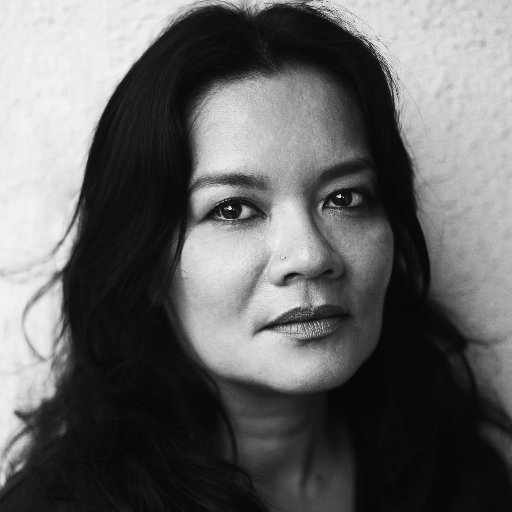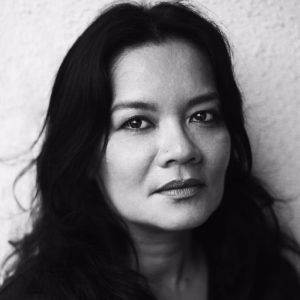 This week we welcome Bernice Chauly to Adelaide as part of our partnership with George Town Literary Festival, Penang – our Malaysian sister city.
Bernice is a writer, filmmaker, actor and festival director. She will be in residence until mid-March and will appear at Adelaide Writers' Week. Before she jets home, she'll host a session with us about her writing, our partnership, and the wonderful George Town Literary Festival, where we send an SA-based writer each year.
You may remember that, last year, we sent poet and author Jelena Dinic to the festival. She's returned with stories galore, and the pictures to prove it. Here's more from Jelena on The Festival of Monsters & (Im)Mortals:
The invitation to the George Town Literary Festival arrived on a winter afternoon. I was at my computer trying to justify writing to my family as a sensible escape from the cold snap that had descended on the Adelaide Hills.
The email flashed with an invitation to the George Town Literary Festival in Penang. I reread it in disbelief! The Festival of Monsters & (Im)Mortals in a world ruled by demagogues. I learned it is the only state-funded festival in South-East Asia. The invitation also included a two-week residency at Rimbun Dahan. An opportunity to write in peace! I just had to announce the news to my family.
More emails followed. The topics of discussions were 'addressing the challenging and confronting issues' of society, as the festival's Artistic Director Bernice Chauly noted in her welcome message. Bernice is a Malay writer who is recognized as one of the most significant voices of her generation. Bernice began the festival seven years ago with just a few guests attending a café and reading their work. Today the festival is a three-day literary event with over 5000 visitors. It features an array of award-winning writers, poets and journalists.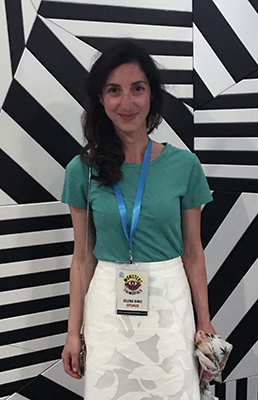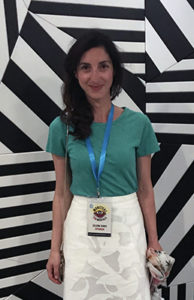 Many of us were staying at the Royale Chulan Penang Hotel. We met at breakfast, comparing our discussion topics over a cup of coffee. The question 'where are you based?' rather than 'where are you from?' lessened my anxiety of belonging, but heightened my responsibility of being a citizen of the world. My topics for conversations were:
1. Is the poem still sublime?: Have the violence and tragedy of the twentieth and twenty-first centuries affirmed Adorno's claim that to 'write poetry after Auschwitz is barbaric?'
2. How to become a dictator: The need for blood and why do we still hate?
'How to become a dictator' occupied my mind. Perhaps Writers SA corresponded with my husband before deciding that I am a suitable person for this topic. I come from a war-torn country. The idea that I might have anything to do with monsters or dictators did not alarm him. I told my friends about it. 'You certainly match the theme,' they remarked, looking down at my ballet flats.
I looked at my ballet flats too. Every six months I buy a new pair. Their flat souls under my feet peel into layers. My toes push hard forward. My ankles can rip a strap in a twist. 'But you look so gentle' the shop assistant says.
'I walk fast,' I grin.
But who knows where I go?
Eight easy steps is all it takes to become a dictator if you Google the question. I use my iPhone as a research tool. While I clean the house, I stream YouTube. The voices of great historians are lost in the background sounds of a washing machine churning, and a dryer tumbling.
At work, I am seen with the mobile phone under my arm and I am called to the manager's office to touch base on my deadlines.
According to the various Wikipedia entries, the person most dangerous for humankind can be the one who follows orders. The architect of Holocaust, Eichmann, a civil servant, never asked questions. How does anyone write any poetry after this? 'By finding the words to describe the truth,' wrote poet Charles Reznikoff.
At the opening ceremony the keynote speaker, writer and literary professor Muhammad Haji Salleh was addressing the audience with a similar wonder. He explained that upon receiving the festival invitation he looked into the mirror, into his eyes and into his open mouth to see if there were any monsters residing, but all he found was a kindly grandfather. However, he reminds us 'that among the citizens, sometimes monsters may appear to trample their gardens and rights. We ask them and ourselves: are they our making?'
My first festival attendance was in 2016 at the Adelaide Writers' Week. The award-winning author Peter Goldsworthy curated a series of SA poets for the Australian Book Review and I was fortunate enough to be selected as an emerging poet.
I was born in a country that no longer exists. I grew up reading poetry in quiet corners. There was a swing under a tree. My mother worried from her window 'Hold on, hold on!'
Sarajevo's winter, Mostar's bridge, Dubrovnik's border. Memories I have been busy forgetting. If I forget, who do I expect to remember the collapse of Yugoslavia twenty years later? The bombing of Serbia: the fifteen tonnes of depleted uranium bombs dropped twice a day for seventy-eight days on a country the size of Tasmania.
I watched my hometown on TV. My friends described the bombing to their toddlers as fireworks, before hiding in basements. I still struggle to put this in poetic form. And still wonder if the bombing needed to be the only trick the world had up its sleeve for my country. But I often think of Anna Akhmatova being recognized, standing in a queue on a cold winter day before a stone prison where her son was taken. The woman behind whispered to her, 'Can you describe this?'
'I can,' replied Anna.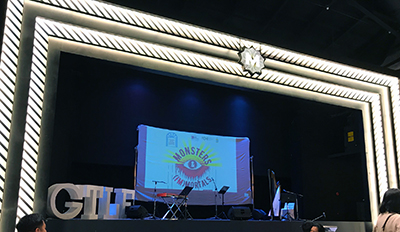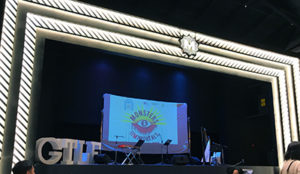 I walk towards the stage for the session on dictators in the company of David van Reybrouck, Laksmi Pamutjak, Manug Day and moderator Kam Raslan. I worry that what I might say on stage was not written in the tabloid titles of leading newspapers, but there is so much to talk about. Afterwards, a human rights lawyer based in London approaches me and apologises in the name of the world for not seeing the horror in Serbia sooner. I am thankful for the opportunity.
Rimbun Dahan
The property of Rimbun Dahan is a forty-five minute drive from bustling Kuala Lumpur. The series of homes and residences are beautifully designed by owner and architect Hijjas Kasturi and his wife Angela. The artists' houses are surrounded by luscious trees and vegetation and I find myself immediately engaged in the natural vibrancy of the surroundings.
I take a barefoot walk. The lush green jungle looks inviting, but I doubt its hospitality. The mosquitoes are, as ever, bloodthirsty. On the wall in my room, opposite my bed, hangs a portrait of eyes staring at me. I can't make out if these eyes belong to dogs, wolves, people or owls. I don't remember falling asleep. In the morning, I imagine making fans from mosquito wings.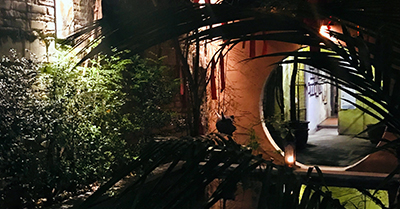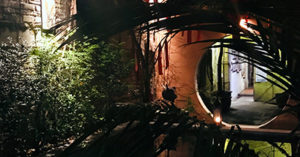 The jade colour of a nearby pond reflects in the windows of the main house. The air breezes gently through spaces, flicking the curtains in a hypnotic rhythm. Near my room resides Carlos Carvalho, an artist from Brazil. He makes casts of his own body and applies animal print on them with fabrics applied with a hot glue gun.
Many artists have been fortunate enough to stay here. Our own poet, writer and ABC radio producer Mike Ladd and artist Cathy Brooks spent three months in Rimbun Dahan. Mike and Cathy's collective work Invisible Mending is partly a reflection of their experiences at the residency, and I hold it as a source of inspiration. It has been a guide to a better understanding of Rimbun Dahan.
Influenced by Invisible Mending, I spend my days writing and reading. The internet connection is poor, which gives me freedom to marvel and wonder. Then I write more. There are no interruptions, except the ever-presence of the natural environment I am in.
I manage to write a poem a day. I bring them home like souvenirs and the next morning, I salvage a few. Here they are:
Rimbun Dahan
1.
I have not met the architect and his wife
but I am staying at their guest house.
It opens with glass iron and steel
to nature that is accepting.
A relationship based on truth.
The outside pool is the colour of jade.
Wrought flowers are rising above the surface
mirroring a Malay tribal belief:
Lord of Iron will eat the Earth to the end.
I find that loneliness grows in most suitable places.
A spare bed in my room is meddling with my mind.
A painting of hypnotic eyes hangs on the wall.
Tiny eye shapes of owls, or dogs. Or people.
It is 4am. Prayers from a nearby mosque
are rippling across the jade water.
I watch the ceiling fan turning its rusty petals.
The horror of letting go.
2.
I don't know the name of today.
It will be seen hanging somewhere
like a red tassel tied to a tree.
I wait for the monkeys to swing,
but the trees are still. Instead,
a bird flies into the roof
and screeches for freedom.
It is a sign, from an ancient story.
The guest house opens like a lidded jar
but the bird doesn't see it yet.
It takes time to find a way out.
3.
I retrace my steps to the kitchen.
The scent of mint whirls above my tea cup.
A sip at the time and I learn that
what binds us to ruins are gentle things –
like tear drops on chipped porcelain.
The bottom of the cup is glazing like a
belly of the fish. Struck with a spoon
it echoes the lost bells.
A slip through the fingers and the cup
will ring to the last peace.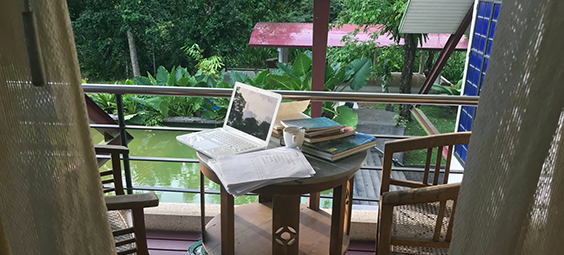 4.
From the balcony of the guest house
the light swims across the jade water
and splashes the trees.
Monkeys didn't come out to play.
But yesterday, they were swinging
like in the days of my mother's fear
'hold on, hold on!'