June 5, 2016 – July 31, 2016
Level 2
Map and Directions | Register
Description:
with Kevin O'Brien
This is now full. If you would like to be added to the wait list, please email [email protected].
Bring your fiction writing and evaluation skills to the next level in this intense but friendly focus group, convened by an extremely experienced book editor, over a series of eight sessions.
Prior to each meeting, four writers from the group of eight will submit samples of their work (maximum of 6000 words per piece, either short stories or extracts from a novel), for four members of the group and the convenor to provide critical feedback on in the meetings. The writers will then have a right of reply.
Kevin will also open each meeting by focusing on a particular aspect of fiction writing, such as narrative voice, point of view, dialogue, structure and pace. Group members will learn to identify these elements in a piece of writing and be encouraged to address them in their weekly feedback. In learning how to appraise other people's work, each participant will be better positioned to appraise his or her own.

5 June + 19 June + 26 June + 3 July + 10 July + 17 July + 24 July + 31 July  [12 June is long weekend break]
Workshop outcomes:
a total of 20 critiques on the chapters or stories you submit
development of your own skills of critical appraisal
a motivational boost to finish your novel or improve problematic chapters
professional feedback and advice on getting published from an experienced trade editor.
Kevin O'Brien is a professional freelance editor based in the Adelaide Hills, with over 15 years of experience. He edits books for companies such as Pan Macmillan, Hachette, Allen & Unwin, Penguin Random House and Black Inc., and has worked with authors including Peter FitzSimons, Gregory Day and Kate Forsyth. He also teaches writing and editing for the University of Sydney, the SA and NSW Society of Editors, and the SA, NSW and ACT Writers Centres.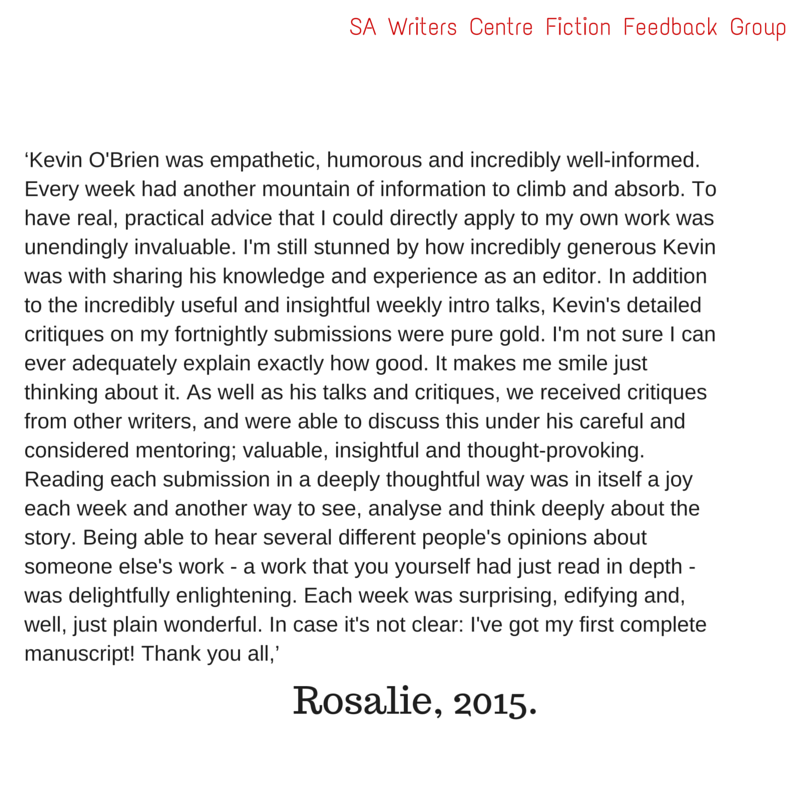 THIS FEEDBACK FOCUS GROUP IS LIMITED TO EIGHT PEOPLE ONLY.
This is great if you are considering this year's Pitch Conference.