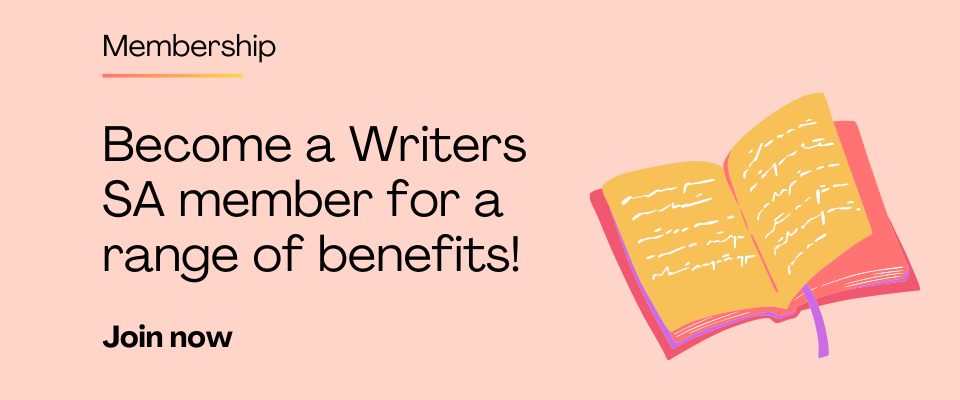 Enjoy exclusive benefits and join a vibrant community of writers.
For over 35 years, Writers SA has supported the development of writers in the state. Our members are a dynamic and diverse community of creatives of all experience levels, genres and forms.
Over that time, we have helped our members reach their writing goals; whether it's connecting with like-minded writers, developing their craft, landing literary agents, or publishing books.
As a Writers SA member, we encourage and foster your journey to either traditional publishing or self-publishing and all of the steps in between. You'll not only be part of a creative literary community, you'll access generous discounts across our range of workshops, services and events, professional opportunities and support, and member-only offers and resources.
We offer:
advice, information and support in your writing activities
career and publishing pathway support and opportunities
access to a community of writers and industry professionals
professional development workshop program (from aspiring to established writers)
opportunities for book and event promotion
…and much more. Please see the full benefits of each membership type below, or view our Member Benefits Flyer here (PDF).
Check out this enormous list of benefits available to individual members. We offer a discounted rate for concession card holders.
We offer a discounted rate if you are a writer permanently residing in a suburb or town listed as regional or remote. You get all the benefits of full membership AND discounted rates to regional workshops and events if you're under 30 with our No Limits program.
All the benefits of full membership PLUS you get membership to Express Media! Valued at over $100 but costs only $60.
Promote your writing group, and get discounted workshop tickets and more.
Ideal for corporate or government organisations/companies or businesses. Not for profit memberships are also available.