A guide to writing prizes, awards and competitions in 2021
Get your writing out into the world with our round-up of the literary prizes, competitions, fellowships, and other writing opportunities in 2021.
Subscribe to our weekly e-news for the latest opportunities straight to your inbox, and view publications currently seeking submissions here.
Writing prizes are a great way to give yourself a deadline, and can provide a boost to your confidence, build your publication credits, as well financial incentive at any stage of your writing career. Keep an eye on our program of workshops to get you ready to enter.
Please note that inclusion below is not an endorsement. Writers should always carefully check terms and conditions for information on fees, rights, and eligibility.
Do you have an opportunity to share? Submit it for review here.
JANUARY
The Kat Muscat Fellowship
Presented by Express Media, The Kat Muscat Fellowship offers professional development up to the value of $5,000 for an editorial project or work of writing by a young person of an underrepresented gender, continuing Kat Muscat's legacy. Closes 10 January.
The Masters Review Short Story Award For New Writers
The annual contest for emerging writers, with cash prizes up to $3000, publication online and agency review. Closes 31 January.
The ASA Award Mentorship Program
Open to writers and illustrators, the mentorship offers one-on-one advice, free ASA membership, access to events and services to develop their work to a publishable standard. Closes 31 January.
FEBRUARY
black&write! Writing Fellowships
Two winners receive $10,000 prize money, manuscript development and publication opportunity with Hachette Australia. Open to all writers of Aboriginal and Torres Strait Islander descent living in Australia.Closes 1 February.
Voices of Women
Writers are invited to submit short monologues for 'Entanglement', up to 800 words, written in the first person. Winning entries receive $100 and the stories will be presented by professional actors in live and filmed performances.Closes 2 February.
Nakata Brophy Short Fiction and Poetry Prize for Young Indigenous Writers
First place is a $5000 prize, publication in Overland's print magazine, and a writing residency (of up to three months) at Trinity College.Closes 16 February.
ART WORKS: Call Out for Writer in Residence 2021
Guildhouse is calling for expressions of interest from South Australian writers. Closes 18 February.
Nature Conservancy's Nature Writing Prize
$7,500 will be awarded to the author of an essay between 3,000 – 5,000 words in the theme of 'Writing of Place'; the winning entry will also be published in Griffith Review online. Closes 19 February.
Allen & Unwin Crime Fiction Prize
The winner will be awarded a publishing contract with an advance against royalties of $25,000. Closes 26 February.
Kill Your Darlings' New Australian Fiction 2021 anthology
KYD is now accepting submissions to their of new short fiction, all genres, between 2000-6000 words. Closes 26 February.
Aniko Magazine
Submit for Issue 2: 'Revolt'. Welcome to flash fiction, short stories, creative non-fiction, and poetry. Contributors are paid $125. Closes 28 February.
MARCH
2022 Adelaide Festival Awards for Literature
The awards offer a total prize pool of $167,500 across six national and five South Australian categories, including the coveted Premier's Award worth $25,000 for the overall winner. Nominations open in March.
Australian Book Industry Awards
The ABIA award ceremony is Australia's book industry's night of nights. Nominations are open from 12 March.
The Jesse Cox Audio Fellowship
A $10,000 cash fellowship, awarded annually to an Australian resident pushing innovative audio storytelling. Closes March 14.
Griffith Review's competition for emerging writers
Entries are open for fiction and non-fiction submissions (3500-7000 words), with a prize pool of $15,000.Closes 15 March.
The Sheila Malady Short Story Competition
The competition invites wordsmiths to be inspired by the words of William Shakespeare with original work of 2000 words or less. Cash prize.Closes 15 March.
Baby Teeth Journal
The #sendnudes issue now open for submissions. They invite erotica, writing and art that explores human sexuality, kinks, bodies, pleasure, desire. Payment $25.
Peter Carey Short Story Award
Submit short stories between 2000-3000 words. The winner receives $2000. Closes 18 March.
The OutStanding LGBTQIA+ short story competition
Celebrating Mardi Gras season with Miniature, a competition of VERY short stories (50 words of less), with the theme "SHINE". Closes 20 March.
Copyright Agency Cultural Fund
Publishing Industry Career Development Grants close 22 March.
Submissions Open: Griffith Review
This edition visits utopias. Respond in the form of essays, reportage, creative non-fiction, fiction, memoir, visual essays and poetry. Closes 25 March.
Australian Antarctic Arts Fellowship
The Arts Fellowship program aims to increase Australian and international awareness and appreciation of Antarctica, the sub-Antarctic, Southern Ocean and the Australian Antarctic Program. Closes 26 March.

Best Australian Science Writing
Open to all writers, poets, journalists, and scientists. Pieces must have been published in print or online in Australia or globally between 1 January 2020 and 31 March 2021. Closes 31 March. 
SRB Emerging Critics Fellowships
Fellows receive a stipend of $3000 to write three 2000-word essays on new Australian books for publication in the Sydney Review of Books, working closely with editorial staff. Closes 28 March.
The Caterpillar Poetry Prize
The Caterpillar Poetry Prize is an annual prize for an unpublished poem written by an adult for children aged 7–11. Closes 31 March. 
Overland fiction submissions
Now open. Payment for stories published in the print journal is $500, online is $150.
KYD Magazine
Nonfiction submissions now open.
Steph Bowe Mentorship for Young Writers
Open to Australian children's writer under the age of 25, the winner will be paired with a middle-grade or young-adult author to develop their manuscript; a 12-month membership with Express Media, Voiceworks and the state writers' centre of their choice. Opens March.
APRIL
Australian Multilingual Writing Project
Submissions for Issue 6 are now open, inviting multilingual poetry and short prose, as well as artwork that engages with themes of language mixing, language learning, moving between languages and modes of speech.  Closes 2 April.
The Text Prize for Young Adult and Children's Writing
Awarded annually to the best manuscript written for young readers, the $10,000 Text Prize for Young Adult and Children's Writing aims to discover incredible new books by exciting authors.
Backslash Lit
Now open for submissions for Issue 4: <body>. They invite pieces that use digital and electronic mediums as a vessel for creativity, including but not limited to source code poetry, hypertext poetry, interactive fiction, ASCII art, and generative art. Closes 5 April.
Poetry for the Planet anthology
Anthology seeking poetry that explores imagined futures based on climate action and/or inaction. Australian and New Zealand focus, we welcome poems that depict the realities of future life for humans, and the fauna and flora we share the planet with, if we were to continue on our current trajectory. Closes 5 April.
Ultimo Prize 2021
Writers 18-30 to submit short fiction or poetry to the theme IDENTITY. Winners published in an anthology and $200 cash prize. Closes 8 April.
Raining Poetry in Adelaide
Raining Poetry is open for poetry submissions. Visit the Facebook page for full submission details. Closes 9 April. 
Island Nonfiction Prize
Accepting nonfiction entries up to 4000 words. The winning writer will receive $3000 and publication in Island. Closes 11 April.
Copyright Agency Cultural Fund
Reading Australia Fellowship for Teachers of English and Literacy. Closes 12 April.
Newcastle Short Story Award
More than $7500 in prize money for entries up to 2000 words. Closes 14 April.
The Rachel Funari Prize for Fiction 
The 2021 Rachel Funari Prize for Fiction is accepting entries of creative, insightful fiction up to 2000 words that engage with the theme HOMECOMING. The competition is open to all women and non-binary writers. All entries must be original, previously unpublished and unperformed. Closes 16 April. 
2021 Peter Cowan 600 Short Story Competition
For unpublished stories, there are three categories: Open, Novice & Youth. *Entry fee. Closes 16 April.
Screenrights' 2021 Cultural Fund
Supports projects that foster the creation and appreciation of screen content, the Fund's 2021 focus is New Teams, with grants available for up to $50,000 per project. Closes 28 April.
The Daisy Utemorrah Award
Awarded to an unpublished manuscript of junior or YA fiction, open to all Aboriginal and Torres Strait Islander peoples currently living in Australia. The winner of the award receives $15,000 and a publishing contract with Magabala Books. Closes 30 April.
Queensland Literary Awards
Presented by State Library of Queensland, the awards celebrate outstanding Australian books and authors. The top prize is the Queensland Premier's Award for a work of State Significance, for which the winner receives $25,000. Closes 30 April.
David Unaipon Award
The prize includes $15,000 prize money plus manuscript development and publication with UQP. It is open to all Aboriginal and Torres Strait Islander unpublished writers. Nominations close 30 April.
2021 Frank Broeze Memorial Maritime History Book Prize
The 2021 Frank Broeze Memorial Maritime History Book Prize of $6,000 will be awarded for a non-fiction book treating any aspect of maritime history relating to or affecting Australia published between 1 January 2019 and 30 December 2020. Closes 30 April. 

Furphy Short Story Competition
Enter short fiction (to 5000 words) to the theme Australian Life in all its diversity. 1st Prize – $15,000, 2nd Prize – $3,000, 3rd Prize – $2,000 and publication. Closes 30 April.
The Jennifer Burbidge Short Story Award
The Burbidge Prize was established in 2001 by Mary and Andrew Burbidge to honour the life of their eldest daughter, Jennifer, who died aged 21. The prize welcomes short stories of fiction or non-fiction up to 3000 words on the theme of disability. Closes 30 April.
Furious Fiction (monthly)
On the first Friday of every month, you are invited to submit a short story up to 500 words and be in the running to win $500.
Blackfella Speculative Fiction
Submissions are now being accepted from emerging and established Aboriginal and/or Torres Strait Islander writers who write speculative fiction, for publication in a new anthology.
Mark & Evette Moran Nib Literary Award
Waverley Council is proud to announce that nominations are now open for the Mark & Evette Moran Nib Literary Award, with $28,500 in prize money awarded across three categories. Closes 14June. *Fee.
MAY
The Sir Terry Pratchett Memorial Scholarship
The University of South Australia is seeking a candidate to undertake a Masters by Research inspired by Sir Terry Pratchett's work. The scholarship recipient will have course fees waived, a stipend of $30,000 per year for two years, $5,000 per year for two years for project-related provisions, $20,000 for travel and accommodation-related costs for an international research trip.
Questions Writing Prize
Part of the Future Leaders initiative, the prize recognises a young Australian writer aged 18-30. Fiction and non-fiction submissions 1,500-2,000 words, with a $2,000 prize. Closes 1 May.
ABR Elizabeth Jolley Short Story Prize
Open to original short stories of between 2,000 and 5,000 words. 1st prize: $6,000 2nd prize: $AU4,000 3rd prize: $AU2,500. Closes 3 May.
NYWF Artist Call Out
The National Young Writers' Festival is back in 2021 and artists/writers aged 18-35 are invited to apply now with event ideas to the theme 'mobilise'. Closes May 3.
Picture Book Writing Competition
Writers Unleashed Sutherland Shire Writers festival are accepting entries to their Picture Book Writing Competition. First Prize is $500 and mentorship with Clare Hallifax, Commissioning Editor at Scholastic Australia. Closes 3 May. 
The Neilma Sidney Literary Travel Fund
Applicants can apply for grants between $2,000 and $10,000. These grants support professional development through travel.
Bristol Short Story Competition
An annual international writing competition open worldwide. Stories must be previously unpublished and can be on any theme or subject. Closes 5 May.
Davitt Awards
Sisters in Crime Australia's 21st Davitt Awards for the best crime and mystery books (and published in 2020) by Australian women are now open. Publishers have until Friday 7 May.
Jugiong Writers' Festival
Short story and poetry competitions – theme is 'Bringing in the light'. An anthology will also be published. Closes 7 May.
Eastwood/Hills FAW Literary Competition
There are four categories: Open Theme, Flash Fiction, Poetry, Memoir, Short Story. $8 per entry or $30 for 4 entries. Closes 15 May.

KYD Vietnam Showcase
In partnership with the Diasporic Vietnamese Artists Network's diaCRITICS and Series Co-Editor Sheila Ngọc Phạm, KYD is shining a spotlight on new writing from and about Vietnam. Closes 21 May.
Grieve Writing Competition
More than $7000 across 25 prizes for stories or poems dealing with the theme of loss. Selected works are also published in an annual Grieve Anthology. Closes 26 May.
The Banjo Prize
HarperCollins launched The Banjo Prize in 2018 in a quest to find Australia's next great storyteller.The Banjo Prize is offered annually and is open to all Australian fiction writers, offering the chance to win a publishing contract with HarperCollins, with an advance of $15,000. Closes 28 May.
SBS Emerging Writers' Incubator
SBS in partnership with the South Australian Film Corporation have launched a new initiative to support the development of underrepresented fiction writing talent. Apply by 28 May.
The Australian/Vogel's Literary Award
Offering prize money of $20,000 plus publication, this prize is awarded to an unpublished manuscript by a writer under 35. Closes 31 May.
Furious Fiction (monthly)
On the first Friday of every month, you are invited to submit a short story up to 500 words and be in the running to win $500.
JUNE
ARA Historical Novel Prize
With prize money of $100,000, the ARA Historical Novel Prize gives Australian and New Zealand historical novelists the chance to be recognised in a class of their own, with the most significant prize purse for any genre-based prize in Australasia. The 2021 Prize will incorporate a newly created category for outstanding Children and Young Adult (CYA) literature, in addition to the Adult category. Closes 14 June.

The Kate Challis RAKA Award
This award is valued up to $20,000 and presented to the best book of fiction by an Indigenous author, published 2016–2021. Applications close 14 June.
KYD School Writing Prize
The KYD School Writing Prize 2021 is open for entries! They're seeking fiction and non-fiction from teens writing about a social or political issue. The winner receives $500 and publication in KYD. Closes 18 June.
Mark & Evette Moran Nib Literary Award
Waverley Council is proud to announce that nominations are now open for the Mark & Evette Moran Nib Literary Award, with $28,500 in prize money awarded across three categories. Closes 14 June. *Fee.
Copyright Agency Cultural Fund
Author Fellowship and Fellowship for Non-Fiction Writing. Closes 28 June.
2021 Writers SA Varuna Fellowships
We are proud to offer two new writing residency and development fellowships for South Australian writers working in any genre or form, the SA First Nations Writers Fellowship, alongside the SA Emerging Writers Fellowship. Each residency is for one week and includes a travel subsidy, manuscript consultation, accommodation, and more. Closes 28 June.
The Moth Short Story Prize 2021
The Moth Short Story Prize is an international prize, open to anyone from anywhere in the world, as long as their story is original and previously unpublished. Closes 30 June. 
Australian Poems Volume 1
Submissions are now open to Australian writers for up to three poems, for a volume guest edited by Ellen Van Neerven and Toby Fitch. Closes 30 June.
Furious Fiction (monthly)
On the first Friday of every month, you are invited to submit a short story up to 500 words and be in the running to win $500.
JULY
The LIMINAL & Pantera Press Nonfiction Prize 2021
The inaugural prize calls for for writing on the theme of ARCHIVE from First Nations writers and writers of colour. Winner receives $10,000, $2,000 for the runner-up.
CARCLEW Fellowships
Carclew Fellowships offer financial support to emerging cultural and creative artists and arts workers aged 26 and under. Up to $10,000 depending on the scope of the proposal. Applications close 1 July. 
Friends of Paynesville Library Short Story Competition 2021
Yearly competition (10th). Entry form can be downloaded from website. Short story up to 3,000 words. Hard copy entries only. $10 entry fee per story. Open to all people over 18 years of age. See website for more. Closes 2 July.
2021 ACU Prize for Poetry
Entrants to submit poems reflecting on the theme: RESILIENCE. First Prize $10,000, Second Prize $5,000 and Third Prize $3,000. Closes 5 July.
Stella Young Award 2021
Arts Access Victoria cherishes the memory of our collaborator Stella Young and honours her by awarding a young Australian disabled artist each year with $3,000. 5 July.
Richell Prize for Emerging Writers
Presented by Hachette Australia in partnership with The Guardian and The Emerging Writers' Festival, the Richell Prize is open to unpublished writers of fiction and narrative non-fiction, the winner receives $10,000 and mentoring and manuscript development. Closes 9 July.
The Currency Press Award
Currency Press is proud to announce a short script-writing prize for young people—18 and under—to celebrate our 50th birthday in 2021. Pieces of writing for the stage, in the form of a monologue, dialogue or short scene of no more than 500 words are welcomed, about anything you like! The only rule is that the word 'FIFTY' must appear somewhere in the script. Closes 9 July.
Reed and Storm Editing's Inaugural "First Impressions" Competition 
First impressions make all the difference! Enter the first 2000 words of your unpublished manuscript for your chance to win $100 AND a free manuscript assessment OR half price off editing the manuscript. All entrants get 10% off the editing of their entry with Reed and Storm Editing. Closes 10 July.

Furious Fiction (monthly)
On the first Friday of every month, you are invited to submit a short story up to 500 words and be in the running to win $500.
Deborah Cass Prize
Open to emerging writers of a migrant background, the Australian national 2021 Deborah Cass Prize welcomes writing samples of not more than 3,000 words that reflects, at least in part, on the migrant experience. Opens mid-July.
Deutsche Bank Fellowship For First Nations Film Creatives
Submissions are now open for a new grant for Australian First Nations film creatives, with a $20,000 grant to further develop their skills through international or professional development. Closes 18 July.
Stringybark Sex and Gender Short Story Awards
We are looking for great short stories that address any issues relating to human relationships from a sex or gender perspective. $14 entry fee. Closes 18 July.
The 2021 Venie Holmgren Environmental Poetry Prize
Poems must have an environmental theme. $1,000 prize. See website for more information. Closes 26 July.
The Olga Masters Short Story Award
The Award welcomes entries from writers of all ages resident in Australia. Seeking short stories (2000 to 4000 words) on the theme of life in rural Australia. Closes 30 July.
Children's Peace Literature Award
The Award of $3,000 is offered by Psychologists for Peace, for young people's (up to 18 years) books published between 1 July 2019 and 30 June 2021 with a theme or main character(s) encouraging the peaceful resolution of conflict and/or promoting peace at the global, local or interpersonal level. Closes 31 July.
2021 AAWP Prizes and Opportunities for Emerging Writers
The AAWP annual Prizes are once again open. See website for an exciting suite of prizes and opportunities for emerging writers. Closes 31 July. 
Aspiring Writers Mentorship Program
Announced by CBCA NSW Branch, the program aims to foster the talent of aspiring writers of children's literature across Australia and is open to all Australian citizens residing in Australia. 31 July.
AUGUST
Nothing to Hide: Voices of Trans and Gender Diverse Australia
Open call out for a forthcoming anthology showcasing the creativity of the trans and gender diverse community, seeking creative non-fiction, interviews, poetry and graphics. Closes 1 August.
Sydney Hammond Memorial Short Story Writing Competition
Submit a short story to the theme 'courage'. First prize $250AU Hawkeye Publishing gift voucher and anthology cover based on the winner's story, top 40 are published. *Entry fee. Closes 1 August.
Walkley Awards
The Walkley Awards for Excellence in Journalism recognise and reward the best in the craft. Entries usually close in August.
Peter Blazey Fellowship
The Fellowship is awarded annually to writers in the non-fiction fields of biography, autobiography and life writing and is intended to advance a work in progress. It offers $15 000 and access to facilities in the Faculty of Arts at the University of Melbourne. Closes 2 August. 
The Next Chapter
The Wheeler Centre's development scheme is now open. Each of the 10 successful applicants will receive $15,000 and a mentorship in 2022. Closes 6 August.

2021 mindshare Awards
A poetry and creative writing competition presented by mindshare, the Mental Health Coalition of SA, Writers SA and Access2Arts. The competition is an opportunity for South Australian writers with lived experience of mental illness to share their stories, showcase their skills, discover new creative communities, and connect with industry professionals.
The prize pool includes four year-long Writers SA memberships for the category winners!
Winners will receive:
a $100 gift card for any Writers SA resources or services;
a free 20-minute consultation with the Writers SA Director upon sign up (support workers and carers are welcome to attend);
a further 30% discount on all Writers SA workshops and services;
advice, information and support in writing activities;
career pathway support and opportunities;
access to a community of writers;
opportunities to meet industry professionals; and
opportunities for publication and promotion.
They will also receive a mindshare Awards plaque, $50 gift voucher, and the opportunity to be profiled and interviewed on the Access2Arts website.
There are four (4) award categories for both published and unpublished poets and writers. The award categories are:
Unpublished Emerging Poets – For poets who are in their first 5 years of writing and have had no poems published. Entered poems must be no more than 50 lines.
Unpublished Emerging Writers – Writers who are in their first 5 years of writing and have had no creative writing published. Entered prose must be no more than 750 words.
Published Established Poets – Poets who have been writing for more than 5 years and/or have had poems published. Entered poems must be no more than 50 lines.
Published Established Writers – Writers who have been writing for more than 5 years and/or have had creative writing published. Entered prose must be no more than 750 words.
See more information here. Closes 9 August. 
The 2021 BR4R Seeking Asylum Poetry Prize
The Prize celebrates refugee contributions to our communities and acknowledges their need to seek refuge in Australia. Submit up to three poems, max. 50 lines each, on the theme 'Time for a Home'. Free entry, cash prizes. Closes 15 August. 
Maria Pallotta-Chiarolli Fellowship for Writers
A $10,000 fellowship open to mid-career writers. Applicants must be under the age of 40 and identify as Aboriginal and/or Torres Strait Islander, LGBTQIA+, living with a disability, or culturally and linguistically diverse. Closes 15 August.
2021 Hachette Australia Prize for Young Writers
This developmental award open to Australian secondary school-aged students across the nation. The prize recognises writing excellence in three categories: Fiction, Creative Nonfiction and Poetry. Entries can include writing for readers of any age. Closes 17 August. 
Lane Cove Literary Awards 2021
The Lane Cove Literary Awards is a prestigious national writing competition organised by Lane Cove Council (NSW). Australian writers over 16 years of age are invited to submit unpublished works with prizes up to $2,000. Entry fee $15. Closes 19 August.

Helen Anne Bell Poetry Bequest Award 2021
The Department of English at the University of Sydney invites women poets to submit a collection of poems to Australia's richest poetry prize, the Helen Anne Bell Poetry Bequest Award. This year the award offers an increased prize of $40,000 for a submission of 50–80 pages and its publication by Vagabond Press. The work should broadly deal with Australian culture in some way; otherwise, there are no restrictions on the subject matter. Closes 20 August. 
Arts Access Australia call for submissions
Arts Access Australia is inviting d/Deaf and disabled writers to submit a poem, flash fiction, short story or non-fiction work for our online magazine Writing Place. Payment $200. 25 August.
Boroondara Literary Awards – Open Short Story
Held each year by the City of Boroondara in partnership with the Rotary Club of Balwyn, the Awards encourage creativity in writers of all ages. As well as cash prizes, winners will have their work published in the Boroondara Literary Awards Anthology. Closes 27 August.
2021 Woollahra Digital Literary Award
The national award seeks submissions of literary nature that are digitally born – published online or in electronic form. There is $7,500 in prize money across four categories of Fiction, Non-Fiction, Poetry and Digital Innovation. Closes 30 August. 
Hachette Australia Paid Summer Internship Program
During the four month program the intern will work within each division of Hachette Australia where they will receive training, attend key internal meetings, contribute to campaigns and more. Must be Sydney-based. Closes 30 August 2021. 
Aesthetica Creative Writing Award
An international literary prize that is a hotbed for new talent in poetry and short fiction. Each winner is awarded with £2,500 as well as publication. Closes 31 August.
Sisters in Crime's Scarlet Stiletto Awards for best crime short stories
A record $11,910 is up for grabs this year for the best (crime) short stories by Australian women. Closes 31 August.
Furious Fiction (monthly)
On the first Friday of every month, you are invited to submit a short story up to 500 words and be in the running to win $500.
SEPTEMBER
The Speculate Prize
A biennial prize is aimed at writers who explore the expansive possibilities of literature. The winner receives $5000 prize money, a mentorship from Giramondo Publishing, a week-long residency at RMIT's McCraith House on the Mornington Peninsula, Victoria. Submissions close midnight 1 September.
Carclew Project & Development Grants
Carclew's grants programs are currently OPEN to individuals AND organisations. INDIVIDUAL early career artists aged 26 years or under, can apply for up to $10,000 for arts projects with a tangible outcome and/or skills and career development. Closing 1 September.
Queensland Premier's Drama Award 2022-23
The Queensland Premier's Drama Award is now the richest playwriting prize in the country.
The winner receives a $30,000 cash prize, $16,000 commission fee to develop their play throughout 2022-23, and a world premiere production of the their play as part of Queensland Theatre's 2023 Season. Closes 3 September.
Woorilla Poetry Prize
Be part of a highly recognised poetry competition that has assisted poets for over 30 years. Enjoy the opportunity to win cash prizes and have your work published in multiple categories. Closes 5 September.
Copyright Agency Cultural Fund
Grants close 13 September.
The 2021 Deakin University Nonfiction Prize
Open to writers under 30, entries of up to 3,000 words are welcome across all nonfiction genres, shortlisted writers receive development opportunities and a book pack, the winner will receive $1500 and an editorial mentorship. Closes 14 September.
The Moth Nature Writing Prize 2021
The Moth Nature Writing Prize aims to encourage and celebrate the art of nature writing. The prize is open to anyone over the age of sixteen, as long as the work is original and previously unpublished. Closes 15 September. 
SBS Emerging Writers' Competition
An initiative from SBS Voices, the competition has been created to support the discovery and development of emerging talent and contribute to greater diversity in Australian storytelling. Closes 16 September. 
Aniko Press
Issue 3 of print literary journal Aniko Magazine is opening for submissions and the theme is 'Fantasize'. Payment:$125 (AUD) per published piece. Closes 30 September. 
Furious Fiction (monthly)
On the first Friday of every month, you are invited to submit a short story up to 500 words and be in the running to win $500.
OCTOBER
Miles Franklin Literary Award
One of Australia's most prestigious literature prizes, the 2021 Miles Franklin accepts applications from publishers typically through October and November.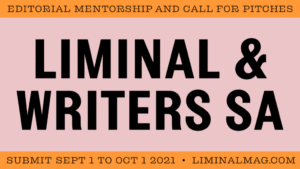 WRITING COMMISSIONS & EDITORIAL MENTORSHIP 2022
We are thrilled to announce that Writers SA is collaborating with Liminal magazine!
We are welcoming fiction and non-fiction pitches from both emerging and established Asian-Australian writers who live in South Australia. Selected works responding to the theme of Haunt will be published online, in a collection of Asian-Australian excellence that sees Liminal's first South Australian series, to be published in 2022.
Alongside these commissions, Liminal will facilitate a mentorship for two emerging editors, who will work with editors Cher Tan and Elizabeth Flux for hands-on experience editing our South Australian series.
If your pitch is successful, the editorial mentorship and writing commissions will be remunerated.
For more information, please see here. Closes 1 October. 
Little Stories, Big Ideas
A literary competition for secondary school students across Australia, where entrants aged 12 – 18 years respond to a specific themed prompt in 100 words or less. Free entry, terrific prizes. The competition runs four times per year, to coincide with school terms. Term 3's theme is 'Alien'. Closes 1 October. 
Lambing Flat Fellowship of Australian Writers Competition
The competition is open to all comers, both adult and school students. There is no set theme so writers can let their fancy and pen fly. Closes 15 October.
Furious Fiction (monthly)
On the first Friday of every month, you are invited to submit a short story up to 500 words and be in the running to win $500.
Magabala Books Fellowship and Scholarship
The Fellowship, worth $10,000 is open to Aboriginal and Torres Strait Islander storytellers is intended to provide valuable time for a mid-career author to work on a current manuscript. The scholarships support professional development relating to writing, illustration and storytelling, and are open to both emerging and established Aboriginal and Torres Strait Islander writers, artists, illustrators and storytellers. Closes 31 October.
Appointment at 10.30 Pure Slush Vol. 22
Submissions must: be original, so previously unpublished online or in print (this includes authors' websites and blogs); be poetry, stories or essays; include something about an appointment, meeting, assignation, rendezvous,  gathering, or catch-up at 10.30a.m. or p.m. Closes 31 October. 
Archer Magazine call out
Intersex Solidarity Day is on November 8 and Archer are looking to commission one or more intersex writers for Archer Magazine. This is a paid opportunity, please read the guidelines and mail [email protected]
Feast Short Story Competition
Writers SA and Adelaide's queer arts and culture community festival, Feast, present the 2021 Feast Short Story Competition, to celebrate the creative work of queer writers in South Australia. Entries are free, and open to short story submissions of 1,000 to 3,000 words on any theme and in any genre or style, with categories for emerging and established writers. The winning entrants will share their stories at the Feast Short Story Competition Celebration event on 25 November, and will receive a prize pack including a cash prize. 31 October.
NOVEMBER
Commonwealth Short Story Prize
Entries for the 2022 Commonwealth Short Story Prize are OPEN! Submit your 2,000–5,000 word piece, and potentially win £5,000. The prize is free to enter for all citizens in Commonwealth countries aged 18 and over. Closes 1 November. 
Silence Awareness Existence – Residency in Finland
Thematic residency program at Arteles Creative Center in Hämeenkyrö, Finland. 1-2 month periods in Jan/Feb/Mar 2022. For artists, writers and creative minds, engaged with the theme on in various fields. Applications close 4 November. 
The ASA/HQ Commercial Fiction Prize
Now open to debut commercial fiction. The winner will receive a publishing contract with HQ, with a $10,000 advance against royalties, and the runner-up will receive $500 and a year's membership with the ASA.
Odyssey House Victoria Annual Short Story Competition
Each submission must be no more than 1,500 words and follow the theme "New Beginnings". It will need to make a reference to alcohol and/or drugs. First prize is $1,000 and a one year membership to Writers Victoria. Closes 5 November.

Nillumbik Prize Contemporary Writing 2022
Entries for the Nillumbik Prize Contemporary Writing 2022 are now open. $18,000 awarded across 'open', 'local' and 'youth' entries for short story (incorporating the Alan Marshall Short Story Award) and poetry categories. $5,000 for best short story and best poem. Closes 7 November. 
Blake Poetry Prize
The Blake Poetry Prize challenges Australian poets to explore the spiritual and religious in a new work of 100 lines or less. Entry fee $30. Closes 15 November. 
KYD New Critic Award
The KYD New Critic Award is open to critics working in all fields of arts and culture, and the winner will receive $1000 cash prize and a regular paid column. Closes 30 November.
Furious Fiction (monthly)
On the first Friday of every month, you are invited to submit a short story up to 500 words and be in the running to win $500.
DECEMBER
Penguin Literary Prize
Usually closes in December. The Prize value is $20,000 and the opportunity to publish with PRH Australia.
Seizure Viva La Novella Prize
Seizure's annual prize for short novels, usually closes in December.
Furious Fiction (monthly)
On the first Friday of every month, you are invited to submit a short story up to 500 words and be in the running to win $500.
The Human Writers 
Looking for unpublished writing by older adults 60+ who may or may not have writing experience. Memoir, musings, fiction, poetry… any length and genre. If writers need direction, perhaps they can consider starting with the phrase "I remember…." and seeing where it takes them. Closes mid-2022.