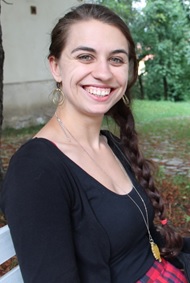 Raelke Grimmer is a writer and linguist. She graduated from a Bachelor of Creative Arts in Creative Writing at Flinders University in 2011 and completed her Master of Arts in Applied Linguistics at the University of Adelaide in 2013. Raelke wrote her first picture book, What in the World?, for a high school project, and soon found herself in the midst of a self-publishing project. She writes book reviews for Lip Magazine, and was a Buzzcuts reviewer during the Adelaide Fringe Festival for Express Media in 2012. Raelke wrote a young adult eSeries, Sleepwalking, for small US publisher BigWorldNetwork.com in 2012, and in 2013 Sleepwalking was published as an ebook, paperback and audiobook. She recently completed her second young adult novel, Sprint-mazing.
With the support of Express Media's 2013 Young Writers Innovation Prize, Raelke founded and launched an online multilingual and multicultural magazine, Tongues, in April 2014. The magazine is a celebration and exploration of the world's linguistic and cultural diversity. She wrote a piece about Tongues which was included in Editia's print edition of The N00bz: New Adventures in Literature. Raelke is fluent in German, has studied Japanese, Spanish, French, Chinese and Czech, and obsessively collects books written in foreign languages.
Raelke will be working on a memoir piece during the residency, which she hopes to get to novella length (somewhere between 20,000 and 30,000 words) during the time. It is a piece made up of vignettes of memories of her father, who passed away when she was ten. He was sick for a year leading up to his death, and her memories of that year form the narrative structure holding the novella together, with other memories included throughout. 'I imagine the piece as a photo album in words; where each vignette adds another piece and layer to the story', she said.