Writer in Residence: July – September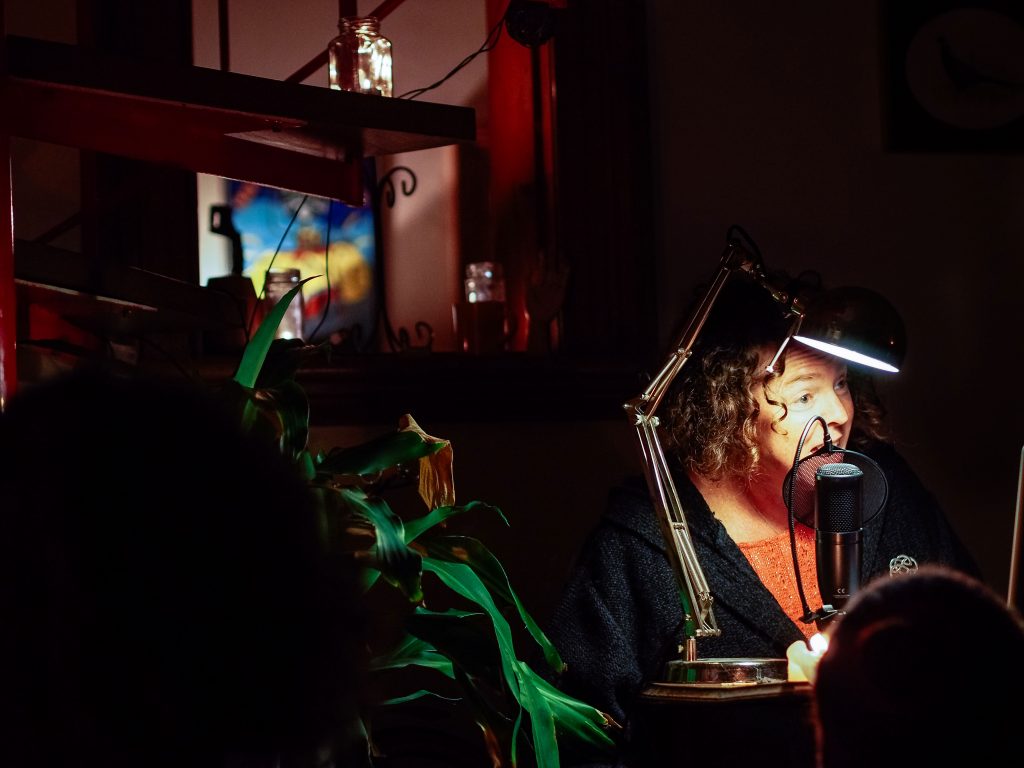 Caroline  is an Adelaide based writer who emigrated from Wales with her family in the seventies and grew up in the gold-mining town of Kalgoorlie. Consequently, themes of isolation, identity, and belonging frequently appear in her work. After graduating with a Bachelor of Arts degree from Curtin University in 1994, Caroline worked as a playwright and was commissioned to write plays for theatre companies and community groups. As a writer, dramaturg and theatre maker, Caroline has enjoyed diverse experiences working alongside young people, artists with disabilities, school communities, independent artists and in international festivals. In 2007 she was playwright and participating artist at TRASNA Inclusive Festival in Ireland, and had plays included in the ASSITEJ International Theatre Festival in 2008 and WORDSTORM Festival of Australasian Writing in 2010. In that same year Caroline turned her focus to prose writing. From 2011 to 2014 she produced the highly successful Spineless Wonders Presents (story readings by professional actors) at Adelaide's Wheatsheaf Hotel. The SWP format continues to thrive as Little Fictions in Sydney. Caroline advocates for accessibility to the arts for all members of the community, promotes the arts as a means of understanding each other and the world, and as a context for empowerment and learning. From 2011 to 2013 she was invited to sit on the Grant Advisory Committee for Carclew Youth Arts and was a member of Urban Myth Theatre's Professional Artists Advisory Group. She currently teaches creative writing at Mockingbird Lounge, is a participating artist on Manifold Portrait in Berri, and continues to mentor young writers in the community. She is working on her first novel, Out of the Pushed Throat, and a collection of short fiction, Satisfied.
Here's what Caroline says about the project that she'll be working on during her residency:
Out of the Pushed Throat is a deep exploration of the themes of family, identity and landscape. I find myself repeatedly returning to the desert landscape of Kalgoorlie where I grew up to reflect on these themes. Through an artful lens, I aim to complete a coming of age novel in which a young tomboy, Danni Reagan, is born in Wales with a unique skill – she hears people's sadness as rain, and through listening to them can provide a balm for the grieving person. Danni's grandmother nurtures the girl's talent and teaches her how to protect herself. But when the family immigrate to Australia Danni is on her own with her strange ability. Set in the fictional twin towns of Aurora and Hutch, in the summer of 1980/81, Danni knows the halcyon days of childhood are coming to an end with her impending entry into high school. On top of that, her best friend has abandoned her to boys, the stress of a court case has her father – an underground miner – on a short fuse and her grandmother has taken ill in Wales. Then a one-legged seagull appears and leads Danni to a pale girl, Yolanda, who spends most of her time underneath the dusty stage at Hutch's old town hall. Together the girls embark on their own unique underground adventure. By employing some of the tropes of the Female gothic (Fantasy, Isolation, Hysteria) and Magical Realism (specifically Female Elements of Magical Realism such as attention to issues of embodiment and an earth-centred spirit world), I aim to reinterpret the tradition of the mining town narrative by asking: how does the adolescent feminine fit into a postcolonial masculine landscape and what is the ideal and unique literary form that will enable me to write a semi-autobiographical novel?
Caroline would like to acknowledge Arts South Australia for supporting her with the next phase of her project.