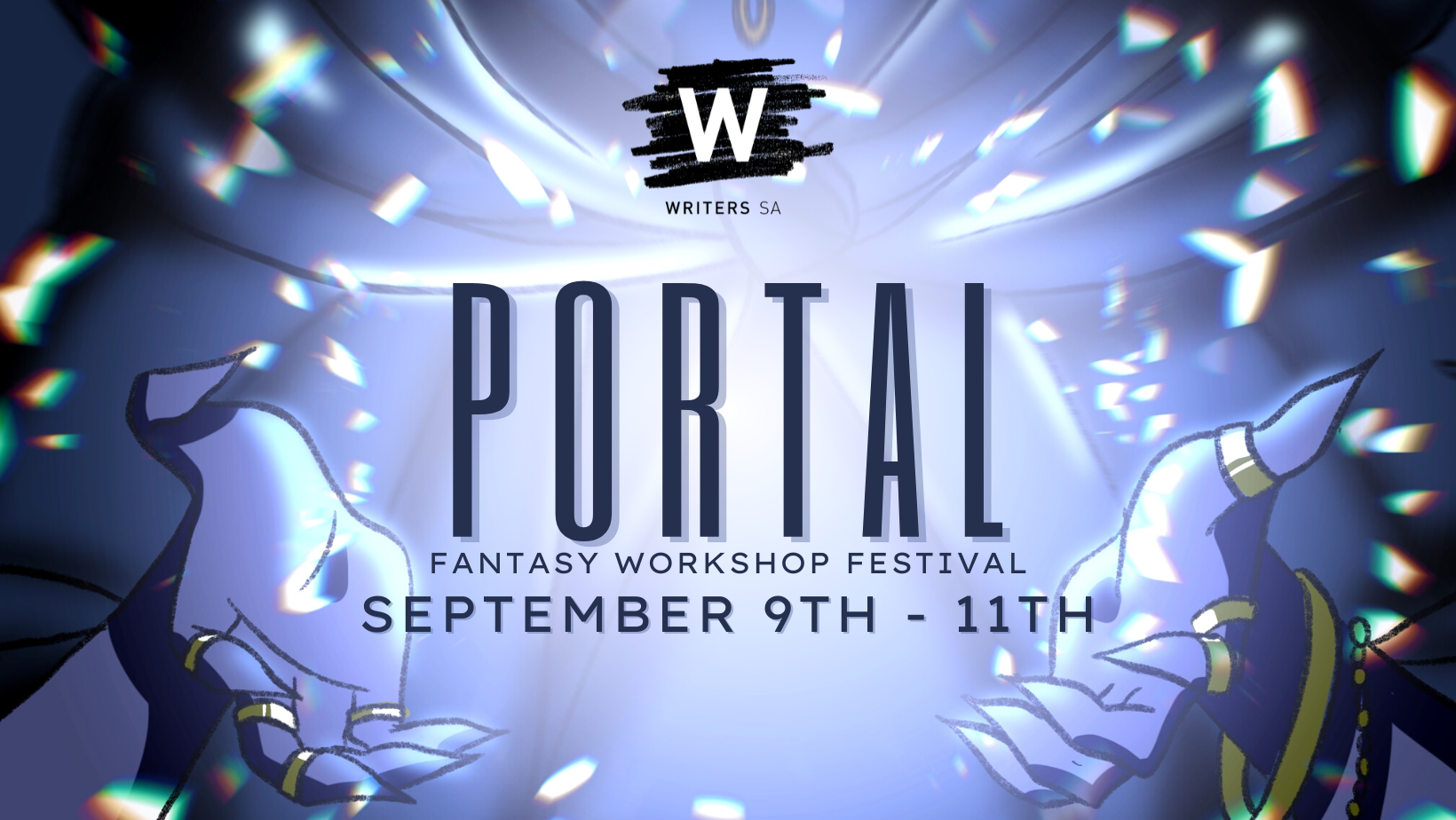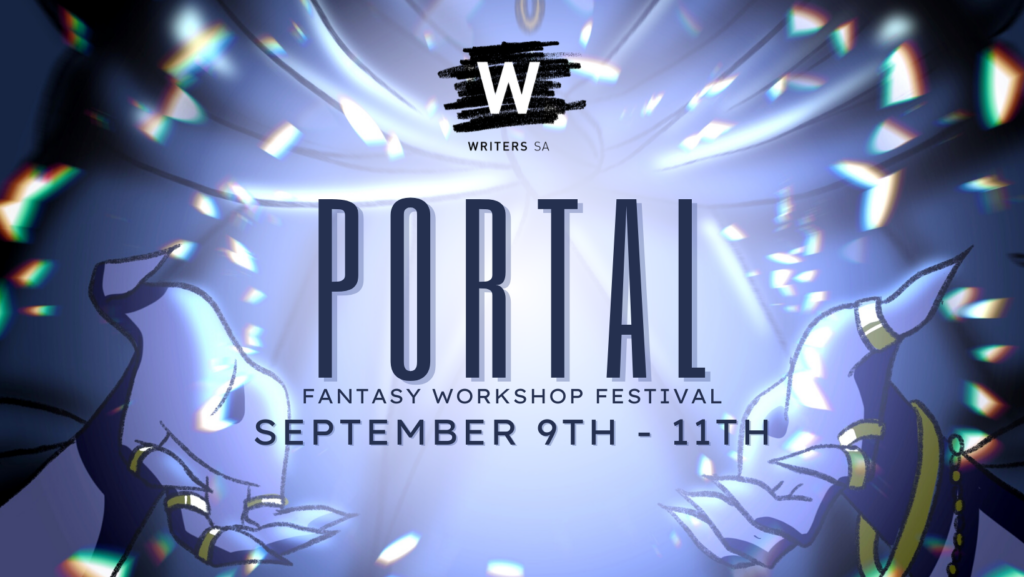 Portal: Fantasy Workshop Festival was an event held over a weekend in September for fantasy lovers in the Riverland. We invited some young storytellers to soak up the fantasy goodness and asked them to write a creative piece in response to the event.
This is what they came up with.
Also read through our live-writing project Quick, a Portal Opened!
More about Portal's events here.
Carys Van der Woude

The workshop that helped me with her was 'Creature Characterisation' as I was confused whether she'd be a protagonist or antagonist. Thanks to the workshop, I was able to figure out what she was.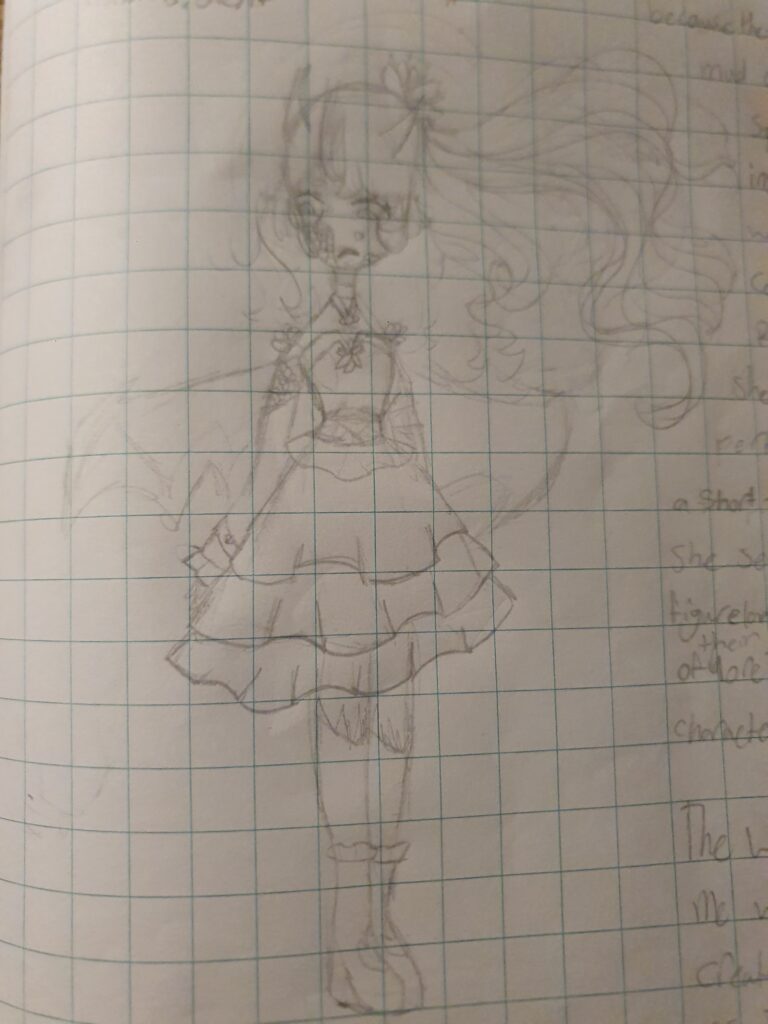 The lotus flower means purity, rebirth and strength because they can bloom in mud completely spotless . My main inspiration for her was Lotus Dragon Cookie from Cookie Run: Ovenbreak by Devsisters. Lotus (not the cookie run one) is a big perfectionist with a short temper, though she serves as a mother figure for Tàiyáng and Yuèliàng.
Ruby Altschwager

The Dark's Embrace
PORTAL Creative Piece Commission
The chill up my spine was paralysing.
Yet further down I went,
into the black abyss of nothingness all around me.
Above I could hear sounds resembling my name,
but I didn't look back; only down.
Further, further down.

I opened my eyes,
slightly, into little slits,
so that I could see, but not hinder my sight.
There were the sights I was used to seeing,
Little specks of colour that meant life,
in front of the pitch-black backdrop,
of the night that no longer belonged to the sky.
But I didn't have the urge to go back; only down.
Further, further down.

I could feel the pressure,
making my body want to rise to the surface,
yet I continued to resist.
Because even though my body was willing me to rise,
my only true way out was down.
Further, even further, down.

The exhaustion was taking over me;
my arms started to ache from the constant use,
my legs started to lose their strength,
my brain and my thoughts were starting to crowd,
yet I willed my body to keep going,
to keep going down;
Further, still further, down.

The consequence from lack of breathing was starting,
as I could feel my body start to shut down,
bit by slow, agonizing bit.
The thoughts that used to swarm heavily in my mind,
were now lessening and fleeting,
my mind now becoming less and less aware.
Yet as my body longed for air, I kept going down.
Further, somehow further, down.

Down, down, down I went,
Not looking for a bottom,
because I already knew there was none;
none that us land-beings knew, anyway.

Down, down, down I pushed,
trying hard to push my body onward,
trying hard to ignore the constant screaming,
coming from my arms, legs and lungs.

Down, down, down I longed,
to get out of this horrible place,
to get out of this horrible world,
to get out of this horrible life that I no longer wanted.

Down, down, down I faded,
my mind slowly relinquishing the control it had
over the different parts of my body;
my thoughts no longer there.

Up, up, up I floated,
towards the fire, chaos, and death that awaited,
fate dragging me towards the surface,
just to get a glimpse of the world that I tried to abandon.

Up, up, up my head lifted,
as it took in one last look,
above the thin sheet between the cold embrace of the water, and the dream-shattering reality of the world above.

The last thought I remembered,
was a hand breaking through the water,
longing me to return to it,
to go back into its arms.

I too rejoiced as I joined it,
into the world above that I no longer knew,
one that wasn't full with fighting, hurt or pain;
only peace and tranquillity,
with my water-logged soul, and the stolen soul
of my true love.
Levi Button

1.
My place is beautiful: a garden, a lake, and a simple cottage tucked out of sight by a
forest.

My cottage sits in the otherwise empty grove, the wildlife and the crackling sound of
a fire the only sounds in the otherwise silent world. The garden is hidden by silvery-
iron gates and a worn brick wall that stands at least two feet tall. It is green,
beautiful- and blissfully silent. I love just sitting on the old stone bench in my garden
of peace.

The lake is the only outlier- as beautiful as it is, it hides a dark secret. Beyond the
lake, another island sits in the center. I don't go to that island; as it is no longer
belongs to me. Well, sort of… It belongs to the memories I keep hidden and caged
up on that island. I can only reach it if I walk under the deep purple waves of my
lake. Under the waves, it's all noise: crying, screaming… fighting. But, as I said, I
don't go there. I'm happy in my silent, peaceful place; and I don't want anything else
corrupting my place… not again, at least.
---
2.
A demon walks through the hellish landscape. He is a brightened shadow against
the darkness of the sky that is dark like ink. The hellscape that he calls home is all
he's ever known, or at least… all he can remember. When he tries to remember how
he came to be in the endless abyss, all he can see is blood- on the walls, on the
floor, on his hands- and the vision disappears almost as quick as it came. He sighs
in frustration as he reaches his lonely pyre.

As he walks through the flames, he begins to change- his vision goes black, his
heartbeat replaced by the screams of dead souls.

He's suffocating- and then he's fine.

His vision cleared, his heartbeat returned to normal, incoherent to the racing of his
mind, and his breathing unlabored.

He begins to cry, not tears, but blood. Another dream, he thinks as he rises from his
slumber. When will these mind games end? And so, the boy cries: in fear, in anger,
and, for peace in his already broken mind. However, the boy's tears are then
replaced by silence.

No, he has no right to shed tears over this… He caused it.
But for what? Revenge… or hatred?
Shania Richards

The hot summer afternoon was just settling down, with the luscious pink, gold and red colours dancing across the sky making room for the purple and blue shades of the night to kiss and embrace the land. That always glowed with the energy of the people, radiating peace and prosperity for all. Surrounded by the sacred healing water, and noises of abundance singing from the gorgeously unique, wild and strange flora and fauna that cuddles this realm.
The townspeople were getting ready for supper, as childrens ran outside as the witchlight turned the moonshade lamps on then back inside to put on their evening wear. And businessmen whistled as they walked home from work, after a jolly good sales. And the high priestesses emerge from the brothels in their fancy silks and jewels, looking for lost souls to heal. And the teenagers finished their art experiments from the summer festival, before the nine moons rose.
The nine moons were a symbol of the The royal family, who were hidden beyond the mountains of the capital, overlooking all but seen by none. Unless they had a Goliath fighters family heirloom, which the new Princess had just received her very own and first. An arfecat from the ancestors that would determine her fate and destiny. You see some are born to rule, others to serve, some to study and many more to learn and explore.
But the princess was born to violate a sacred rule, to be the first female warrior.
The sword was heavier than expected in Petras tiny child hands. She adjusted her weight and stance to cope with the metal's pressure against her little frame.Then gripped hard, when the sword started to whisper secrets into the palms of her purple hand marked by blood scars. The sword had a mind of its own as it swung and slashed through the air with a curve and accent.
"What the hell", Petra muttered from under her breath as she tried to force it into a stabbing motion, a direct heart piece
"Don't resist." The sword bagged, so Petra released her fight grip and needed to control.
Instead in that moment, she accepted the sweet surrender of one's own will, and mastery of the sword's energy, and personality.
That afternoon she had learnt the hard way, if she wanted to keep the family legacy alive she needed to surrender control to the sword.
The City of Port Lincoln's Young Citizen of the Year 2022 Award Winner, the 27th Youth Governor of South Australia, Her Excellency, Lady Shania Richards, is interested in terraforming trauma into infinate possibility which is reflected throughout her work an djourney. Shania graduated from the Western Australian Academy of Performing Arts. Her creation style includes performance (theatre, singing, dance, industry level acting), music (singer/songwriter/rapper/clarinettist), painting, writing/poetry modelling, wood burning, drawing, cooking, and candle/bath bomb making. These works explore intergenerational trauma, unconditional love and surviving earth.
Eliza Wuttke

Inspired by Ex Nihlio: Creator of Worlds workshop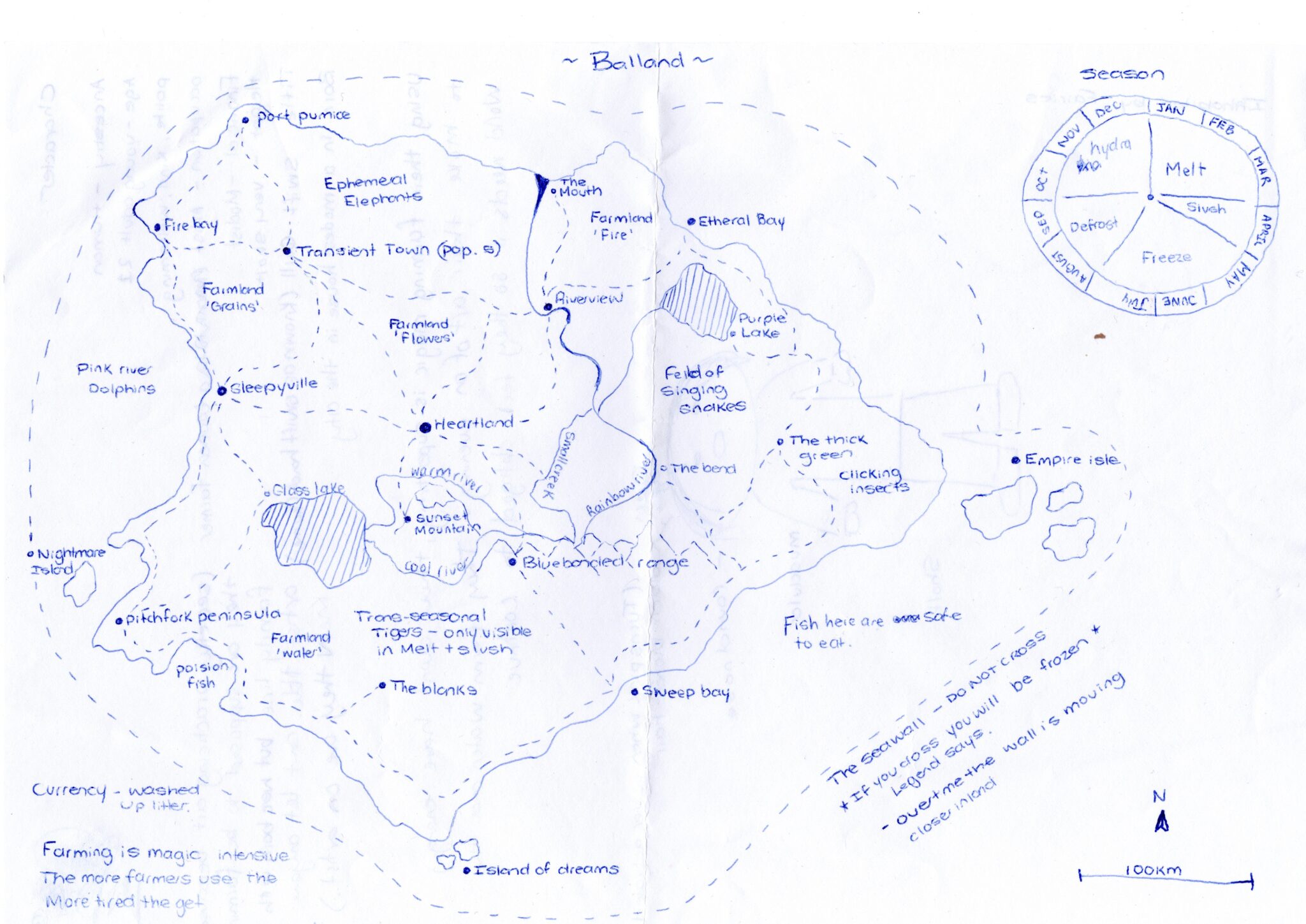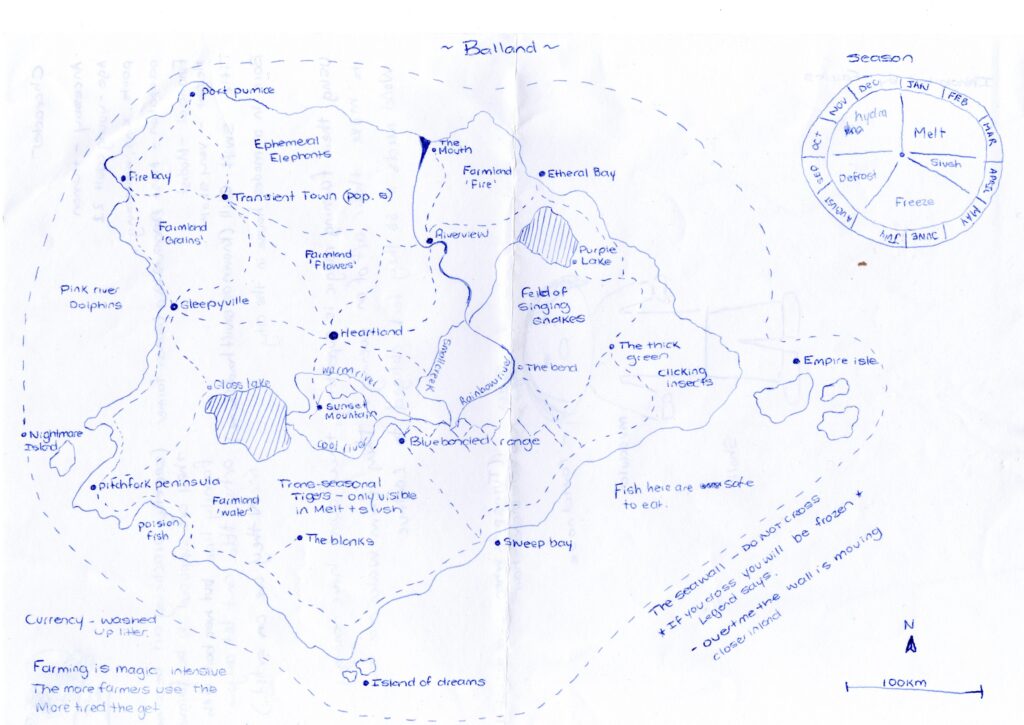 Eliza Wuttke is a non-fiction writer and visual artist based in Port Lincoln, South Australia. In her work and creative practice she enjoys sharing the stories, sights and sounds of regional Australia the landscape in which she feels at home. Eliza works with the Writers SA No Limits team as Eyre Peninsula Coordinator.
---
Writers SA's No Limits Program supports literary activities in regional South Australia and creates industry pathways for young regional writers, from skills to publication. No Limits is supported by Restart Investment to Sustain and Expand (RISE) Fund – an Australian Government initiative, and Arts South Australia.