Lou Heinrich was our first Writer in Residence for 2015. She bought an astounding work ethic, great points of view and a delightful array of headscarves into the Centre. We got up close and personal with her to find out more about her…
If you could be a super hero, what power would you like to have?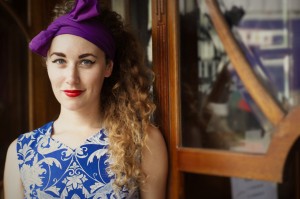 X-ray vision into people's hearts – so you can examine their motivations, their stifled anger, their fears. Although when you're a writer, your job is to observe, so perhaps I'm halfway there.
Which book best resembles your life? Or which book character best resembles you?
Kitty, in W Somerset Maugham's The Painted Veil, reflects my spirit, in many ways. Even though it was written in 1925, it's a gorgeous, painful story that wrenched my heart open, as it reflects much of the heartache of being a woman today.
Through intense struggle and personal growth, Kitty evolves from a selfish, vacuous existence towards actualisation; she asks herself what she wants from life, beyond all the things her culture has instructed her to value. I think this is a timeless challenge, particularly pertinent to women: separating your own desires from what you're supposed to want.
Favourite quote
'Be regular and orderly in your life, so that you may be violent and original in your work', Gustave Flaubert.
What do you fear the most?
Being utterly selfish. It's a swift path to destruction.
What do you love the most?
Books and tea and chocolate and nanna blankets. Quiet streams and hills strangled by wild trees and the enormous, unforgiving ocean. Sleeping beside my love. Kisses on the cheek and back rubs and squeezing, genuine hugs, the rush of being known and loved by other people, and doing it back.
What hidden/special talent do you have?
I work as a barista and I'm pretty good at remembering people's names. Even the names of dogs! There's Rosie, Muchacha, Jaffa, the list goes on…
What do you like most about the writing industry?
The community. In Australia there's some writers in the middle of their careers who have established an excellent culture of sharing and positivity and kindness, and they've set it as a standard for us babies. It's trickled down, and it's an incredible environment, as an emerging writer, to grow up into.
I guess to an extent, I fit in with likeminded people, but – I've found my tribe.
What is the best thing about SAWC?
There's a beautiful habit of encouragement, which cannot be underrated. So many people have written about the doubt and self-loathing that writers – all artists, in fact – face on a regular basis when producing work. So it's fantastic to know that staff, members and volunteers all form a support network that is consistently positive.
What are your personal longterm goals?
Phew! Develop the structure of my long-form work, explore experimental non-fiction, explore investigative journalism, devour books and reveal myself with greater honesty and integrity (in life and in writing).
If you could choose one writer to be your life mentor, who would you choose?
Helen Garner.
What's the best piece of writing advice you've ever heard?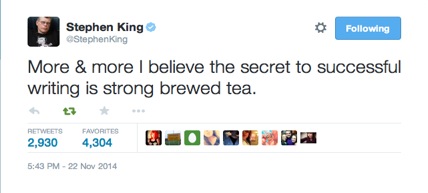 What is your typical writing process?
Eat a lot of chocolate.
What is your proudest writing/editing/book related achievement?
I was chuffed that my essay, 'Name Calling: Coverture in a Feminist Age' was published in no. 20 of literary journal Kill Your Darlings.
And it's always an honour to be involved with anything the Emerging Writers' Festival team puts together.
Also last week John Safran favourited my tweet.
What did you want to be as a grown up when you were a kid?
A big part of me always wanted to be a writer. I loved writing stories; I quickly filled those notebooks, covered in plastic and ruled with extra-large lines, with the grotesquely-shaped letters of a seven-year-old. I read a lot of Enid Blyton then, so I had a fantasy of attending a private school and going on picnics with lemonade in glass bottles.
Where do you see yourself in five years? What about ten? 
Completely successful, with absolutely no questions about how to live my life or interact with people or sustain meaningful relationships. Neither will there be rips or stray threads on my clothes, and I'll have a nice haircut.
How did you decide that this was the career path you wanted to pursue?
When I finished school I applied for a nursing degree. I received an acceptance letter, but I had accidentally made my first preference a university in Whyalla. At that moment I decided that although caring is a noble pursuit, it is too practical for a whimsical person such as myself.
Who are people you admire/emulate/learn from?
Benjamin Law
Clementine Ford
Helen Garner
Anna Krien
Austin Kleon
Rachel Hills
Annie Lamott
Molly Crabapple
Charles Bukowski
Nora Ephron
and many more!
What is the most controversial/opinionated thing you've said and what reaction ensued?
Generally it's calling out chefs on sexist jokes in several different workplaces. I have no problem with kitchens being full of dirty jokes, but it really sucks when they're demeaning to women. I end up being known as the resident feminist, which results in an increase in these jokes when I'm present, but in a more teasing and respectful way. I'm not sure if this is a good thing…
What are your hopes for the industry?
There's been so much talk about the gendered marketing of books. I do hope that the publishing industry can release the tired tropes, and accept that women, as well as men, can write fiction for 'everyone'.
Anything else you wish to add/say/express?
Everything I've achieved is because of the encouragement, acceptance and support of people within the writing industry and beyond. I am so thankful for my path!
Want to support great programs and writers like this? Help out here.