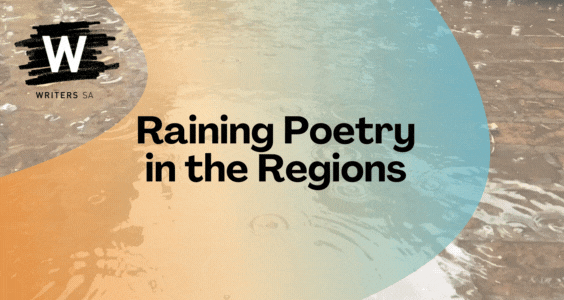 In 2022 Raining Poetry in Adelaide is extending into regional South Australia through a special collaboration with the Writers SA's No Limits Program.
We are delighted to announce the selected poets for Raining Poetry in the Regions. Poets of all ages were selected through an open submissions process, judged blind by the Raining Poetry in Adelaide team, and young poets from regional South Australia by direct invitation through the Writers SA No Limits program. Nineteen poems from seventeen poets will be popping up on the pavement in Whyalla, Loxton and Naracoorte in August and September.
The selected poets are:
Doug Jacquier lives in Yankalilla. He writes stories and poems. He's a husband, father and grandfather, an avid cook, vegetable gardener, incurable punster, and occasional stand-up comedian. He's lived in as many places across Australia, including regional and remote communities, as well as travelling extensively, especially in Asia and the US. He's a former social worker and former not-for-profit CEO. His work has been included in several anthologies, including Friendly Street's New Poets 21. He has recently published a collection of short humor, Raving and Wryting, on Amazon. He blogs at Six Crooked Highways.
Bri Boyington is a homeschooling teen who likes spending time reading fictional stories, playing guitar, listening to music and hanging out with friends. She enjoys writing fictional stories, with brave and daring characters in them, faithful friends, endless forests and deserted cities. Bri's stories always express emotions that she's feeling at the time, and have varying degrees of super powers, dragons, dryads and elves in them. Bri lives in Naracoorte with her parents, little sister and brother, and their two dogs and nineteen chickens.
Poppy Moyle-Read is a 17-year-old school student at Naracoorte High School. Her interest in literature inspired Poppy to undertake work experience with The Naracoorte News; developing her knowledge under experienced Journalist Eliza Berlage. Poppy has completed 13 years of reading with the South Australian Premiers Reading Challenge; highlighting her love for books and storytelling. Poppy was selected as a Captain of Naracoorte High School in 2022. Hence, providing an opportunity to voice her concerns and thoughts. Poppy's ability to place injustices into poetry inspired her to begin songwriting several years ago. Poppy uses storytelling to help herself and others understand complicated yet collective feelings.
Physicist, Soldier, Astronaut Candidate, Comedian – one thing Josh Richards can never be accused of is being boring. When he's not on some cave diving adventure, Josh writes about space science, engineering, psychology and culture. He's also the author of Becoming Martian – a humourous look at how colonising Mars will change our species in body, mind and soul; Cosmic Nomad – an uncomfortably personal but deeply funny exploration of how signing up for a one-way mission to Mars will ruin your life; and an upcoming book about the weird and wonderful ways humans try to come to terms with death.
Sophie Landau is a musician based in the Riverland town of Renmark. Soph shares a part of herself through her stories; processing her experiences and exploring the thoughts and feelings that arise. This piece is inspired by the treatment of the earth, juxtaposed with the beauty of its natural landscape. You can find Soph's music on Instagram at @stepsister_music.
Jekio Blackstreak is a visual artist, crafter, and occasional fiction writer based in Whyalla, South Australia. She is passionate about promoting mental wellbeing, and is presently studying towards a Psychology degree. Through her works she often explores themes of identity and the multi-faceted aspect of human nature.
The City of Port Lincoln's Young Citizen of the Year 2022 Award Winner, the 27th Youth Governor of South Australia, Her Excellency, Lady Shania Richards, is interested in terraforming trauma into infinite possibility which is reflected throughout her work and journey. Shania graduated from the Western Australian Academy of Performing Arts. Her creation style includes performance (theatre, singing, dance, industry level acting), music (singer/songwriter/rapper/clarinettist) painting, writing/poetry, modelling, wood burning, drawing, cooking, and candle/bath bomb making. These works explore intergenerational trauma, unconditional love & surviving Earth.
Stuart Watkinson is an educator, writer, and game designer. He grew up in Port Adelaide and now lives and works in the Riverland. He is usually writing fantasy and science fiction with an apocalyptic twist but sometimes he turns to poems, screenplays, and reflective essays.
Tegan Modra is a reader, writer, farmer, and chief child-wrangler who calls her farm on the lower Eyre Peninsula home. Her background is in Speech-Language Pathology and child development, and she has a penchant for heavy involvement in community groups. Most of her writing time is focused on picture books and fantasy fiction, with the occasional dabble in poetry and short stories. She is looking forward to having a bigger desk in the near future so she can move all her piles of paper into one place.
Oscar Harding is of all things creative; a musician, actor, or in this case a poet. Oscar started writing poetry in 2019 whilst taking the bus to high school, intending to create song lyrics, thinking he would make the songs later. Aforementioned 'songs' never came to fruition, and so his lexical counterpart came to the fore. Oscar has been writing poetry since, and would like to share some excerpts from his best works. His themes span from epiphanies, to the flow of time, to blissful flickers of life – with the hope of evoking some estranged assortment of universal feelings in others.
Anastasia Beasley is an artist and arts worker from Noongar country in Western Australia, where they studied Arts Management at the Western Australian Academy of Performing Arts. They're passionate about supporting and creating community art to build connection and understanding between people. Their arts practice uses drag, writing, music, events, zines, and stickers to ask how we can be better to each other and to our world, especially in times of trouble.
Tarla Kramer grew up in Adelaide, and now lives in the Flinders Ranges. Since graduating from Tabor's Creative Writing Program in 2019, she has had poetry published in InDaily, Cordite and Borderlands. She was one of three poets who featured in Friendly Street NEW POETS 21, published in 2020, and her chapbook "poems for the non-compliant" was published by Ginninderra Press in January 2022.
Leeza Jayde is a South Australian poet and young adult writer. As an English and History high school teacher with an insatiable thirst for knowledge, when she isn't mouthing help from beneath a mountain of essays yet to be marked, she is also an animated creative writing workshop presenter, and the author of her self-published poetry book, While We're Here. She is passionate about advocating for mental health awareness, equality and healing through her prose. She can be found under her popular instagram account @leezajaydepoetry for more of her written work.
Alison Joy Sanders is an artist and poet residing on the Yorke Peninsula with her husband, two children, cat, dog and bubble-eyed fish. She uses creative expression as a way to process and give voice to her experience of life's beauty and challenges. Alison is an enthusiastic contributor to local arts events. Highlights include displaying photography in the Wallaroo Silo Light Show, performing as a vocalist at the Kernewek Lowender and presenting visual art in the Flinders Ranges 'Brush with Art' exhibition. This year Alison is very excited to be accepted as a participant in Raining Poetry in the Regions.
Orpheus Po was raised amongst the rocks and crops of Kanmantoo, on land that changed colour with the seasons – from green to grey to brown and back again. It was a place where folk didn't open their mouths too widely for fear of the flies rushing in and kept their emotions buried under tanned and calloused skin. Orpheus has escaped and returned to the place of his birth many times, but he has never travelled far from the tensions evoked by this rural upbringing: beauty vs utility; colonies vs wild places; stoicism vs vulnerability. Poetry, he has found, speaks around these tensions, finds itself in the mystery between absolutes, and is perhaps the best means of making sense of it all.
Monica Hart is an arts worker with a background in live performance-production living in Mount Gambier SA. Monica is co-founder of Reels at Wehl Film Society, Fringe Mount Gambier and the Limestone Coast Symphony Orchestra Governance Committee and worked for seven years administering the Regional Arts Fund. In 2022 Monica launched Pique Creative, an arts consultancy that supports the work of artists and advocates for more arts experiences. She is a member of the Institute of Professional Editors, working towards becoming a professional editor. Monica has been secretly writing poetry and musings for as long as she can remember.
Molly Murn is a South Australian poet and author and is also the manager of Matilda Bookshop. Her debut novel Heart of the Grass Tree was published (Vintage) in 2019. She lives/works/creates on Peramangk country in the Adelaide Hills. Molly loves wild places, deserts, yoga, reading svelte novels, and dancing barefoot.
*
Join the Writers SA enews here for updates on Raining Poetry in the Regions and other Writers SA programs.
---