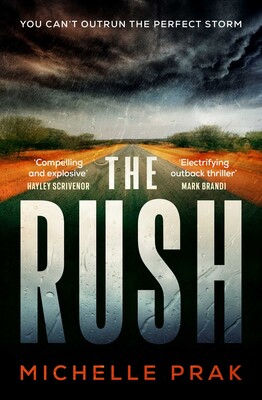 We have two signed, advance copies of The Rush by Michelle Prak to giveaway!
SOME THREATS ARE CLOSER THAN THEY APPEAR …
The first drops start to fall when Quinn spies the body. With no reception and nothing but an empty road for miles, does she stop to help or keep driving to safety?
Back at the iconic country pub where Quinn works, Andrea is sandbagging the place in preparation for heavy rains. Alone with her sleeping son in the back room, she reluctantly lets a biker in to wait out the storm.
Out on the wet roads, tensions arise among four backpackers on their way to Darwin. They haven't prepared for this kind of weather and the flooding isn't the only threat on the horizon …
Chilling, tense and twisted, this compulsive thriller from SA writer and Writers SA member Michelle Prak will send adrenaline coursing through your veins.
'An electrifying outback thriller that's unlike anything I've read.'— Mark Brandi, author of Wimmera
Join Michelle for the official launch of The Rush on May 10, RSVP here.
For your chance to win a signed copy ahead of its release on May 3, in 25 words or less tell us below: why would you like a copy?
*Please note this giveaway has now ended*