With the Adelaide Fringe Festival once again taking over the city and surrounds from February 17-March 19, we've put together a guide to finding the most literary events in the jam-packed program.
Check out our list below with some of the shows featuring both local and visiting authors, as well as poetry and spoken word, and literary themed gems in this year's line-up.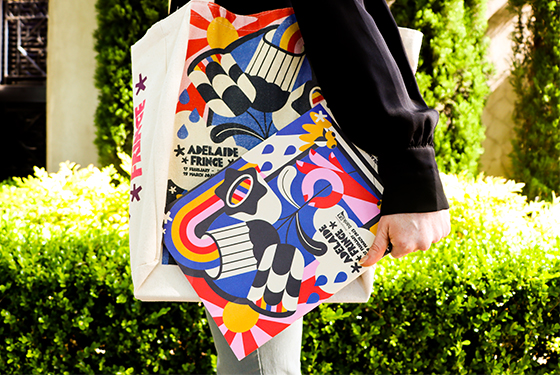 Official 2023 Adelaide Fringe Guide. Photo Anastasia Comelli
Authors and Writers
Solace
This multi-disciplinary exhibition is the outcome of a collaborative project between visual artist, Donna Gordge, and performance poet and Writers SA member, Caroline Reid. They have responded to each other's creative practice in an exploration of parental loss and grief.
Where to from here?
She's on the trip of a lifetime: middle-aged, menopausal and forgotten to buy her ticket. Sitting in the station cafeteria drinking over-brewed tea and eating stale croissants, a stranger asks her, 'Do I know you?' This simple question will change the course of her life forever. In the first show of her new trilogy, Tracy Crisp once again brings you her unique brand of humour, poignancy and wit and whimsy.
Counter Urban Questions
What does it mean to live and tell stories from regional Australia? Join Writers SA, Adelaide Fringe, and commissioned writers from across regional South Australia for a special and provocative evening of storytelling. Presenting new commissioned pieces (songs, stories, poems, letters, speeches) that explore counter urban perspectives.
Beyond the Trees
Explore the healing power of nature as local artists share original music, story and art inspired by their deep connection with Country. Bring a rug and picnic, kick off your shoes and enjoy the music and words as the fading light gives way to illuminated gum trees and stunning projections of textured oil paintings.
50 Odd Years Of Crabb
In a half-century of life, Annabel Crabb has been a lot of things: Farm hand, cookbook author, political correspondent, podcaster, mother, defendant, intruder in political kitchens. In a brand-new show for her hometown Fringe, Crabb fires off 50 things she's learned from life over 50 years, in 50 minutes.
Good Italian Girl
Based on her bestselling book "The Good Italian Girl" Claudia Callisto presents a culturally orientated comedy performance infused with 80s music on the battles ethnic females faced with their immigrant parents to simply leave their homes to spread their wings and dance to 80s music with their friends.
Still Alive and Kicking
This award winning show, including the Edinburgh Fringe Award in 2021 is a spellbinding hour sharing the insights of Life and the wonder of being present in the beauty of the Moments. Told through the languages of Visual Art, Music and spoken narrative, the impact of Human connection is the thread that paces throughout.
Nat's What I Reckon
Viral comedy champion, mental health advocate & award-winning, best-selling author Nat's What I Reckon has published three books, a board game and a podcast and clocked up almost four million online followers and 100's of millions of views on this wild ride he is on.
The Stevenson Experience
The Stevenson Experience come roaring back to Adelaide with an Encore of their smash-hit, sold-out, critically acclaimed show – Stranger Twins. Since they were last here Benjamin wrote an international bestseller – Everyone In My Family Has Killed Someone – & is now adapting it for HBO. James also did some cool stuff – but whatever.
ScreenAge How TV shaped our reality
A book launch and talk by author Fenton Bailey. Packed full of insider gossip featuring a star-studded litany of LGBTQ+ icons, this book reveals how Fenton and Randy helped to pioneer the revolutionary genre of reality TV and find success in an ever-changing media landscape. A must for Drag Race die-hards as well as fans of pop culture and reality TV.
Poetry-related
Electric Dreams: Torrent
A stunning immersive experience that beams live performers into a spectacular digital world that vividly illustrates the complex and urgent fight to reshape our relationship with water – a life-giving but destructive force. A ground breaking digital conjuration from award winning UK studio Megaverse, comes an international production created exclusively for the Adelaide Fringe. Combining a new spoken word work from Yankunytjatjara / Kokatha poet Ali Cobby Eckermann, an original score by British electronic music duo Yard Nule and live dance choreographed Lewis Major.
The Good Word
A wonderful and fun filled night that celebrates the amazing Spoken Word scene in Adelaide. Spoken Word can include Poetry, Rap, Story-telling, monologue, Stand up comedy and so much more!
I am root
Told from the perspective of a Ukrainian Canadian living in Australia, this ritual performance piece is a topical, deep, playful exploration (Akubras & Vegemite rituals involved) of culture, identity and belonging in the land down under. Olenka employs her mother tongue (Ukrainian), song, dance, clown, folk traditions, recipes, storytelling, spoken word poetry and prayer to enliven the depths of the unspoken, mysterious places where spirit lives.
A Place that Belongs to Monsters
A girl plays ponies while her mother cooks, a teenager jumps the barrier to ride a funfair carousel, a woman sits defeated in the bookies after closing time, a pensioner stands barefoot in a field of wild horses. The Four Horsemen of the Apocalypse reimagined by award-winning writer & storyteller Casey Jay Andrews. A beating heart of spoken word punctuating stories of fury and fear.
Flukey Lukey – Sleepless in Adelaide
Following a life-threatening brain injury in August 2018, Luke Mann merges stand-up comedy, motivational speaking and spoken-word poetry to create something unlike what you've seen before! 'Sleepless in Adelaide' focuses on his fatigue and sleep problems. With this in mind, sleeping during the show is allowed.
Ventre
A powerful performance of dance and spoken word, 'Ventre' combines the power of African and Brazilian movement with modern storytelling to explore the dilemma of the modern woman. Many stories about the womb are universal, yet often these stories are taboo and endowed with shame.
Do You Thrust Me?
Hope One (Hot Brown Honey) and Melanie Mununggurr (2018 Australian Slam Champion) use comedy, beatboxing, spoken word poetry, music, dance and drag on a pilgrimage of self discovery, decolonisation, and the queer experience. This is the untold scripture you do not want to miss.
Why Runs The Abhisarika
What makes the Abhisarika, a type of heroine from Indian Sanskrit poetry, run to meet her lover on dark stormy nights through forests infested by snakes, demons, and other motifs? This picture recitation with visuals in set design, English spoken-word poetry, and Indian dance, investigates her psychological landscape through contemporary neuroscience.
Coming Back to Life
a poetic journey through the deep and into light
we begin with poems and stories of life lived, love shared
then we enter life's tunnels and caves, poems and stories from the wilderness, the night
we emerge into the light with poems and stories of restoration, healing, renewal, and hope
includes new work, and work from the artist's collections and past performances
raw. honest. cathartic. hopeful.
Sanaa Festival
The festival returns to Light Square in 2023, with a family friendly celebration of music, culture and food. Showcasing local South Australian and interstate musical talent from the emerging and global music communities, alongside hiphop and poetry workshops, live mural painting and arts and fashion stalls.
Literary-themed
Haiku For You
Three lines, three acts: guaranteed to make you live, laugh, love. Help us write a haiku on stage then leave it to us to improvise a play in three parts. Will it all come together at the end? Who knows! Enjoy a hilarious evening of poetry and comedy, surrounded by books in the beautiful Ayers House library. Improv comedy at its fabulous, feminist best, presented by Adelaide's premier all-women improv troupe.
Spark
Patch comes to your primary school! A special visitor, Stephen, arrives in the classroom with a suitcase full of old gifts – some mysterious jars from birthdays long past. Each jar contains a distinct smell and countless story possibilities. Students shape the narrative, bringing their far-fetched ideas to life, before joining Stephen on a treasure hunt to find the most mysterious smell of all.
The Very Last List of Vivian Walker
Based on the acclaimed Banjo prize short-listed novel, The Very Last List of Vivian Walker, this production brings together a performance of excerpts from the novel, with songs from the books original soundtrack woven though the performance.
Turning the Page 
Words…I love reading them and I love writing them. The right mix can transport us. In my new original music show, I have created a collection of songs that have been inspired by words already written that have resonated with me. Some songs include just one line from the book, others are made entirely from the author's words mixed up to create a new story in song. The songs explore topics of climate change, social justice, mental health and how maybe if we turn the page we might just be able to start a new chapter.
Les Fleurs du Mal (The Flowers of Evil) based on the poetry of Baudelaire
A confession of hopes, dreams, failures and sins, The Flowers of Evil attempts to extract beauty from the malignant. One must evoke the artificial and paradoxical aspects of life. Beauty can evolve on its own, irrespective of nature and fuelled by sin. The ideal transcends over the harsh reality where all senses are united in ecstasy.
Marvellous Music at Mary Mags
Butterfly Theatre presents the prose and poetry of William Shakespeare, with music ancient and modern.
An Evening with Edgar Allan Poe
Enter the wonderfully creepy world of Edgar Allan Poe with six faithful adaptations of some of his most haunting works. From old favorites such as The Cask of Amontilladoand The Tell-Tale Heart to lesser known gems like The Oblong Box and The System of Dr. Tarr and Professor Fether, this collection of short plays represents Poe at his most horrifying.
TattleTales: Immersive Tarot Storytelling
Venture into an enchanting den of stories, secrets and sorcery for an immersive 60-minute adventure that's "unlike anything you've seen before". With the mysterious Storyteller as your guide, draw tarot cards, discover your destiny, and make decisions that will determine how your story unfolds. Improvised every show, no two stories will be the same.
William Shakespeare's A Midsummer Night's Dream
Set in the 1970s, this fresh spin on A Midsummer Night's Dream shows new audiences that the course of true love never did run smooth.
Dracula, The Last Voyage of the Demeter
Tells the tale of the fateful voyage that brought Dracula to England in Bram Stoker's 1897 novel. Melbourne-based playwright Sean Carney has expanded this small part of the vampire count's story and has crafted this chilling one act show.
Booze & The Bard: The Shakespearean Drinking Game
5 actors perform a 1 hour, improvised retelling of one of Shakespeare's plays, with a twist – 1 of their troupe is drunk.
Goddess Era
Artemis lived a solitary and sacrificial life. Andromeda and Cassiopeia were punished for being proud. Medusa was a monster. At least, that's the way their tales are usually told. A combination of songs and storytelling, 'Goddess Era' brings the women of Greek mythology into the modern day, giving them a new power and perspective.
Adelaide Fringe Festival runs 17 February – 19 March, full program here.
Have a show you'd to add to the list? Let us know in the comments.
If you're looking for a literary workshop or event, don't forget to check out our summer program.