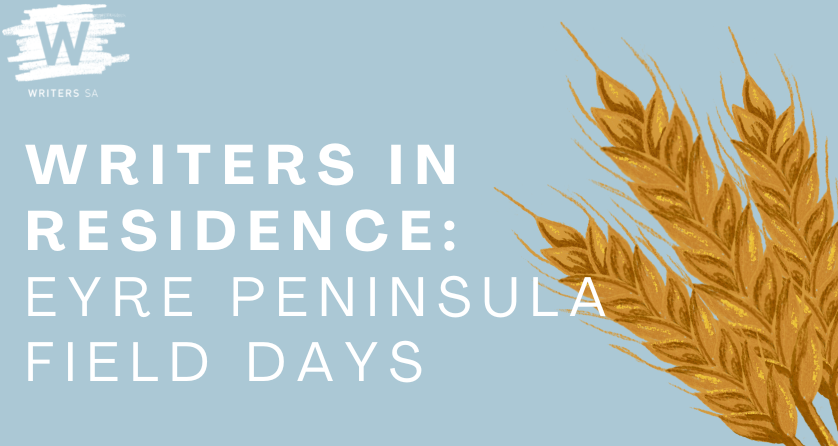 The bi-annual Eyre Peninsula Field Days was held in Cleve from August 9th -11th 2022.
Through our No Limits: Young Regional Writers program, two young Eyre Peninsula based writers were selected to attend and respond, sharing their experience in a format that felt true to them. Selected as residents were Belili Valkyrie whose response, Combines and Community, was published in the Eyre Peninsula Advocate and Troy Bradford whose piece, Chris, you can read below.
Chris
By Troy Bradford
How long had it been since he had last stood in the line to enter the EP Field Days? Doing the math, Chris realised it was almost 20 years ago!

The morning weather was perfect: a warm sun hanging in a bright blue sky, with a cool wind carrying the sounds and smells from the grounds. There had been many years where it was all rain, slick mud and puddles that you didn't know if they were 1 or 10cm deep. Chris groaned at the memory of the 'waterproof steelcaps' he'd bought in Adelaide and had loudly bragged about: they filled with water at the very first puddle he boldly stepped in, and the warm squelch and stifled laughter of his mates had hounded him for the rest of the day.

This year the weather was pristine.

As Chris got his ticket out, he wondered who he would see that he used to know so well, but who time had relegated to blurry smears in his memory. Would they recognise or even acknowledge him? Scratching his neck, he sighed – no-one would recognise him because no-one could see his face from behind his mask. Covid had done many horrible things to the world, but the enforced mask mandates did at least make anonymity easier – Chris just wasn't sure if that was a good or bad thing, or was somewhere in between.

With his ticket's QR code now scanned – when had that feature been implemented? – he realised he was stalling. The wide-open gates looked welcoming, but felt like they were almost a barrier that he needed to overcome. In reality it was his feelings of the past that were the real barrier: the way he'd treated Dave, how he'd majorly messed up with Jess, how his shame had prevented him from contacting anyone after he moved away. Determined to face his inner demons once and for all, he squared his shoulders and moved forwards.

As the minutes ticked by, and as he passed more and more stalls, Chris could feel his underlying nervousness recede. His eyeline lifted higher, transitioning from being locked down low, to now openly moving around and absorbing all that was surrounding him. Stall-holders patiently awaited customers, calling out greetings to those they recognised or simply leaned on tractors, bales or their new 'farming wonder' and enjoyed the weather. Small groups of families and gaggles of friends all stood or walked around sharing laughter, pointing at things that interested them – just happy being in the moment.

THIS is what the Field Days were all about!

Sure, it had machines to see, products to buy and food to eat, but it was the time spent with those you cared about that was the most valuable item on offer. His regret at not burying the hatchet with Dave before his untimely accident would be something that Chris would have to carry for the rest of his life, but he swore to himself that he would find Jess and the rest of the crew and make amends – life was too short and delicate to take for granted.

The sun was shining in the clear blue sky and Chris allowed himself to smile: remembering how it felt to wag school and spend 3 days at the Field Days with Dave, Jess and the rest of his mates made him feel young again.

Troy Bradford is one of those people who has travelled all around his home state, but only crossed the borders once (well twice – the first over and the second very quickly back). Troy revels in making others laugh and roll their eyes from his really good bad dad jokes, but his writing often makes you sit back and go "Oh wow where did that come from?!". Troy has dabbled in writing, acting, sound design, graphical design, lighting design, stage design…. Did we mention he's designed things? Jack of all trades, master of none is his philosophy and it's something he's working on perfecting.
The Eyre Peninsula Field Days Writer in Residence was commissioned by Writers SA through the No Limits: Young Regional Writers program. No Limits supports literary activities in the regions, creating pathways for young writers, from skills to publication. No Limits is supported by Restart Investment to Sustain and Expand (RISE) Fund – an Australian Government initiative, and Arts South Australia.

Thank you to our project partners, the Eyre Peninsula Advocate and Eyre Peninsula Field Days