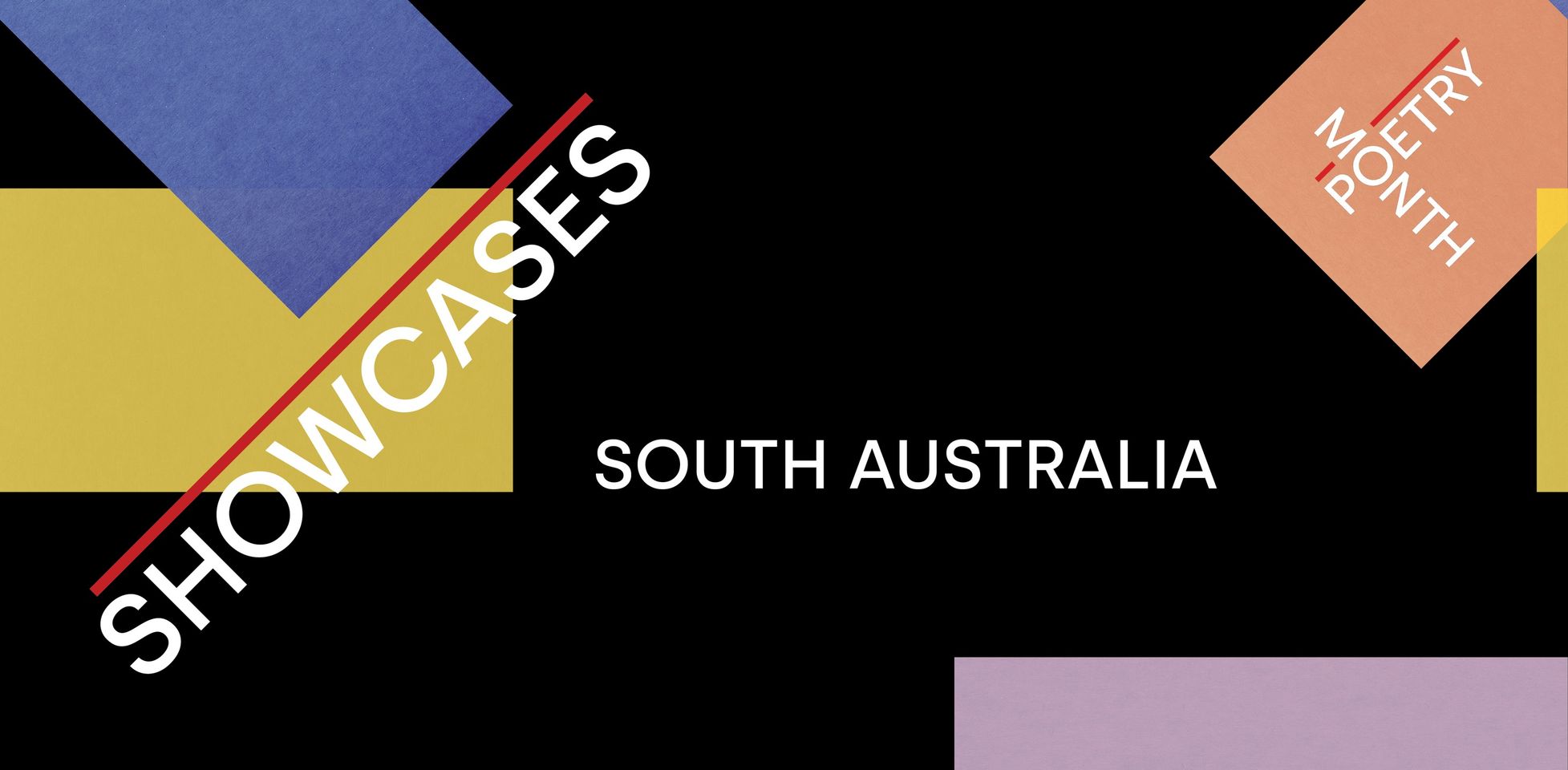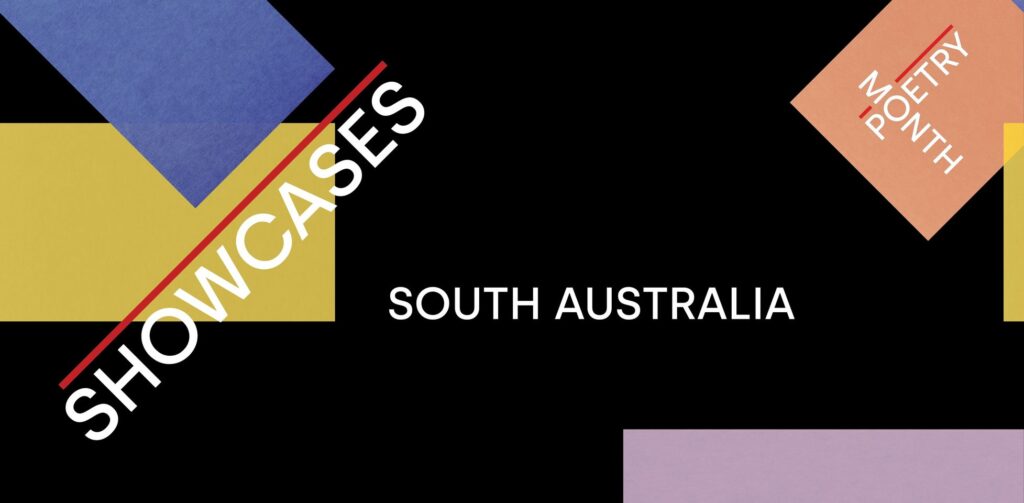 Join Writers SA and Red Room Poetry for a showcase of some of South Australia's brightest poets. Tune in from the comfort of your own home to the South Australian Poetry Month Showcase replay.
Presented as part of Poetry Month 2022 in partnership with Red Room Poetry.
Featuring Mandy Brown, Ali Cobby Eckermann, Kelly Vincent, Chris Best, Nancy Bates, Shania Richards, Rachael Mead, hosted by Aud Mason-Hyde
When:
Live-streamed Tuesday 30 August from 5.30pm(ACST)/ 6pm(AEST)
Where:
Right here!
Cost: Free
Event type(s):
Online, Performance
Please help us by providing your feedback on the Showcase here.
Lineup Biographies
Aud Mason-Hyde (MC)
Aud has experience as an actor, spoken word poet, activist and public speaker. In 2017 they created and performed a TedX talk about their experience of gender, which has since garnered over one million views. Since, they have appeared in several award winning films, been a consultant, keynote speaker and slam poet. Aud also works as a youth activist in the Adelaide School Strike 4 Climate group, and through their workshop facilitation, is a strong advocate for the queering of society.
*
Mandy Brown (poet)
Mandy is a Peramangk/Ngarrindjeri senior woman who has been involved in poetry and short story writing since a child. Her involvement within the ATSI literary community is ongoing and although largely unpublished her works are in demand for events around NAIDOC and Reconciliation week particularly in schools and community events as a preferred way of communicating and educating the wider community. She is a member of the ATSI SA writers group since its inception in 1997 after attending in 1996 the inaugural ATSI writers conference for all written form (previously this had only catered for playwrights) and attends other writing forums gaining valuable and workshop skills.
*
Ali Cobby Eckermann (poet)
Ali's first collection little bit long time launched her literary career in 2009. In 2013 Ali toured Ireland as Aust. Poetry Ambassador and won the Kenneth Slessor Prize and Book Of The Year (NSW) for Ruby Moonlight, a massacre verse novel. In 2014 Ali was the inaugural recipient of the Tungkunungka Pintyanthi Fellowship at Adelaide Writers Week, and the first Aboriginal Australian writer to attend the International Writing Program at University of Iowa. In 2017 Ali received a Windham Campbell Award for Poetry from Yale University USA. Also, in 2017 she was awarded the Red Room Fellowship. She was awarded a Literature Fellowship by the Australian Council for the Arts in 2018 and in 2019 Ali was awarded a prestigious Civitella Ranieri Fellowship in Italy.
*
Kelly Vincent (poet)
Kelly is a writer, theatre maker, policy worker, and disability rights advocate living on Kaurna land in Adelaide, south Australia. They are Creative Director of True Ability, a disabled person's theatre company, which debuted its first full length production UnSeen, in 2021. In August 2021, Kelly's first book, Dandelion Heart, a collection of poetry and essays, was published by Debut Books. Kelly is a proud disabled, neurodivergent, and queer person. They love theatre, stories, Pokémon, criminal psychology, and Oxford commas.
*
Chris Best (poet)
Chris Best is a multidisciplinary artist. Originally from the USA, Chris is known for his contribution to the Adelaide arts scene as the creative artistic director of Soul Lounge, a monthly open mic night unapologetically tailored to the needs of intersectional artist of colour.  He has written and performed for SANAA , Rhino Room, Papermouth Theatre, Act Now's Theatre of the Global Majority, The South Australian Film Corporation, and The State Theatre. Chris is currently in the process of putting together an arts space in the city.
*
Nancy Bates with Allara Briggs Pattison (musician)
Nancy is a Barkindji Woman, and an accomplished singer-songwriter.  Several years ago she was working and singing under the wings of national treasure Archie Roach as a backing vocalist and guitarist for his wonderful songs and music. Archie Roach rated Nancy as one of the finest singer-songwriters in Australia, who deserves to be heard. She tours nationally and internationally as a band member and support act. Nancy's music expresses her love, pain and humour which are passionately wrapped in lyrics and melody that leave the listener richer from the experience. Her songs are pure emotion, a gift to the human spirit. Make sure you check out her album "For Your Love". 
Allara Briggs Pattison is a young Yorta Yorta activist, spoken word poet and extraordinary woman.
*
Shania Richards (poet)
The City of Port Lincoln's Young Citizen of the Year 2022 Award Winner, the 27th Youth Governor of South Australia, Her Excellency, Lady Shania Richards, is interested in terraforming trauma into infinite possibility which is reflected throughout her work and journey. Shania graduated from the Western Australian Academy of Performing Arts. Her creation style includes performance (theatre, singing, dance, industry level acting), music (singer/songwriter/rapper/clarinettist) painting, writing/poetry, modelling, wood burning, drawing, cooking, and candle/bath bomb making. These works explore intergenerational trauma, unconditional love & surviving Earth.
*
Rachael Mead (poet)
Rachael is a South Australian novelist and poet, with her creative work appearing widely in Australia and internationally. She's the author of the novel The Application of Pressure (Affirm Press 2020) and four collections of poetry including The Flaw in the Pattern (UWAP 2018). In 2019, she spent a month in the Taleggio Valley in Northern Italy on an eco-poetry residency awarded by Australian Poetry. She recently won the Barbara Hanrahan Fellowship in the Adelaide Festival Awards for Literature to continue work on her novel about the first Australian woman in Antarctica, The Art of Breaking Ice, which is due for publication in 2023.