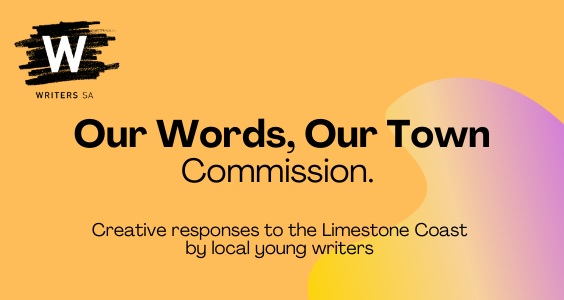 We are delighted to announce the selected writers for our Limestone Coast No Limits commission project Our Words, Our Town.
Our Words, Our Town is a creative response to living on the Limestone Coast as a young person in 2022 — the challenges and hardships of being a young person in a regional location but also the joy, freedom, and unparalleled beauty that is the Limestone Coast.
Selected writers of Our Words, Our Town will be writing new short pieces over the coming months ready for presentation at local showcases and other events across 2022.
The selected writers are:
Poppy Moyle-Read is a 17-year-old school student at Naracoorte High School. Her interest in literature inspired Poppy to undertake work experience with The Naracoorte News; developing her knowledge under experienced journalist Eliza Berlage. Poppy has completed 13 years of reading with the South Australian Premiers Reading Challenge; highlighting her love for books and storytelling. Poppy has recently been selected as a Captain of Naracoorte High School in 2022. Hence, providing an opportunity to voice her concerns and thoughts. Poppy's ability to place injustices into poetry inspired her to begin songwriting several years ago. Poppy uses storytelling to help herself and others understand complicated yet collective feelings.
Max Grubb is a 12-year-old fiction writer with a background in acting. His work has been published by absolutely no one, but he's hoping this one-day changes. Max is from Mount Gambier S.A. He lives with his mother, Anna, stepfather Carl, and his two younger siblings Harper and Sebastian (who are all way too good for him). He enjoys writing epic fantasy novellas, creating original characters, telling jokes that are hilarious (at least to him), and playing Dungeons & Dragons. He can tell already this is going to be good fun.
Jessica Dempster is a 21-year-old aspiring journalist situated in Adelaide, originally from Naracoorte South Australia. Jessica is studying a Bachelor of Journalism and Professional Writing & a Bachelor of Arts (Creative Writing and Literature) at the University of South Australia. Since moving to Adelaide and commencing her studies in 2020, she has had stories published in the University's student publication On the Record, produces a radio show for the University's radio station Unicast, and is a student ambassador for her degree. Jessica has a passion for rural and regional news and broadcast journalism.
Josh King is a writer, singer-songwriter, and beginning filmmaker from Mount Gambier in the Limestone Coast region of South Australia. Josh is a great fan of experimental art and enjoys expressing the motion of everyday life in new and exciting ways to reveal how strange our lives really are, whether that be in poetry, prose, or song. Josh has a passion for work that emphasizes the essential, not additional, need for empathy and compassion in our lives, both for ourselves and those whose lives we share a place in.
​​Faith McKenzie is another average 17-year-old based in the small town of Millicent, South Australia. She has always been fascinated by books and mythology, this innocent fascination conspired into her current love for reading and its beautiful partnership with research. Faith turned to poetry as a way of expressing emotions she struggled to deal with alone and used this as a form of self-expression. She hopes to one day become a published writer or teacher and idolizes Rupi Kaur for her ability to express pain and growth simultaneously through her work.
Kyra Sykes is a vibrant artistic jack-of-all-trades born and bred in Mount Gambier with a background in journalism. Alongside their work as a cafe comedian and cellar door salesperson, Kyra is a non-binary writer, drag performer, mental health youth advisor and LGBTQIA+ advocate. Driven by a love for the South East, Kyra uses storytelling hand-in-hand with advocacy to promote self expression and open dialogue on topics important to young people. They are currently working on a conversational and journal style book highlighting moments from their chaotic twenties.
Lauren Agnew is a fourteen year old student living in Mount Gambier. Since she can remember, she has been curious about the wonders of the earth and dreams of being able to share her simple, yet beautiful, view of the world with others. Lauren has lived in the Limestone Coast her entire life, and has always admired the stunning scenery of the area, particularly the coastal regions. She enjoys writing, reading, acting and netball. Lauren would describe herself as ambitious, driven, hopeful and a dreamer.
Bri Boyington is a homeschooling teen who likes spending time reading fictional stories, playing guitar, listening to music and hanging out with friends. She enjoys writing fictional stories, with brave and daring characters in them, faithful friends, endless forests and deserted cities. Bri's stories always express emotions that she's feeling at the time, and have varying degrees of super powers, dragons, dryads and elves in them. Bri lives in Naracoorte with her parents, little sister and brother, and their two dogs and twenty chickens.
*
Join the Writers SA enews here for updates on Our Words, Our Town and other Writers SA programs.
---