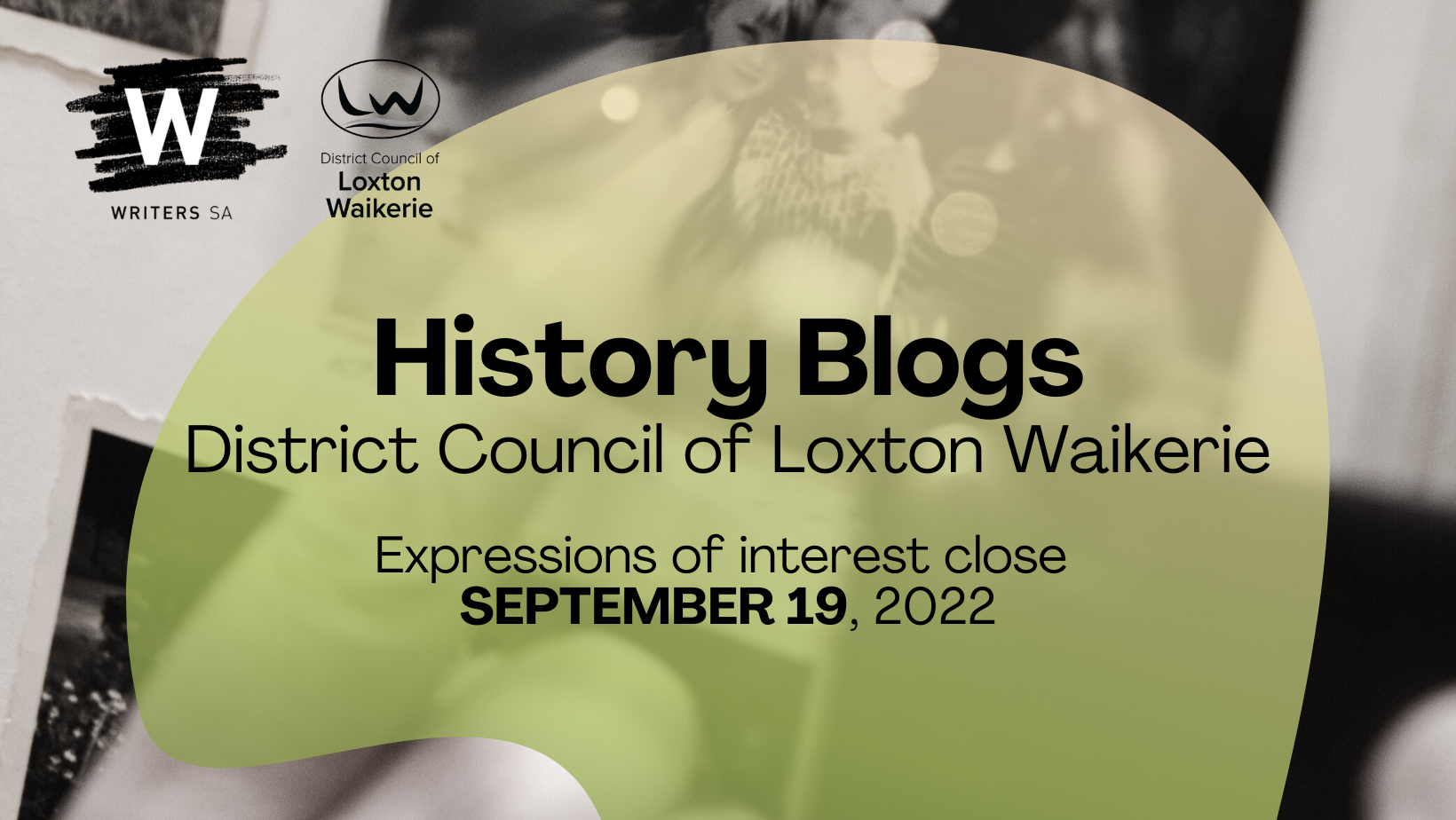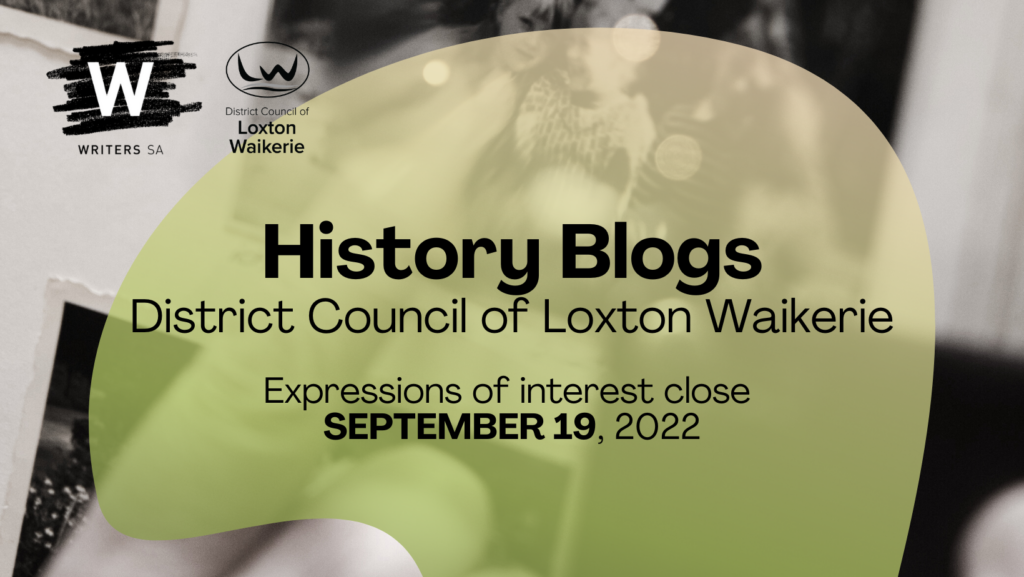 History Blogs EOI has been reopened! If you missed out during our last round, now's the chance to show off your connection to and the history of your town.
Writers SA and the District Council of Loxton Waikerie are calling all regional storytellers to express interest in a new project. Selected writers will be paid to write a short piece in any form of their choosing (poetry, song, photographs, comic page, short story, diary entry etc) responding to the histories of their towns.
Overview:
The District Council of Loxton Waikerie are seeking stories to celebrate and showcase the history of the region. Are you a history buff, storyteller or blogger? This may be the perfect project for you!
The District Council of Loxton Waikerie are launching a new tourism website for Loxton and Waikerie, including history pages for both towns. The District Council of Loxton Waikerie are looking for a range of written pieces for the website, including but not limited to: blogs, vlogs, written creative-nonfiction pieces, poems, graphic storytelling. Is there a part of your town's history that you want to tell us about, something that deserves to be highlighted?No matter how niche or how obvious you think your idea is, it is something we want to hear about!
What/When:
24 creators (12x Loxton residents and 12x Waikerie residents) will be selected for the History Blogs project through expressions of interest and direct commissioning.Selected writers will:
be paid a fee of $400 for their completed written piece (900-1200 words or equivalent).
receive written feedback to improve their draft from an allocated editor.
have access to a closed virtual group to share their work in progress and connect with other History Blog creators.
Writers SA will:
provide editing support to polish the final piece.
provide moral support and additional feedback to all selected applicants throughout the drafting process.
pay selected writers the agreed commission fee on completion of their written piece.
Loxton Waikerie District Council will:
publish all completed pieces online.
Selection Criteria:
Writers must currently live in Loxton or Waikerie.
This is a commission for a new piece of writing to be developed, which clearly responds to the brief.
We are looking for a range of ages, experience levels, mediums and backgrounds.
We are looking for a range of responses and themes to the past and present of Loxton and Waikerie.
The final blog post must be 900-1200 words or equivalent.
If you have any questions or need help completing this form, please contact Riverland Coordinator Kirste Vandergiessen [email protected]
---
FREQUENTLY ASKED QUESTIONS (FAQ)
What is a blog?
A blog is a regularly updated website or web page, typically one run by an individual or small group, that is written in an informal or conversational style.
Do I have to live in Loxton or Waikerie to submit?
Yes. This is a project for current residents of the towns.
Does my piece have to be based on real life?
Yes. These blogs will reflect the history of Loxton and Waikierie. It doesn't necessarily have to be your own life or family. Your blog could be focused on collecting letters from families who resided in your town and responding to them, photographing the memorial sites in your towns and creating a map with their locations or writing a reflection, or drawing a comic page about significant moments in time.
Do I need to be an experienced or published writer?
Absolutely not. We are looking for a mix of ages, backgrounds and experience. Each selected writer will be matched with an editor to receive feedback during your drafting process to develop these pieces further.
What do you mean by 900-1200 words or equivalent?
The word count is based on a written blog format. Poems, comic pages and other storytelling formats use a lower word count for the same amount of effort. The word count is in place to give a tangible gauge of how much work should be put into your blogs.
What kinds of things can I submit?
Anything that can be uploaded in a digital format. If, for example, you are responding to a series of letters from your family's chest hidden in a shed, you would need to scan or photograph those letters so we have a digital copy of them.
What will happen to my written piece after it's finished?
The District Council of Loxton Waikerie will schedule one piece from a Loxton resident and one piece from a Waikerie resident to post once a month for a year-worth of content. The Writers SA Regional Team may be in touch with you to discuss ideas for presenting and sharing your piece at Writers SA and/or partner events in 2022. Depending on the form of your final piece this could include reading the work at an event, presenting it within an exhibition or turning it into other formats. The Regional Team will work with you to find the best ways to showcase you and your work.
I still have questions or I'm feeling a bit unsure about my ideas, who can I talk to?
You can contact Riverland Coordinator Kirste Vandergiessen for any further questions [email protected]