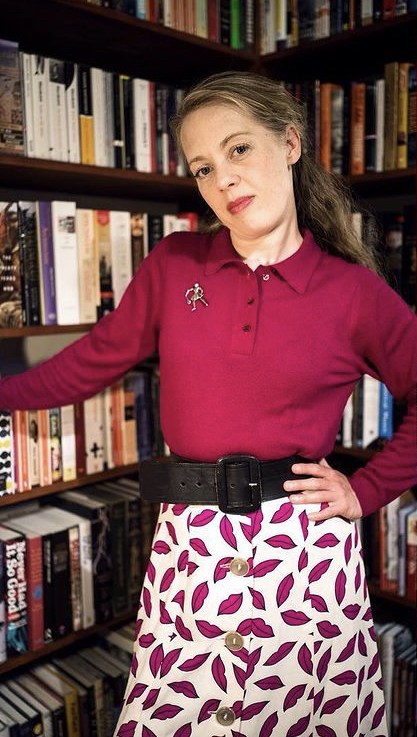 Zoe Lewis is a Library Youth Collections Officer who has been working in South Australian libraries for over two decades. In her role at Adelaide Hills Council, she selects, purchases, and curates library materials for young people.
We talked to Zoe about her job, what she looks for in choosing library material, the best online library resources for writers, and how as authors, you can get your book on South Australian library shelves.
Writers SA: Hi Zoe, what is your job and what does it entail?
Zoe Lewis: My library job title is Youth Collections Officer and contrary to what we all learned from pop culture, I don't read books all day, stamp due dates on books or tell people to be quiet (much), I do, however, have a fondness for wearing my hair in a bun and woollen cardigans! I spend most of my time selecting and purchasing new library materials for young people including books, DVDs, audiobooks, graphic novels, eBooks and eAudiobooks and doing collection maintenance, which involves removing items from the collections, fixing problems, assessing library items for replacement and reorganising library collections. I also catalogue library materials and maintain the online catalogue so that customers can find what they're looking for and do face-to-face customer service and readers' advisory.
How long have you been working in libraries?
I've done a couple of stints at libraries in SA totalling around 20 years. I started as a customer service officer in my teens and after to-ing and fro-ing between work and study ended up doing an Honours degree in Children's Literature; my thesis was on The Hunger Games!
Can you tell us about your role curating the digital collections?
I have been involved in the selection and curation of digital collections for around four years, firstly on the BorrowBox platform and then on the Libby/Overdrive platform on behalf of the state public library network.
As a children's and YA specialist selector, I try to focus on selecting eAudiobooks for these demographics if available, despite them being way more expensive than eBooks and burning through my budget! eAudio's accessibility to the majority of readers including those with dyslexia and other learning disabilities and their overwhelming popularity with children and young adults (and possibly with parents wanting to curb their children's screen time) is hard to ignore.
Curating collections, where a list of themed titles is highlighted to customers is probably my favourite thing to do with digital collections. I've curated lists of books that have been made into TV shows, books to read after Harry Potter, crime and mystery books for children and young adults, Bridgerton read-alikes, LoveOzYA 2020, AFL books, vampire books and to coincide with our COVID lockdown, a list of books where the characters were all trapped in one way or another called Literary Lockdown! My latest curated collection, which should be available soon, is a list of xenofiction books for children told from an animal's point of view.
How many ebooks are in the SA collection?
Approximately 57,000 eBook titles and 12,000 eAudio titles.
What other digital materials are in the collection?
There are a number of great digital resources available through SA public libraries. As well as the Libby and BorrowBox e-Book and e-Audiobook platforms mentioned earlier, there is Pressreader, a leading digital newspaper and magazine provider with over 7,000 publications from across the world and Linkedin Learning, which allows customers to access online training courses in video format on a huge range of topics, from professional skills to learning to draw and even mindfulness training. Individual libraries may also have additional digital resources such as e-film streaming services.
How popular is the ebook service? Has this changed since COVID?
eBook and eAudiobook usage did spike during COVID, with our numbers of Libby/Overdrive users increasing from around 15,000 in late 2019 to around 23,000 at the height of lockdown; even since lockdown this number has remained consistently over 20,000 unique users.
What digital collections are new or notable?
BorrowBox eBook/eAudiobook platform was made accessible to SA public library customers on April 1st this year. This easy-to-use platform has lots of exclusive content and a focus on eAudiobooks and Australian titles. Ancestry Library is also available in SA public libraries for family history research.
For local authors interested in having their book in the 'one card' catalogue or print book into SA libraries, what are the first steps?
Contact one of our library suppliers (eg. ALS Library Services) to let them know when your book is coming out, they will need details of your book such as author, title, ISBN, publisher, publication date, price and a short summary. These suppliers then provide information for the monthly lists of titles from which libraries can select.
Alternatively, authors can approach individual public libraries directly; some authors like to donate their books while others prefer to sell them. Individual libraries will assess books for quality and appropriateness before purchasing and adding to their collections.
For eBooks your publisher would need to have a relationship with either Overdrive or Bolinda who are our eBook/eAudiobook suppliers. Here's a fact sheet explaining all the ins and outs for local authors.
Best thing about ebooks?
I am a huge fan of eAudiobooks and love being able to listen to a book on my phone while doing other things. It's also great that I can borrow a book when the library is closed and don't even have to remember to return it!
Best part of your job?
I get to buy books for a living!
Last SA book you read?
The follow up to Papa Sky, Mama Ocean by Adelaide Hills locals Jane Jolly and Sally Heinrich.