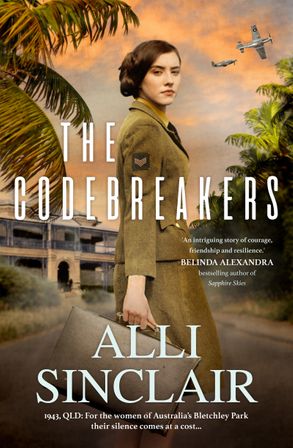 The Codebreakers (HarperCollins) is inspired by the real-life codebreaking women of Australia's top-secret Central Bureau in Brisbane in WWII.
Author Alli Sinclair interviewed the real life codebreakers to learn more about their lives and roles to tell a fascinating, untold part of Australian history.
1943, Brisbane: the war continues to devastate and the battle for the Pacific threatens Australian shores. For Ellie O'Sullivan, helping the war effort means utilising her engineering skills for Qantas as they evacuate civilians and deliver supplies to armed forces overseas. Her logic and integrity attract the attention of Central Bureau – an intelligence organisation working with England's Bletchley Park codebreakers. But joining Central Bureau means signing a lifetime secrecy contract. Breaking it is treason.
Ellie works with a group of elite women who enter a world of volatile secrets and form a close bond. As Ellie struggles with the magnitude of the promise she's made to her country, a wedge grows between her and those she holds dear. When the man she loves asks questions she's forbidden to answer, how will she prevent the double life she's leading from unravelling?
We have a copy of The Codebreakers to giveaway to a Writers SA member. To go in the running, simply comment below in 25 words or less why you'd like a copy.
Competition closes 5pm Adelaide time Wednesday 10 March.