'Mad March' is nearly here, and the (socially-distanced) Adelaide Fringe Festival begins this Friday!
To help fellow book-lovers and literary fans get the most out of the program, we've created a mini-guide to the Adelaide Fringe Festival, with just some of the events featuring writers both local and visiting, and book-themed events in this year's lineup.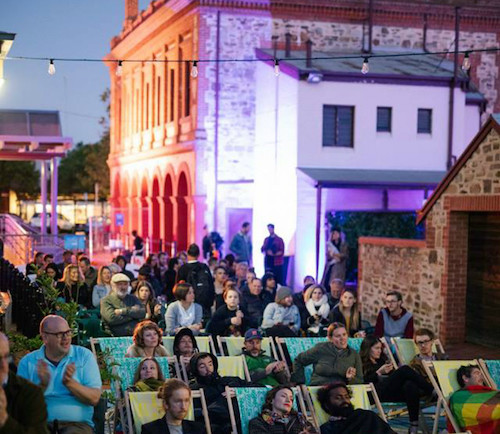 Authors and Writers
Strata//Forgiveness
Come along to the world premiere of two new one-act plays by SA writers. Strata (winner of the 2016 STCSA Young Playwright's Award), by Peter Beaglehole, and Forgiveness (winner of the 2020 Jill Blewett Playwright's Award), by Piri Eddy, are two new one-act plays presented together in one thrilling night of theatre.
The Man Who Wrote Shakespeare
Local author, playwright and songwriter David Cronin presents a production all about the Shakespeare authorship debate, blending fiction and fact.
SIARAD
Two-time Australian Poetry Slam finalist Caroline Reid and composer/musician Jeffrey Zhang plumb the depths of intimate human relationships in this bold, energetic and unconventional new work. The hybrid theatre/spoken word/poetry show includes pieces taken from SIARAD, a book of poetry and prose Reid published last year.
Women Like Us
Mandy Nolan and Ellen Briggs have co-authored a book together and host a popular weekly podcast; now they're back at Fringe with a new show covering all the important stuff like living with teenagers, ageing parents, mid life crisis, menopause, weird women's clothing and more.
Tracy Crisp: I Made an Adult
After selling out her last five-star Fringe seasons, Writers SA member Tracy Crisp returns with her latest show told with her trademark blend of heart and humour.
Return to the Village
An immersive and interactive theatre experience for children and their families. It's aimed at 3–10-year-old children and is a gentle and inclusive show about building a village. Written and developed by Writers SA member, Marina Barbaro, it's an exploration of what it means to be part of a community while also offering children the chance to be part of and lead the action.
Poetry-related
Journey
Fringe's First African Asian Music, Theatre, Dance & Spoken Word Show! Journey is a multi-disciplinary theatre show, founded by poetry majors with diverse backgrounds, local artist coming from cultures around the world expressing the elements of their journey through movement, dance and a spoken word styled dialogue.
Why We Tell Stories
Spoken word poet Miranda Krogstad intersperses her work with TED Talk-style lecture and other interdisciplinary arts for this powerful, multimedia show. Using poetry, film, captions, comedy, dance, music, and other art forms in this storytelling journey, the show will leave you feeling engaged and inspired, uplifted and challenged.
The Good Word
Come one, come all for a magical evening of poetic performance art – aka Spoken Word – under the stars in Port Adelaide.
A Flying Photon
Science show meets fringe show in this amalgamated mess of exploration and discovery, best enjoyed with wine. There will be experiments, poetry, and a deep dive into some of the best features in the cosmos, including our wonderfully radiating selves.
Iris Goes In…
Inspired by the myth of Inanna, the Sumerian Queen of Heaven and Earth, and her descent into the underworld, Iris goes in… merges poetry, visual art and soundscapes to immerse viewers into their own personal underground.
Sophie Koh – Book of Songs
A splendour of exquisite indie-pop songs, influenced by ancient Chinese poetry and Western classical music. Produced by J Walker (Paul Kelly, Miss Fisher Murder Mysteries) it is a thrilling and unpredictable fusion of styles.
Songs of Travel and Bush Poetry
Escape in to a fully staged performance of Ralph Vaughan Williams' beloved song cycle 'Songs of Travel' interspersed with classic Australian bush poetry.
Sufi Music Highway
Adelaide's foremost contemporary Sufi music group presents its unique Australian presentation of the mystic and ancient poetry and song of the Sufi's from the Middle East and South Asia.
The Deep North
A celebration of the African diaspora in South Australia. In an immersive gallery environment four characters play out their stories, using a hybrid mix of theatre, film and music – presenting overlapping stories through spoken word, hip hop, African music and theatrical interaction.
The Lost Sheep Show (for children)
He runs! He hides! He climbs! He's stuck! It's Cecil the Sheep and Andrew McDonough in an action packed, storytelling, sheep drawing extravaganza! Visit the studio where Andrew draws the Lost Sheep stories. Discover how picture books are made. See an illustrator in action. Hear wild stories. Best of all, everybody gets to draw a sheep!
Smut Uncut: An Erotica Extravaganza
Scoot aside Mills & Boon, the reading, writing, sex-loving Millenials of Smut Uncut present a night of erotic literature that's both hilariously authentic and scandalously sexy.
Kym's Overall Extravaganza Showcase
Kym Mackenzie is a seasoned Adelaide performer, having lit up stages across Australia and around the world. Now, for the first time, he is appearing as a solo act presenting this exciting showcase. Come and witness a smorgasbord of abilities including comedy, dance, music and spoken word that will leave you with a proud smile!
Literary-themed
Shakespeare Now and Then
A program for voice, viola da gamba and recorder of music associated with Shakespeare, including songs by Renaissance musicians Robert Johnson and Thomas Morley which were probably performed when the plays were first staged, and compositions for 17th and 18th-century adaptations of 'The Tempest' by Henry Purcell and others.
Glass Town
The tragedy-touched Bronte siblings are an indie rock band, each of their artistic voices standing out in a contemporary fashion — Anne, most feminist and most faithful, a neosoul star; Emily, melancholy alt-rock prodigy; Branwell, full of the blues; and Charlotte, fierce frontwoman, fighting to the end for recognition and love. A staged concept album that defies traditional musical theatre, "Glass Town" explores familial bonds, grief, and isolation, using the literary family as archetypal touchstones.
Splosh! Theatre's 'Beyond Bedtime Story Show!'
Who says bedtime stories should just be for kids? Let 'Splosh!' tuck you in, dim the lights and take you on an absurd and raucous literary adventure.
Adelaide Fringe Festival runs 19 February – 21 March, full program here.
Have a show you'd to add to the list? Let us know in the comments.