It's National NAIDOC Week, a week to celebrate the history, culture and achievements of Aboriginal and Torres Strait Islander peoples. We've rounded up some of the literary and storytelling events celebrating NAIDOC week 2020: Always Was, Always Will Be.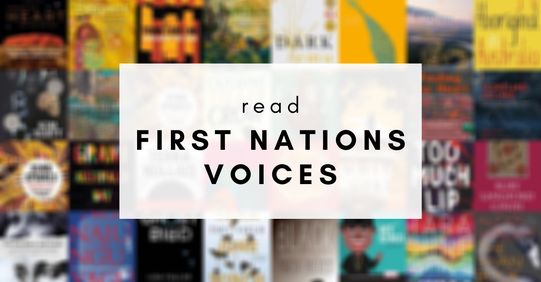 Readings Collection
If you're after a new read, check out this excellent selection of books from First Nations voices from Readings books, including SA writer Karen Wyld's wonderful epic Where The Fruit Falls.
Australian Indigenous Voices in Literature
The Mark & Evette Moran Nib Literary Award present this online event. Authors Tony Birch and Julie Janson will join prize-winning poet and literary researcher Evelyn Araluen to discuss the strength of Indigenous resistance, the devastating legacies of colonialism and the importance of reclaiming an Indigenous voice in literature, while reflecting on their most recent works and journey to publication.
Women's Work
Celebrate the diverse and often unheralded leadership of Aboriginal women in our community. This exhibition of photographs by renowned photographer Wayne Quilliam, curated by SA Museum's Rebecca Richards, represents a way of honouring Aboriginal Australians, as we collectively begin to define a shared vision of a national day that is worth celebrating together.
Young Explorers: Always was, always will be
Check out SA Museum's online Young Explorers videos for young children, featuring a welcome from Uncle Mickey O'Brien and cultural objects with Dr Jared Thomas.
Reflections: Connecting to Country through Art
In a collaboration between the University Library and Wirltu Yarlu Aboriginal Education, the artworks on display in this exhibition have been selected by Aboriginal and Torres Strait Islander staff and students from the University of Adelaide's Indigenous art collection.
First Nations Authors in Focus: SA Museum Storytime
In celebration of the history, culture and achievements of Aboriginal and Torres Strait Islander people, join the SA Museum to shine a spotlight on First Nations writers in South Australia! Come along and listen as Museum staff read aloud their favourite children's books by First Nations authors. Readings will take place in the Museum's Australian Aboriginal Cultures Gallery, showcasing one of the most important collections of Aboriginal material culture in the world.
Nunga Screen 2020
Formerly known as Black Screen, Nunga Screen features a program of independent films for all ages from emerging to the more established film-makers. Inspiring docos, compelling dramas, quirky animation, contemporary to traditional storytelling – this film event is dedicated to bringing communities together to share in culture. This free event will showcase 13 films across regional South Australia, from town halls, to cinemas to drive-ins.
TREATY
A new live music showcase of South Australia's best emerging and established First Nations artists, will be presented as a NAIDOC Week 2020 event at Tandanya National Aboriginal Cultural Institute on Friday November 13th from 4pm – 10pm.
Didge and Dance workshop for kids
A workshop for children aged 5+. To continue on with NAIDOC Week celebrations join local Aboriginal artist David Booth for an interactive dance movement workshop sharing stories, dance and games. There will also be a didgeridoo explanation and demonstration.
50 Words Project
This University of Melbourne project allows you to listen to 50 words spoken in a range of different Indigenous Australian languages. Using the map, you can take a virtual linguistic trip around the country to hear authentic pronunciations of everyday words in more than 60 languages. The project is run by the university's Research Unit for Indigenous Language, who engaged with Indigenous communities on the work.
Storytime with Aunty Fay Muir
Gather the family for this special zoom story time with Wamba Elder Aunty Fay Muir, as she shares stories around the theme of family, on Friday 13 November.
Preparing for NAIDOC Week PD Event 2020
CBCA NSW Branch and Magabala Books present this online resource celebrating outstanding Indigenous Australian creatives. Update your knowledge of current Indigenous texts and how best to share them with students. Available online until 15 November, with member and non-member prices.
View all NAIDOC Week events here.