We're thrilled to announce the winner of the Writers SA Varuna Fellowship for Young Writers – Phoebe Paterson de Heer!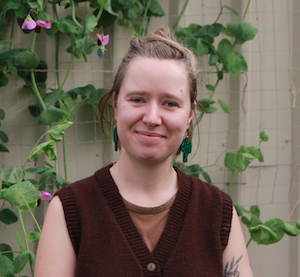 Writers SA and Varuna the National Writers' House are delighted to announce the 2020 recipient of our residency and development fellowship for a young South Australian writer.
Phoebe will be spending a week in the Blue Mountains, writing and developing her craft, with seven nights at Varuna, a $300 travel subsidy, and an expert consultation with a Varuna writing consultant.
Phoebe Paterson de Heer is an emerging writer and editor who lives on Kaurna land in coastal South Australia. Deputy Online Editor for Archer Magazine and a previous member of the Voiceworks Editorial Committee, her personal essays and works of memoir have been published in Meanjin, Kill Your Darlings, Overland, Scum and Voiceworks, among others. Phoebe was commended in the 2019 Feminartsy Memoir Prize, received a Carclew Fellowship for nonfiction writing and editing, has taken part in Express Media's Toolkits: Memoir, and been a panellist at National Young Writers' Festival and Tracks Adelaide. Phoebe's writing draws on interests in agriculture and environmentalism, personal experience with chronic illness and a passion for feminism.
Ahead of Phoebe's time at Varuna, we asked her a few questions about her work, aspirations, and the writing life.
Writers SA: How would you describe your writing practice?
Phoebe: While writing is one of my main projects, it isn't my only one, and I'm always learning how to best prioritise my time and energy. At the moment I have three mornings a week when I aim to spend a good couple of hours working on my writing, though this doesn't always happen. I've also always kept a diary, and write in this most days, usually to make sense of my experiences and thoughts. Sometimes this makes a useful record to draw from in my work, though I also see it as a valuable activity in itself.
What memoir or personal essay do you find yourself constantly inspired by?
There's a Wendell Berry essay I first read earlier this year called 'A Native Hill' that I find myself thinking about a lot. Berry is a farmer and a writer, which is also my dream combination of activities, and he is very into the idea of settling in a place, of getting to know it well and learning its needs. This essay is about the history of the land where Berry lives, and about the way he walks through it and observes it. It explores the ideas of death and decay, and their connection with life, in a really beautiful and humble way.
If you could tell your younger writing self anything, what would it be?
I think it would be to keep practising different forms of writing, to not limit herself. Over the past several years I've pretty much only been writing nonfiction and memoir stuff. There are good things about specialising, to be sure, and there isn't time for everything – but sometimes I wonder if I've lost the ability to write fiction or poetry, which I used to enjoy doing, and which served different impulses. I'd like to find my way back to that variety at some point.
What are you most looking forward to during your time at Varuna, the National Writers' House?
The thought of having a whole week where my only task is to write is a pretty thrilling (and daunting!) one. I'm really looking forward to allowing my thoughts to settle on the project in front of me, without being tugged in the various other directions that we tend to be tugged in daily life. I'm interested to see what comes out of that. (Also, I've heard the food is delicious.)
What does literary success look like for you?
This is an ever-shifting ideal, but for me it will always come back to enjoying and growing from the process. It's easy enough to get caught up in the goal of publication, of thinking about other people reading my work, but I know ultimately I wouldn't do any writing if I wasn't first doing it for myself. I think success for me is about my writing and the other activities in my life being mutually supporting. Practical living gives me things to think about, and writing helps me figure out why those things matter, and how they fit into the bigger picture.
Who are your biggest supporters in this journey?
My partner Ry, who is always proud of me and helps me carve time and space for my writing. My sister Chloe, who says whatever I write is my experience of truth and doesn't require permission. My writer friends Alice and Aimee, who commiserate with me and inspire me with their wonderful work. I have also had the good fortune in the recent past of receiving mentorship from Amy Middleton and being taught by Zoya Patel, both of whom gave encouragement and advice in just the right quantities to set me on a good path during a tough period.
Your favourite parts of the writing process?
I love the rare chunks of time where things click into place and the words are saying just want I want them to, when they pour onto the page in some kind of useful order. I also like working with an editor to improve a draft, even though it can be painful! But it's always illuminating to see my work from someone else's perspective, and satisfying to be shown the ways to improve it.
What are you reading and writing right now?
I'm reading, as always, too many things, including a few permaculture books, plus Julia Baird's Phosphorescence, which makes me want to hurl myself into the ocean every day, and Tyson Yunkaporta's Sand Talk, which blows my mind so much that I can only read it in bursts. I'm writing the manuscript for my first book, a memoir about regenerative agriculture and chronic illness.