We're pretty excited to team up with author and food and wine journalist Katie Spain to serve up a masterclass in food writing this June.
Ahead of her workshop, we asked Katie a few questions about her book on the Adelaide Central Market, her life as a writer, and …cows.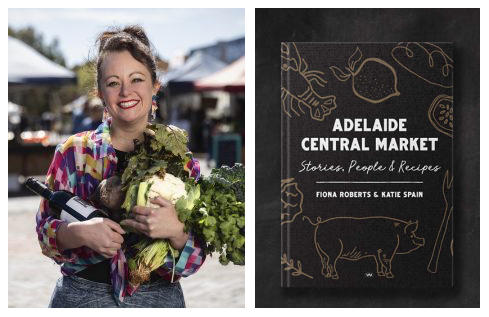 Writers SA: when did you first know you wanted to be a writer?
Katie Spain: When I was growing up on a dairy farm in Meningie (rural South Australia) I wanted to be a librarian, an artist, or a radio presenter. If I wasn't riding motorbikes or milking cows you'd generally find me reading, drawing or writing letters. I've always had an obsession with the pen and what can be done with it. It wasn't until my late teens that I toyed with the idea of actually making a living out of it. After finishing Year 12 (and taking the wrong advice) I did a year of a degree in Information Technology and immediately realised that numbers and coding are definitely not my thing. I stuck it out for a year before following my heart and doing a degree in Professional Writing and Communication. I've followed my heart (and the keyboard) ever since.
My father has a way with words (he writes a mean speech) and my grandfather is a writer so I guess you could say it's in my blood.
Writers SA: What did you first write about?
Katie: Honestly? Cows. A piece on packaging alfalfa sprouts was also memorable. I wrote it while I was studying, simultaneously earning a crust packaging sprouts at 5am, and juggling a job at the local rural newspaper. My role was on the phones – cold calling farmers to interview them about their crops and dung beetles. It taught me to find the interesting angle in even the most ordinary of things.
Writers SA: What was your first byline?
Katie: The one that stands out was an interview with the Hilltop Hoods for The Australian Times newspaper in London. I was a music, food, travel and West End theatre reporter in Blighty.
Writers SA: What draws you to food writing?
Katie: Food connects and inspires. It is sensory, it is people, it is passion – and it is humanity's past, present and future all rolled into one. I love chatting to the people who grow the produce and the people who make the food and wine that fills our soul, heart and stomach. Maybe that's the farm kid in me… their stories are the best to tell.
Writers SA: Who are some of your favourite food writers and publications?
Katie: I was the editor of Broadsheet Adelaide when it launched locally and my respect for the team there runs deep. My colleagues on The Advertiser food team inspire me every day. When I'm not working, I read Gourmet Traveller, New York Times, Monocle, Interview, The Travel Almanac, and am a sucker for a really well-written longform features by the likes of The Australian's Trent Dalton. I also love witty, insightful, evocative wine writers… I'll tell you more about that at the workshop.
Quickfire Q&A:
If I wasn't a writer I'd probably be… an art teacher.
Longhand or laptop? Both – I have journals full of my scrawling. Honestly – buying notebooks is an addiction. I'm more creative when I write by hand.
Best writing snack? Fried seaweed and tea… lots of tea. Occasionally a wine. Just one or productivity nosedives.
Any weird writing tricks or habits? I procrastinate by cleaning if I'm at home. So getting out of the house always helps. Being surrounded by noise and 'life' helps. That may stem from all my years in a newsroom.
What are you currently reading? Jock Serong's Preservation. I'm interviewing him about it for a literary brunch at the Penola Coonawarra Arts Fest in May.
What are you currently writing? A commissioned book about Australian family businesses, a chapter of a historical wine book, a truckload of magazine features, a regular column and wine reviews – to name a few!
Join Katie Spain on June 15  as she shares her industry tips and expertise in Food Writing.