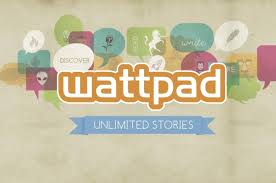 By Sarah Gates
Wattpad.com is a part book distributor, part social platform with over forty million users. Anyone can upload a story or become a reader, accessing over 100 million stories on their phone, tablet or computer. Stories are serialised and updated chapter-by-chapter. It's used by writers of all levels, from young writers trying their hand at a first novel to established authors looking to expand on their readership.
Sounds huge, right? It is.  Writers like Margaret Atwood have jumped on board, as has publishing giant Harlequin. Some writers get picked up by traditional publishers, others self publish, and some are happy to leave their stories where they are – free to all.
With so much going on, here are some top tips and tricks to getting noticed and building a following.
1. Have a great story, title, blurb and cover – quality and professionalism instantly and consistently stand out. If you're posting as you write, remember to edit and that if you get stuck, you can't go back and change something (so have a plot in mind, or finish the novel before you start uploading chapters).
2. Post your story chapter-by-chapter, update regularly and let people know how often you'll be posting (weekly usually works well). This serialised format helps to build an engaged and loyal readership, rather than one-time views from binge readers.
3. Enter the Watty Awards! The awards are annual and are a great, easy way for users of Wattpad to find new complete or soon-to-be complete stories. Even if you don't win, you'll gain a whole lot of new readers on the way and move up that lists – influenced by a ranking system used by most users to find their next read, determined by the number of views, votes (similar to 'likes' on Facebook) and comments.
4. Post questions and discussion points at the bottom of each chapter. Your readers will have to wait another week or so for the next instalment, so this gives them a way to interact with the story for that little bit longer. It also encourages comments, which will boost the ranking of your story – meaning that more people will be able to find it.
5. Correctly label the genre of your story and use tags, making finding your writing more discoverable.
6. Have an interesting 'About' section on your profile.
7. Add popular and similar stories to your writing to your Reading List, and follow other writers. Wattpad is all about community, just like other social media platforms.
8. Include little extras for your readers, like images of the characters or song lists are popular.
9. Direct message your followers with updates about your story, without being too overtly promotional. Basically, typical social media rules and etiquette – except that this function should be used infrequently.
10. Chat in forums or comment on the works of others. Try to form relationships with other readers and they'll eventually try your story. It's slow, but once you have a few dedicated followers and readers your story will move up the rankings and more people will see it.
11. Give a little of yourself and your personality when talking to users. Let them get to know and love you. Remember that Wattpad is all about inclusiveness to all levels of writers. Be kind and generous.
Sarah Gates wrote and posted her first novel on Wattpad at 16 years of age. It has since been viewed more than 9.5 million times and featured on the site.