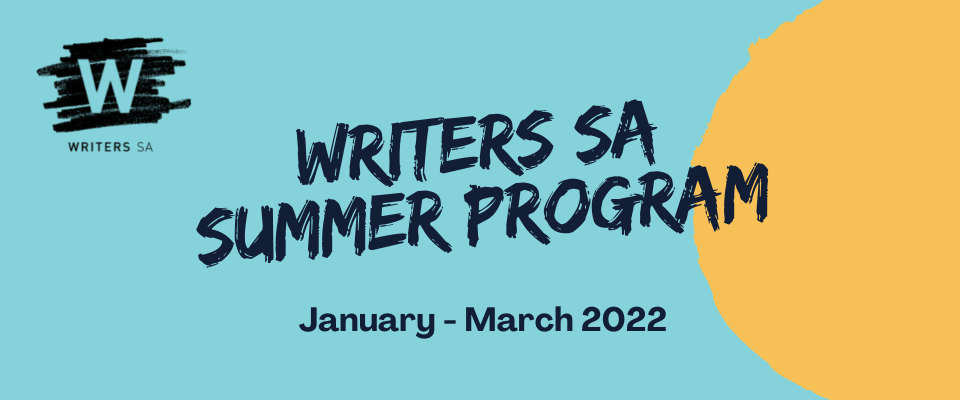 Writers SA offers a year-round program of literary workshops, events, and courses, both in person and online.
Writers SA members receive a discount to all ticketed workshops; members, please log in here to access discount prices. Not a member yet? You can join us here.
For information about our cancellation and refund policy, please read our terms and conditions before you register for a workshop.
---
Date: February 2, 2022
**SOLD OUT. Email [email protected] to be added to the wait list** Life can be hectic, and responsibilities often take priority, but it's never too late to kickstart your dream of becoming a published writer! In this three session series, Karen Wyld will share her tips on publishing and forging a literary career after a 'certain age'.
Date: February 5, 2022
When writers work together, something magical happens, and Writers SA's Work Space is back in-person! Work Space is a physical place to get together with other writers and just write. Over the course of a day, we'll dig deep to hit those word count goals. Whether you're planning to write a novel in a month or get a neglected creative project back on track, this day is designed for you to carve out some hardcore writing time.
Date: February 19, 2022
Join A.S. Patrić as he delves into the literary art form that squeezes comfortably between short stories and novels, the novella.
Date: February 22, 2022
Join Alison Evans for a thoughtful workshop centered around writing queer stories that don't rely on stereotypes or tropes.
Date: February 26, 2022
Verse novels combine poetry and prose in inventive ways, and tell a long-form narrative through verse.
Date: March 1, 2022
Join author, academic and activist, Tony Birch as he shares his top ten tips for writing and a literary career.
Date: March 5, 2022
This masterclass unpacks the research and writing methods Joelle Taylor used to write C+NTO & Othered Poems. Exploring poetic narrative, the praise poem, and LGBT hidden histories, this session will allow you to develop your own response to queer space and self.
Date: March 5, 2022
Memoir can be a powerful form—but one that also has the power to cause harm to others, and even to the author themselves. This masterclass with Dr Yves Rees will explore the complexities involved, helping you develop a personal ethics of memoir writing.
Date: March 6, 2022
With a mixture of tuition, examples and exercises, Emily Bitto will help you to understand the macro-level themes at the heart of your project and to use these as a way of generating plot, character, and scenes, as well as enriching your prose on the level of the sentence and image.
Date: March 6, 2022
Dr Michael Mohammed Ahmad offers a Sweatshop-style masterclass, which will give participants a first-hand experience of the kind of full-intensity creative writing model involved in being a 'good writer'.
Date: March 9, 2022
Are you looking for professional support and a strong peer network to help you finish your book or refine your first draft? If you're working on a first draft or a draft that just isn't working, Writers SA's First Draft program can help you shape your novel and stay on track.
Date: March 19, 2022
If you're at a point after the festive season where you need a metaphorical group hug and a gentle push back into your writing practice, or the headspace to start something new, join Rebekah Clarkson to discuss what holds writers back from putting words on paper, learn some tricks and tips, and get a big day of writing in.
Date: March 20, 2022
How many epic stories have you started, only to lose your way, get bogged down or run out of steam part way through? Fantasy author Jo Spurrier will guide you through the process and share tips from her writer's toolbox that should set you back on track in your fantastical world.
Date: March 26, 2022
Join Dr Alice Gorman to examine and test the method of exploring other worlds through language to then turn into stories.
Date: March 30, 2022
Are you a developing poet looking to hone your existing craft, kick start older poems that feel just a little tired, or steer your poetry into new areas? Poet and academic, Jill Jones, will introduce new and old concepts in this four month intensive.