Karen Wyld lives south of Adelaide, nestled by sea, scrub and hills. She is a published author, freelance writer, trainer and consultant.
Karen has held many professional positions, across diverse sectors, including government and Aboriginal community-controlled organisations.
She self-published her debut novel When Rosa Came Home in December 2013. This book was short-list for the 2015 South Australian Readers and Writers People's Choice Award.
Her draft manuscript Where the Fruit Falls was short-listed for the 2017 Richell Prize. And accepted into the 2018 Hardcopy professional development program, and Hardcopy industry weekend. She was awarded the inaugural ACT Writers/First Nations Australia Writers Network Hardcopy Scholarship.
Karen participated in the Writers SA writers in regional residency program, completing 4-weeks of working with Ceduna communities in Sept/Oct 2018.
She generally writes long-form but had a short story published in the Spring 2018 Meanjin.
In addition to working on numerous works-in-progress and short stories, she write non-fiction, online content, and opinion editorials. She has had work published in Al Jazeera, IndigenousX, NITV, Meanjin and Guardian Australia.
She also does trade book reviews and author Q & As for Books + Publishing.
Karen is an ex-Board member of First Nations Australia Writers Network (FNAWN) and currently assists them on a consultancy basis.
In addition to writing, Karen designs and delivers workshops and accredited training in leadership, health, cultural competency, writing, and weaving. She has presented a couple of writing workshops for Writers SA.
Professional membership:
MEAA membership (Media, Entertainment & Arts Alliance)
First Nations Australian Writers Network
Fellow of Governor's Leadership Foundation 2011
Writers SA
Australian Business Number (ABN)
Professional indemnity insurance
Books Published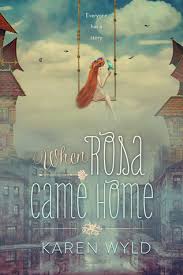 When Rosa Came Home
Indie published
Adelaide - December 2013