Karen Wyld is a coastal dweller of desert descent. She has worked in many sectors; collecting qualifications, professional experiences and interesting tales along the way. Her current occupation includes: freelance writer/published author/consultant/artsworker/educator/bookshop owner.
Her début novel, When Rosa Came Home, was short-listed for the 2015 SA People's Choice Award. She chose to publish that book as an indie author, which provided valuable learnings in all steps of preparing and promoting a book. She is currently keen to explore the benefits of a hybrid pathway to publishing. Karen is currently editing her second book, and has a few more manuscripts in the pipeline.
As an Aboriginal writer, Karen actively supports the growing Aboriginal and Torres Strait Islander literature sector through her position on the Board of First Nations Australia Writers Network.
Working as a freelance writer, Karen uses her professional background in primary health care, community development and Aboriginal services to write articles, opinion pieces, and technical content for government websites.
Karen opened a bookshop at Port Noarlunga in 2015. She has collated an eclectic selection of books. Some have called it quirky, but she's on a mission to encourage people to read books from diverse authors, and on issues of current global importance – to broaden perspectives.
Through her bookshop, community work and paid positions, Karen is committed to supporting people to develop a greater understanding of Australian history, colonisation, racism and inequity. She has a background in workplace cultural competence training, and delivering Indigenous health training for nursing and medical students. Karen is an active anti-racist and is currently developing an educative anti-racism social media campaign.
Karen is a mentor in the SA Writers Centre mentoring program. She also offers research support and manuscript assessment for writers who are interested in including Aboriginal characters, places or story-lines in their work.
Books Published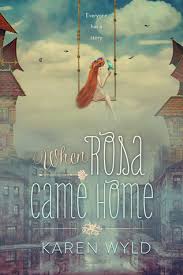 When Rosa Came Home
Indie published
Adelaide - December 2013