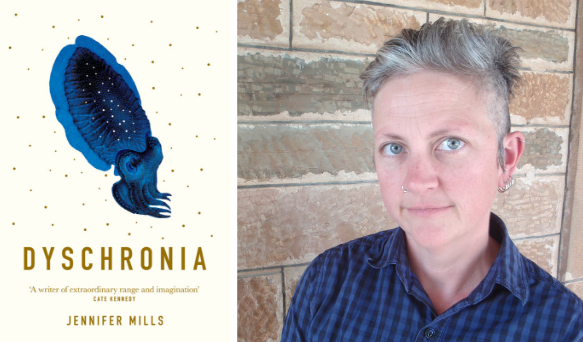 South Australian author Jennifer Mills will spend May in the Eyre Peninsula where she will work with the Whyalla Public Library, Port Lincoln Library, and community groups, to write and connect with local writers and readers.
Mills' residency is part of Writers SA's Writers and Readers in Residence Project, which sees South Australian writers undertake an artistic residency in regional communities to activate reading as well as writing in the area. The Writers and Readers in Residence Project has been assisted by the Australian Government through the Australia Council for the Arts, its arts funding and advisory body.
"Writers SA is excited to launch the second year of our Writers and Readers in Residence Project with Jennifer Mills' in the Eyre Peninsula," said Jessica Alice, Director of Writers SA. "It's an incredible opportunity for a writer of Mills' calibre to be embedded in local communities, connecting with readers and writers."
Jennifer Mills is the author of the novels Dyschronia, Gone, and The Diamond Anchor, and a collection of short stories, The Rest is Weight, which was shortlisted for the 2013 Queensland Literary Awards Steele Rudd Award for an Australian Short Story Collection and longlisted for the 2013 Frank O'Connor International Short Story Award. In 2012 Mills was named a Sydney Morning Herald Best Young Australian Novelist and in 2014 she received the Barbara Hanrahan Fellowship from the Adelaide Festival Awards for Literature.
Mills' fiction, non-fiction and poetry have been widely published, appearing in Meanjin, Hecate, Overland, Heat, Island, the Lifted Brow, the Griffith Review, Best Australian Stories, New Australian Stories, and the Review of Australian Fiction, as well as being broadcast, recorded and performed from Adelaide to Berlin. She is a regular writer for Overland literary journal and has contributed criticism to the Sydney Morning Herald, the Wheeler Centre, and the Sydney Review of Books. From 2012-2018 she was the fiction editor at Overland.
While in the region, Mills will focus on working on her new novel and a nonfiction piece, as well as hosting free writers workshops and engaging with local writer and readers.
Jennifer Mills will be based in the Whyalla Library from the 8th – 18th May.
Streaky Bay and Elliston 19th – 20th May.
Free 3-hour writers workshops – to register:
STREAKY BAY
Sunday 19 May 2019, 2-5pm
Streaky Bay Visitor Centre, 21 Bay Road
[email protected]
08 8626 7033
ELLISTON
Monday 20 May 2019, 5-8pm
Elliston Community Visitor Information Centre, 6 Memorial Drive
[email protected]
08 8687 9200
Port Lincoln Library 21st May – 31st May.
Enquiries:
Port Lincoln Library: 8621 2345
Whyalla Public Library: 8645 7891
Director of Writers SA, Jessica Alice: [email protected]
Program Coordinator at Writers SA, Bronwyn Tilley: [email protected]