Getting Personal
Description:
Writing Personal Essays
Interested in life writing or memoir? Learn to tell your own stories in essay form. Through personal essays we share the memorable and ordinary moments of our lives creating stories that are unique and universal, reflective and alive. Whether you've written personal essays and don't know where to go next, or have never written one but are interested in the genre, this workshop will give you the tools to get started, and go further.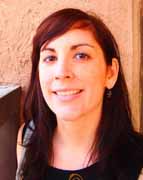 Dr Jillian Schedneck is the author of the travel memoir Abu Dhabi Days, Dubai Nights, published by Pan Macmillan in 2012. Her personal essays have appeared in a dozen journals in America and Australia, such as Brevity, Wet Ink, The Common Review, Redivider and LinQ. She holds an MFA in Creative Nonfiction Writing from West Virginia University in the United States and a PhD from the University of Adelaide. She has taught writing courses for several years in United States and the United Arab Emirates.
Event Registration and Ticketing Powered by Event Espresso